The turkey dinner hand pie. | Nancy Stiles
You already know how much we love the turducken croissant at La Patisserie Chouquette, so naturally we were intrigued when we heard Christy Augustin at Pint Size Bakery (3825 Watson Road; 314-645-7142) was making Thanksgiving hand pies this weekend. Augustin says she wanted people to be able to eat a whole Thanksgiving dinner (in miniature form), and it did not disappoint.
See also: Christy Augustin is Pint Size Bakery's "Punk Rock Grandma"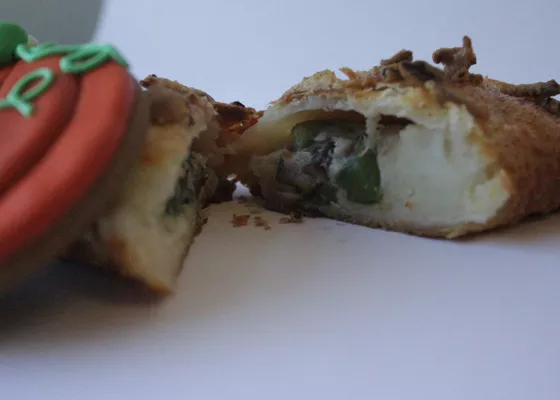 The green-bean casserole hand pie topped with crispy onions. | Nancy Stiles
"I think that we're just hungry all the time. We're always hungry, and we always talk about food, and of course everyone gets excited about Thanksgiving before Thanksgiving," Augustin says about the idea. "We had our friend Ricky [Lewis] at Quincy Street, he's really good friends with Matt [Tiefenbrun] at Buttonwood Farms, and he's just got so many turkey legs right now. So he was like, 'Here, take some turkey legs.' We brined them, smoked them and then braised them."
The turkey-dinner hand pie contains the Buttonwood Farms turkey with sage gravy and mashed potatoes. The green-bean casserole hand pie is just that, topped with crispy onions. For dessert, there's apple butter crumb hand pie with housemade apple butter.
"We picked the apples ourselves when we made the apple butter, because we're dorks," Augustin says. That sounds like excellent employee bonding to us. The Thanksgiving hand pies are $4.25 each and will be available tomorrow, November 22, only. Augustin says they usually come out of the oven right around 8 a.m. when Pint Size opens, and they made enough that she expects them to last until 11 a.m. or noon. We wouldn't take any chances, though, if we were you.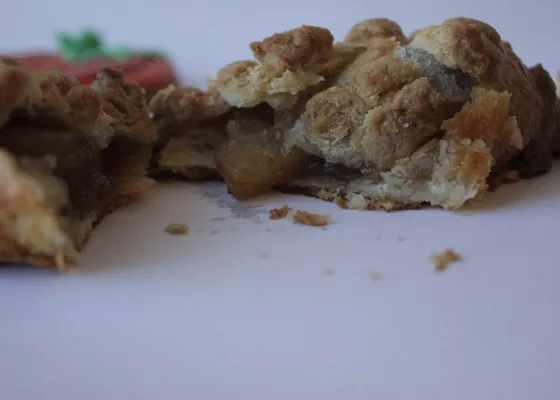 The apple butter crumb hand pie. | Nancy Stiles
Gut Check is always hungry for tips and feedback. E-mail the author at Nancy.Stiles@RiverfrontTimes.com.
Follow Nancy Stiles on Twitter:
---