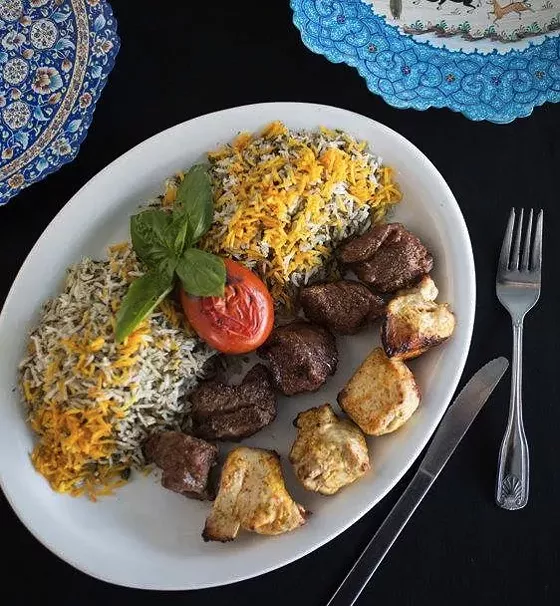 A platter of Cafe Natasha's beef and chicken shish kebabs. | Jennifer Silverberg
When Behshid Bahrami came to the United States in the late 1970s, he was culinarily dismayed. He simply could not find lamb that tasted like what he had in his native Iran. American lamb, Bahrami will tell you, has a gamey taste compared to its mild Persian counterpart. Rather than swearing it off altogether, he developed a marinade that he hoped would soften the meat's flavor. What he ended up developing is the ambrosial nectar that turned out to be perfect for Cafe Natasha's (3200 South Grand Boulevard; 314-771-3411) beef shish kebob.
See Also: Chef Chat: Hamishe Bahrami is Cafe Natasha's Persian Cowgirl
Cafe Natasha's beef shish kebab is made from succulent hunks of tender grilled sirloin. The marinade is not the only secret. Bahrami developed a special baste for the kebab that caramelizes on the meat as it grills. As a result, these glorious nuggets develop little pockets of char and marinade that give off a mouthwatering flavor burst. Served over saffron rice with grilled tomatoes (don't forget to add some butter and a generous shake of sumac), Cafe Natasha's beef shish kebab is pure joy (and this critic's pick for her last meal on earth).
Previously: #57: The Maine-Style Lobster Roll at Peacemaker Lobster & Crab Co. #58: Panorama's Croque-Madame #59: The Italian Beef Sandwich at Vinnie's Italian Beef & Gyros #60: The Egg Rolls at Bek-Hee Chinese Restaurant #61: Pumpkin Maple Latte at Kaldi's Coffee #62: Casconcelli at Giovanni's Kitchen #63: Athlete Eats' Bibimbap Bowl #64: Salt + Smoke's Beef Brisket #65: Buffalo Cauliflower Bites at Lulu's Local Eatery #66: Home Wine Kitchen's Shortbread Sea-Salt Biscuits #67: Death in the Afternoon's Grilled Mahi Mahi Sandwich #68: The Brisket Burger at Three Flags Tavern #69: Siam's Kimchi Hot Pot #70: Urban Chestnut's "Strammer Max" #71: "Mom's Special" at Mom's Deli #72: Broasted Chicken at Frank & Helen's Pizzeria #73: Parmesan Chicken Broth at Bocci Wine Bar #74: "Burger" at Small Batch Whiskey & Fare #75: Smoked Salami Sandwich at Adam's Smokehouse #76: Gyro on Pita at Olympia Kebob House & Taverna #77: The Johnny Cake at TreeHouse #78: A Classic Glazed Doughnut from Pharoah's Donuts #79: Skordalia at the Purple Martin #80: Beef Brisket Birria Taco Taco at Mission Taco Joint #81: Cappuccino from Sump Coffee #82: The Salted Caramel Croissant at Pint Size Bakery #83: Gnocchi at the Good Pie #84: Truffled Tater Tots at Blood & Sand #85: Marinated Feta Cheese at Evangeline's Bistro and Music House #86: Chorizo and Egg Sope at Spare No Rib #87: Duck Burger at Planter's House #88: WildSmoke's Smoked Chicken Wings #89: The Duck Prosciutto Flatbread at Bella Vino #90: The "Dam Burger" at the Dam #91: The "Hog Mess" at Blind Tiger #92: Khao Soi at Fork & Stix #93: The "Smokehouse Club" Sandwich at Bud's Smokehouse #94: Cafe Natasha's Yogurt Dip #95: Macarons at La Patisserie Chouquette #96: The Libertine's Fried Chicken #97: Pork Belly at Element #98: M'Lwee at Baida #99: Breadbasket at Juniper #100: Bucatini All'Amatriciana at Pastaria
Follow Cheryl Baehr on Twitter at @CherylABaehr. E-mail the author at Cheryl.Baehr@RiverfrontTimes.com.
---