An ice-cream pie at I Scream Cakes. | Kerry Soraci
See also: 5 St. Louis Bakeries Offering Preorder Thanksgiving Pies
I Scream Cakes (2641 Cherokee Street; 314-932-5758)
I Scream Cakes has some super creative pies this holiday season, and we wouldn't expect anything less. Try the Goat Figure Plus, which is an Italian almond cookie crust filled with a layer of I Scream's Goat Figure ice cream (Schlafly's pumpkin ale, pumpkin, local goat cheese and a fig swirl), a layer of Imperial Whiskey Spice ice cream topped with chocolate ganache, buttered pecans and bacon pecan praline pieces. The Goat Figure pie is the same, minus the bacon. There's also the Salted Stout and Caramel, which is the Italian almond cookie crust with I Scream's Chocolate Milk Stout Carmel ice cream (4 Hands chocolate milk stout chocolate ice cream with a caramel swirl from Kakao) topped with burnt caramel sauce (also from Kakao), chocolate ganache "kisses" and sprinkled with sea salt. Finally, there's the gluten-free Cinnamon Stinger: Italian almond cookie crust, cinnamon ice cream, orange habanero chocolate ice cream, burnt caramel sauce, chocolate ganache kisses and the bacon pecan praline pieces. The Salted Stout and Caramel can also be made gluten free, and all can be decorated with autumn leaves or a hand turkey for an extra $5. Pies are nine inches and are $29.99 each. Make your order in person or over the phone (314-932-5758) and put down a deposit (half the pie's cost).
Jilly's Cupcake Bar & Cafe (8509 Delmar Boulevard, Ladue; 314-993-5455)
Jilly's, too, has its own version of Thanksgiving pies...in the form of cupcakes. Just pick up your order by Wednesday, November 26, and give at least 48 hours notice. Choose from lemon gooey butter, pumpkin pie, bourbon pecan pie, French silk and apple pie a la Mode. Stop by or call to place your order.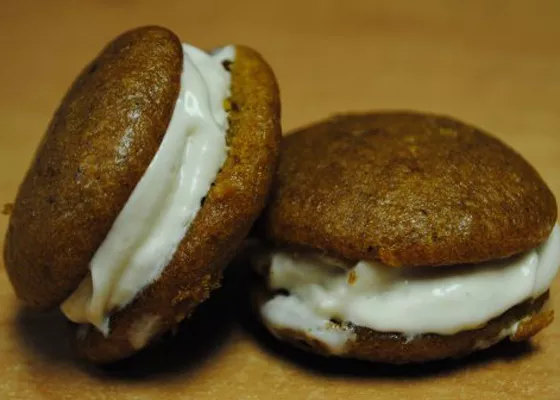 Pumpkin whoopee pies at Sugaree. | Julia Gabbert
Sugaree Baking Co. (1242 Tamm Avenue; 314-645-5496)
Several of our readers agreed that Sugaree is the ultimate in Thanksgiving pies. Six-inch pies are available by special order for $6, and ten-inch pies are $17. There are several options: Pumpkin, pecan, apple, apple caramel crumb, berries of the forest, chocolate seduction, chocolate cream and coconut cream. Sugaree will be making a few the week of for you procrastinators, but they'll be available first-come, first-serve. Mincemeat, sweet potato, gooseberry and cherry pies are available by order only. There are also other treats like pumpkin whoopie pies, autumn spice cake and pumpkin mini cupcakes. It's cash or check only; pie pickup is November 26 from 10 a.m. to 6 p.m. Place your order by phone or email pat@sugareebaking.com with your name, the flavors, sizes and number of pies you want with your phone number.
Gut Check is always hungry for tips and feedback. E-mail the author at Nancy.Stiles@RiverfrontTimes.com.
Follow Nancy Stiles on Twitter:
---