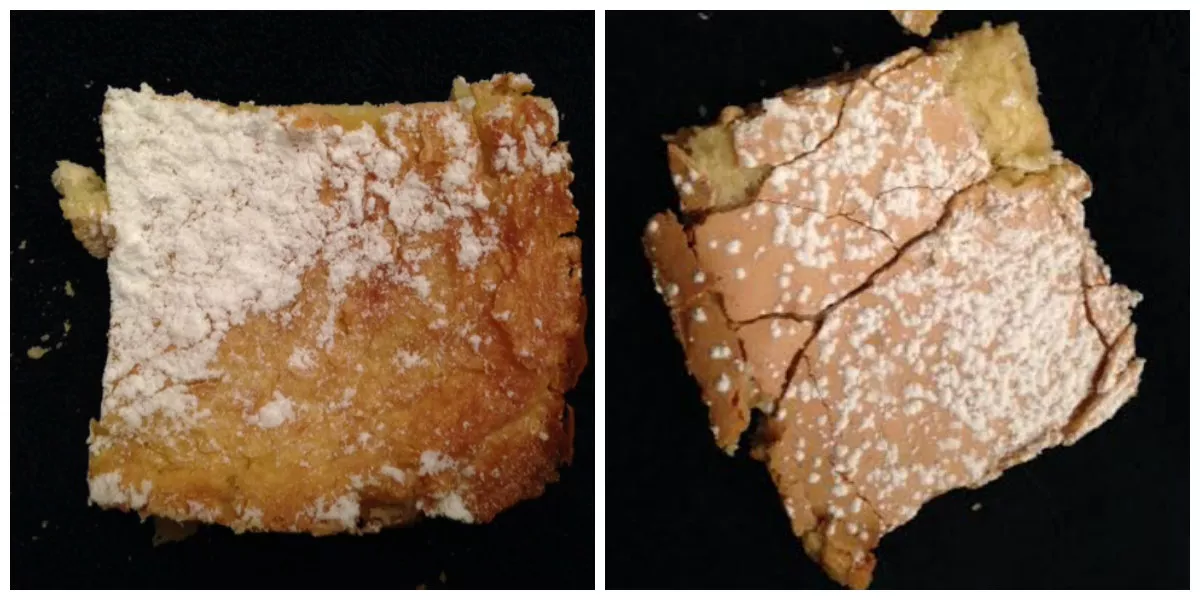 Gooey butter cake from Gooey Louie and Russell's on Macklind. | Cheryl Baehr
The appearance of gooey butter cake in Tuesday's New York Times gave us pause: Who makes the best version of St. Louis' signature dessert? It's a difficult question, with some folks swearing by the supremacy of the crumbly cake while others insisting that it's the goo that makes this sweet treat.
For today's Thursday Throwdown, we compared the gooey butter cakes at Gooey Louie (6483 Chippewa Street; 314-352-2253) and Russell's on Macklind (5400 Murdoch Avenue; 314-553-9994) to see who is king of goo in the Lou.
See Also: Gooey Butter Cake Represents Missouri in the New York Times' 50 States of Thanksgiving
Gooey Louie
With a name like Gooey Louie, it's no surprise that this south St. Louis bakery is in the conversation for the best gooey butter cake in town. Its signature, original-style cake is about as true to form as one can get: soft, buttery cake base, golden edges and a thick layer of moist, sticky topping. For those who've never tried this St. Louis original dessert, Gooey Louie is the go-to place.
Russell's on Macklind
Purists may scoff at Russell's on Macklind's version of the classic dish: With a shortbread-like crust, only mildly gooey filling and a crisp, caramel-y topping, it doesn't exactly ooze goo. Yet this flaky, buttery dessert's sweet, butterscotch taste makes it a contender for top gooey butter honors.
The Winner: Russell's on Macklind
Although Gooey Louie's wins on the most authentic rendering of the dessert, we could not get over the caramel taste of Russell's on Macklind's version. Its cookie-like crust, thick layer of buttery goo and crunchy caramel topping make it more balanced in flavor and give it a variety of textures.
Follow Cheryl Baehr on Twitter at @CherylABaehr. E-mail the author at Cheryl.Baehr@RiverfrontTimes.com.
---