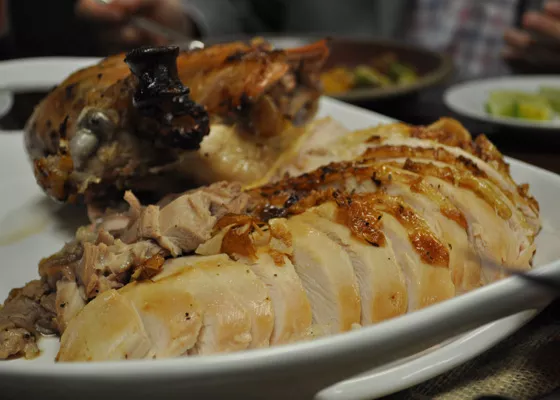 Thanksgiving turkey at Cielo. | Nancy Stiles
Not everybody cooks on Thanksgiving. For some, going out to eat is a solid tradition. Maybe you don't want to do a whole feast for only a few people. Lucky for you, there are some great restaurants offering Thanksgiving dinner next week. Continue on for our Turkey Day picks.
See also: 5 St. Louis Restaurants Offering Thanksgiving To-Go
Cielo (999 North Second Street; 314-881-5759)
As usual, Cielo is hosting a massive Thanksgiving feast. The buffet has more than 75 different items. There are classic Thanksgiving dishes, a turkey, ham and rib eye, plus a seafood bar with shrimp, oysters, crab and tuna. The buffet runs from 10 a.m. to 4:30 p.m. and is $86 per person. The restaurant will be closed for dinner that evening, but you can order drinks and food at the bar until 11 p.m. Call 314-881-5759 for reservations.
Roasted peppered duck at the Restaurant at the Cheshire. | Jennifer Silverberg
The Restaurant at the Cheshire (6300 Clayton Road; 314-647-7300)
The Restaurant is offering a holiday buffet from chef Rex Hale from 11 a.m. to 6 p.m. It's not quite as extensive as Cielo's, but it is much more focused. Enjoy oysters, butternut squash soup, wild mushroom risotto, a turkey carving station, maple syrup-roasted sweet potatoes, green bean casserole, mashed potatoes and lots more. Desserts include traditional pies, chocolate gooey butter bread pudding, cranberry orange cheesecake, Buffalo Trace pecan pie and more. Dinner is $55 for adults, $12 for kids twelve and under, and kids under four eat free. Make reservations here.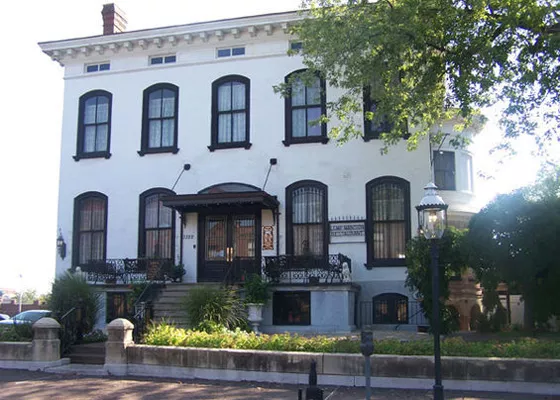 The Lemp Mansion. | RFT Photo
The Lemp Mansion (3322 DeMenil Place; 314-664-8024)
The Lemp Mansion doesn't have to be spooky all the time -- it's also an old-fashioned restaurant and inn. The all-you-can-eat traditional Thanksgiving dinner is served from 11 a.m. to 6 p.m. Enjoy turkey, ham, dressing, mashed potatoes and gravy, sweet potatoes, pumpkin pie and more. Call 314-664-8024 for reservations.
Inside City Diner on South Grand. | Sarah Rusnak
City Diner (3139 South Grand Boulevard; 314-772-6100) (541 North Grand Boulevard; 314-533-7500)
You might be surprised to learn that City Diner hosts Thanksgiving dinner. The down-home eats that we love year round turn into holiday treats served family style. At the South Grand location, it's $21.95 for adults and $6.95 for kids under ten for the turkey dinner, served 11 a.m. to 10 p.m. The feast includes turkey, mashed potatoes, yams, vegetables, cranberry sauce and a slice of pumpkin and pecan pie. At the Grand Center location, a Thanksgiving plate is $12.95 and includes turkey, stuffing, yams, mashed potatoes and gravy and cranberry sauce. The regular menu is also available at both locations.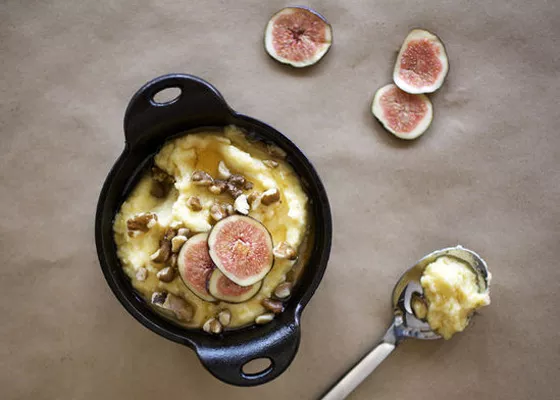 Polenta at Home Wine Kitchen. | Jennifer Silverberg
Home Wine Kitchen (7322 Manchester Road, Maplewood; 314-802-7676)
If you can't be at home on Thanksgiving, Home Wine Kitchen just might be the next best thing. Tuck into a seat in the cozy Maplewood restaurant and wear your stretchy pants. Dinner, served family style, starts with pull-apart bread with apple squash butter and a fall greens salad. Then it's mac & cheese with white cheddar, fontina and sage; turkey porchetta with maple-balsamic gravy and cranberry-orange relish; cauliflower puree with roasted garlic, walnut and butter; and roasted root vegetables with rosemary, lemon and balsamic. Just when you thought it couldn't get better, there will also be caramel pecan pumpkin bread pudding, cranberry-spice upside down cake, a chocolate hazelnut tart and a la carte housemade ice creams: hazelnut, cinnamon and salted caramel. There are seatings at 5 , 6:30 and 7:30 p.m. Dinner is $65 per person. Reservations are required; call 314-802-7676.
Gut Check is always hungry for tips and feedback. E-mail the author at Nancy.Stiles@RiverfrontTimes.com.
Follow Nancy Stiles on Twitter:
---