Mini pulled-pork sandwiches at Llywelyn's. | Photos by Mabel Suen
The Place: Llywelyn's Pub - Webster Groves (17 Moody Avenue; 314-926-1515)
The Hours: Monday through Friday from 3 to 6 p.m. and daily from 10 p.m. to midnight.
The Deals: A selection of appetizers for $3 to $5, as well as $2 domestic bottles, $3 selected drafts, $3 premium wells, $3 house wines and $5 premium-beer goblets.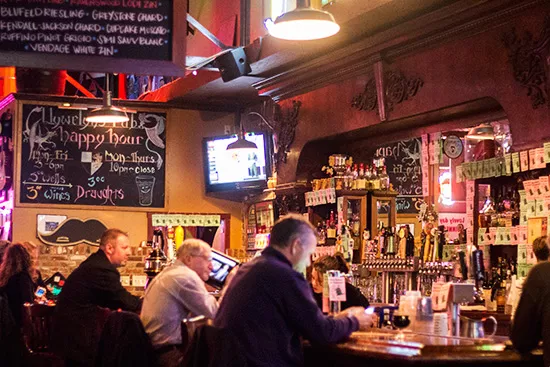 The Scene: Llywelyn's has six locations in the St. Louis area -- plus one in Kansas City -- and its happy hour and drink specials have recently been touted as the best. We stopped into the Celtic-themed bar and restaurant's Old Webster location to put its meal and drink deals to the test. The dimly lit, double-sided bar features a separate dining room for those looking to chat rather than bask in the glow of one of the bar's many TVs.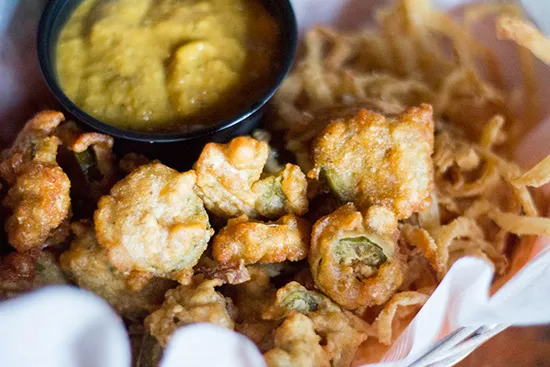 "Dragon's Nest": fried jalapenos and onions.
The Food: Llywelyn's features three dishes for $3 each: chips and cheese, a cup of soup and "Dragon's Nest"; four dishes for $4 each: fried Irish pies, two pretzels, Welsh rarebit and three mini sandwiches; and five dishes for $5 each: spinach dip, Irish mussels, pub pickles, three mini burgers and a half flatbread.
Did Llywelyn's make the grade? Find out on the next page.
The Verdict: The "Dragon's Nest" came out first -- a basket full to the brim with fried jalapenos and onion strings served with a zesty mustard. The jalapeno slices packed a salty, satisfying punch, but we'd soon find that the onions show up on nearly every other dish -- that is, besides our favorite of the bunch: the fried Irish pies. Flaky pastry gives way to corned beef, white cheddar, mashed potatoes, cabbage and leeks -- a delicious blend that stays true to the restaurant's roots.
The Welsh rarebit, while delicious in all its beer-cheese-sauce glory, came served atop some quickly softened toast and could've benefited from a better delivery system. With bits of bacon sprinkled on top (along with an entire mess of fried onions), however, we're not complaining about the overall comfort-food factor. Mini sandwiches (chef's choice) were a tender pulled pork surrounded by -- you guessed it -- more fried onions.
Llywelyn's has a great deal of food and drink steals available at not one but two times of the day, so just pick a location to get as fired up as this guy: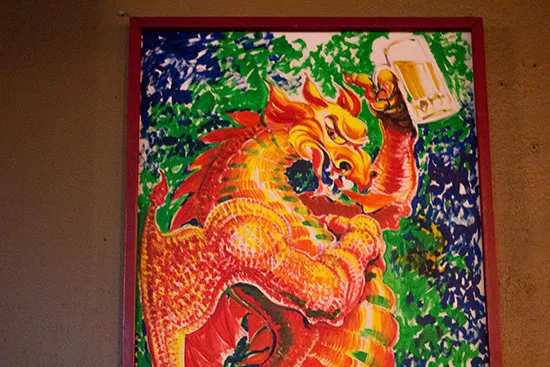 The Rating: On a scale of one to five...
Previously on Happy Hour Handbook: - Nadine's Gin Joint - Juniper - United Provisions - Hammerstone's - Ranoush - Siam - SOHA Bar & Grill - Modesto - Square One Brewery - Cicero's - SqWires - Layla - Five Star Burgers - Central Table Food Hall - Planter's House - Atomic Cowboy - Stella Blues - Triumph Grill - Lola - Basso - Blue Ocean Sushi - Hwy 61 Roadhouse and Kitchen - Gringo - Jax Cafe - Mile 277 Tap & Grill - Sandrina's - Mangia Italiano - Kirkwood Station Brewing Company - Steve's Hot Dogs on the Hill
We're always looking for some more happy hour meal deals. E-mail the author at mabel.suen@riverfronttimes.com.