"Asada" taco with beef brisket, onion and seasonal salsa. | Photos by Mabel Suen
Grand Center visitors have a new dining destination to hit up in midtown: Lucha (522 North Grand Boulevard; 314-833-9993) opened on October 24, serving a full menu of self-proclaimed Mexican soul food, now available for lunch and dinner. As reported by Gut Check last month, Lucha mixes contemporary culinary methods with traditional Mexican flavors including chile de árbol, guajillo and more.
See also: Lucha Mexican Soul Food Opens at Grand Center
Owner Hugo Perez behind the bar.
The concept comes from Hugo Perez, previously of the Grind Coffee House and Sol Lounge, along with associates Brian Schmitz and Armando Perez. The restaurant, located directly across the street from the Fox Theatre, features an open room filled with natural light and simplistic, clean design accented with baby cacti on each table and luchador movie posters on the walls.
From the menu, choose from more than ten different taco options including "barbacoa," lamb infused with ancho and chipotle chiles; "tinga," shredded turkey infused with tomato chipotle chiles; and "chorizo," pulled pork seared with potato and Pasilla chiles. Burrito options include a "brisket asada" and "pulled pork carnitas."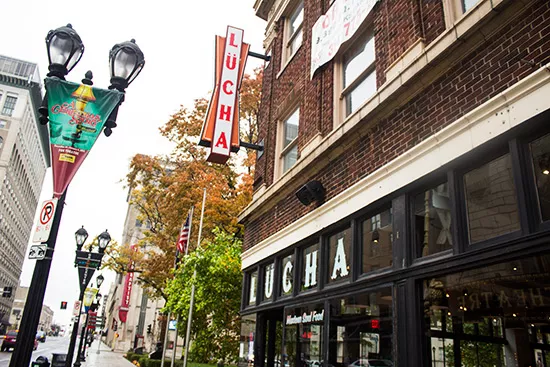 Additional options include stews, soups, sides, churros, espresso and a full bar of beer and cocktail options. For the full menu and additional information, visit Lucha's website or follow it on Facebook.
Click through for more photos.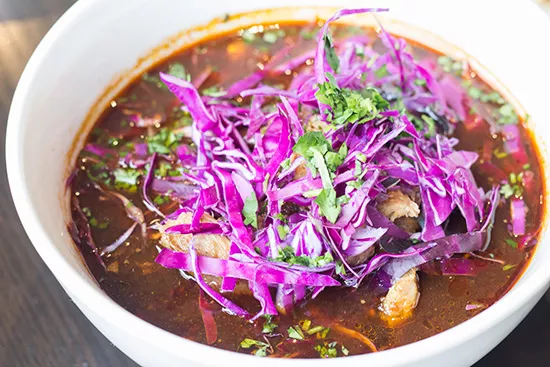 "Pozole rojo" made with a variety of peppers, cabbage, hominy and pork.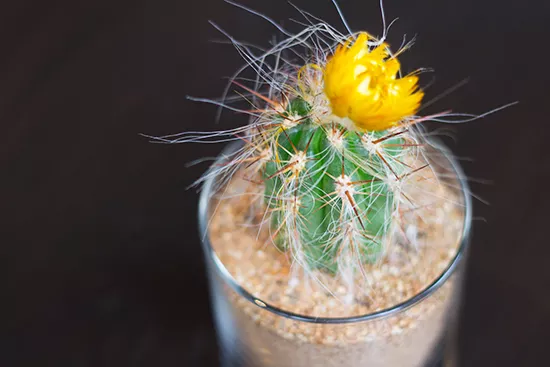 A look at the dining room.
Luchador posters in the back.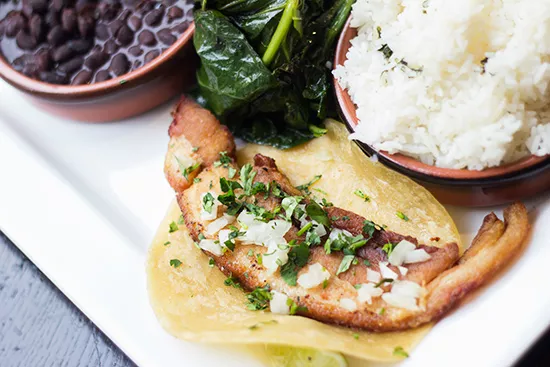 "Tocino" taco with slow-cooked pork belly.
"Pescado" taco with tempura-fried fish.
Lucha cocktail with blueberry, mint, tequila, lime juice and lemon juice.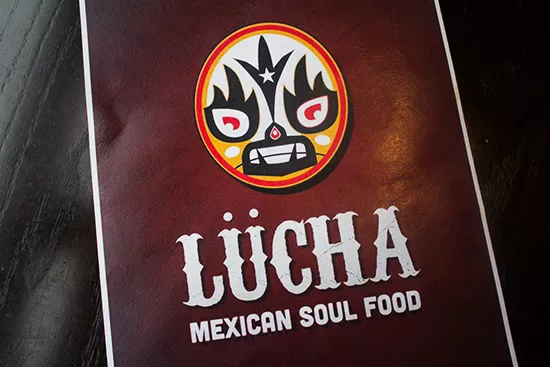 See also: - First Look: Leonardo's Kitchen and Wine Bar - First Look: Sugarfire Pie - First Look: Sushi House
Gut Check is always hungry for tips. E-mail us!