Leonardo's "Chic Sev" white pizza with roasted-garlic olive oil, grilled chicken and more. | Photos by Mabel Suen
As reported by Gut Check in September, Leonardo's Kitchen and Wine Bar (2130 Macklind Avenue; 314-664-1410) joins the Hill neighborhood roster of Italian restaurants with a new pizza and wine restaurant. The concept comes from Rich and Terri LoRusso of LoRusso's Cucina (3121 Watson Road; 314-647-6222).
See also: Leonardo's Kitchen & Wine Bar to Open on the Hill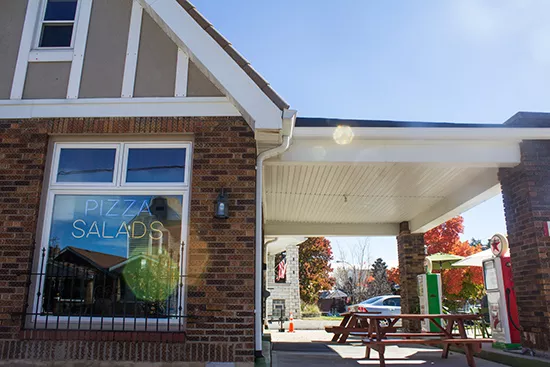 From the side of the building.
Leonardo's, named after the LoRussos' grandson, takes up a corner space that once served as a filling station in the 1930s. A couple of gas pumps sit on the patio where visitors can dine outdoors under the shade of umbrellas after placing orders at the counter. Alternatively, some tables occupy windows in an anterior dining area decked out in customary green, white and red; there's additional seating in the back.
The menu begins with salads, soups and appetizers, including a Puttanesca salad ($8) and cheese fries ($6). It continues with housemade "Naked Meatballs" ($8) served with crostini in a variety of sauce options, as well as black Angus burgers ($6.50-$7.50) on brioche rolls. Leonardo's offers ten different seven-inch sandwiches ($8) served with a side including hot Italian beef, hot salami and a BLT with provolone cheese.
Co-owner Rich LoRusso (right) strikes a pose for the camera.
Twelve-inch hand-tossed pizza ($13-$14) options include a margherita, Volpi pepperoni, veggie and a few "white pizza" options such as the "Chic Sev" with roasted garlic olive oil, spinach, grilled chicken, artichokes, mozzarella and provolone. Pastas ($8-$9), including penne pomodoro and toasted ravioli, are also available.
Leonardo's is open for lunch Monday through Saturday from 11 a.m. to 4 p.m. Dinner is also available with a liquor license pending. For more information, follow Leonardo's Kitchen and Wine Bar on Facebook.
Click through for more photos.
A look at the dining area.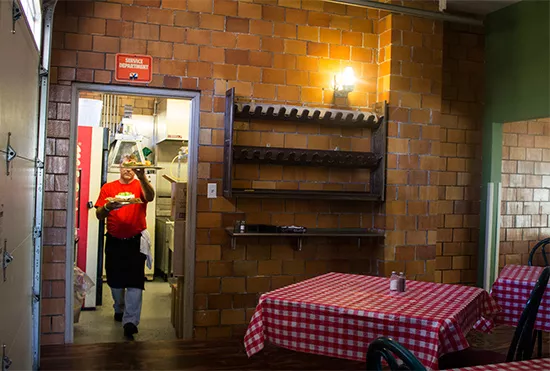 Orders fresh from the kitchen.
Another corner of the dining area.
Pizzas, sandwiches and more.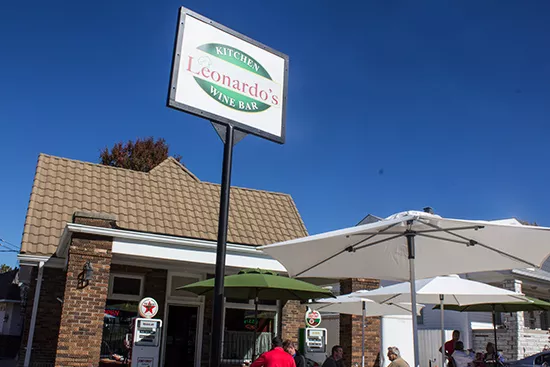 Now open in the Hill neighborhood.
See also: - First Look: Sugarfire Pie - First Look: Sushi House - First Look: Three Kings - Des Peres - First Look: Old Standard
Gut Check is always hungry for tips. E-mail us!