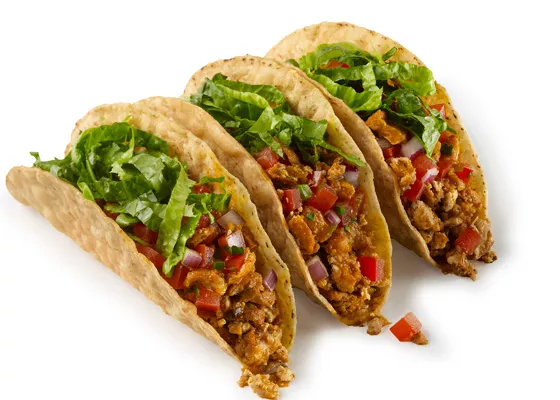 Chipotle sofritas tacos. | Courtesy Chipotle
Chipotle is rolling out a brand-new item in the St. Louis area and across Missouri this week: tofu. Now, before your carnivores roll your eyes, the sofritas are made from shredded tofu braised with chipotle chiles, roasted poblano peppers and spices. It works on the menu just like the other proteins, so we thought we'd give it a try.
See also: Chipotle Adds Patrón Margaritas to Menus Today [RECIPE]
The sofritas, when paired just with rice, has a bit of a kick but is not over powered and hold the consistency of shredded chicken. Because tofu generally takes on the flavors of whatever it's cooked with, the chile and pepper really comes through. It was designed, after all, to have crossover appeal to vegans and vegetarians and meat-eaters.
Our Sofritas bowl. | Nancy Stiles
Chipotle is using tofu from a San Francisco Bay-area supplier, Hodo Soy, which makes organic, non-GMO tofu. When we added the sofritas to a bowl along with rice, beans, salsa, sour cream, lettuce and guacamole, we really couldn't tell the difference between that and, say, a chicken bowl. The tofu does have a health advantage too, with fewer calories than the other proteins.
Our verdict: Definitely check it out. As avid meat eaters, this is a dish we could eat without worrying about missing out on something better. Sofritas hit the line Monday, November 10, and should be available at every Chipotle in St. Louis.
Gut Check is always hungry for tips and feedback. E-mail the author at Nancy.Stiles@RiverfrontTimes.com.
Follow Nancy Stiles on Twitter:
---