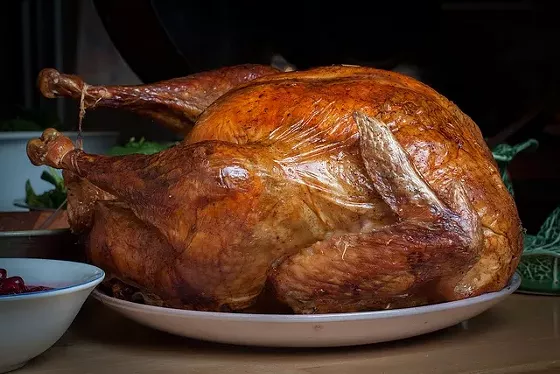 Thanksgiving is already stressful enough. Let these restaurants help. | Tim Sackton
The holidays can be stressful. Very stressful. Not only do you have to navigate family tensions, figure out travel logistics and cleaning, you also have to cook. It's only the most important part of the holiday, and you don't want to screw it up and get one of those disapproving looks from your great aunt. There's one problem: You're not a great cook. You're not even a good cook. Or maybe you know there's just know way you can get everything done in time. Well, calm down. There are several St. Louis restaurants that will provide you with everything you need.
See also: The Perfect Cocktails to Drink on Thanksgiving
The Libertine (7927 Forsyth Boulevard, Clayton; 314-862-2999)
The Libertine began a CSA program back in April. Every week, subscribers would get a bag stuffed to the brim with in-season produce from local farms used by the Libertine, as well as housemade items straight from Josh Galliano's kitchen. The Libertine is stepping things up a notch for Thanksgiving: a free-range Buttonwoon Farm turkey and all the house-made sides. For $175, you'll get a meal for a family of four, including an eighteen-pound fresh turkey, green bean casserole, rosemary baked sweet potatoes and spinach Madeleine. If you want to feed a family of eight, it's $325 for a 23-pound turkey and the same sides. Add frozen biscuits to bake the day of for $1 each, orange-cranberry relish for $8 per pint and chicken and andouille gumbo for $16 a quart. Call 314-862-2999 or email csa@libertinestl.com order your bag. Pickup is the Tuesday before Thanksgiving.
Pureed sweet potatoes at Cielo. | Nancy Stiles
Cielo (999 North Second Street; 314-881-5759)
Cielo also has a Thanksgiving buffet, but you can enjoy chef Gian Nicola Colucci's Italian mastery at home. "The meal's centerpiece is, of course, a glorious free-range turkey, which is brined for 48 hours before being baked for about two hours before serving, giving it just the right amount of moisture and flavor. You also get orange cranberry sauce, sage-giblet gravy (!), roasted sweet potato purée, roasted Brussels sprouts, whipped potatoes, green bean casserole (with no Campbell's soup in sight) and your choice of two pies (we suggest pumpkin and apple). It's $295 for a meal that serves ten people. You must order by November 17; pick up your feast on Thanksgiving at the entrance to the hotel. Call 314-881-2105 to place your order." Check out photos here."
Kenrick's Meats & Catering (4324 Weber Road, Concord; 314-631-2440)
You may know Kenrick's for its Ozark Grillers, but of course it has the ability to cook you a massive Thanksgiving Day feast for anywhere from just your immediate family to 350 people. Choose from a whole Grade-A fresh turkey, cooked, browned and sliced with Kenrick's giblet gravy or all-white boneless slices of turkey breast in giblet gravy. Then you get to pick three sides, including cornbread stuffing, sweet-potato casserole, fresh vegetables, macaroni and cheese casserole, cranberry sauce, applesauce and lots more. Baked fresh dinner rolls are also included. Prices start around $10 per person -- you can even have cater waiters come and serve you so you can relax and enjoy your family. Place your order here by November 20.
Smoked brisket is available as part of Sugarfire's Thanksgiving order. | Jennifer Silverberg
Sugarfire Smokehouse (St. Charles and Olivette locations)
Prefer your meal by-the-person? Preorder a delicious turkey dinner at one of the best smokers in town. For $24.95, you'll get a smoked turkey dinner with a slice of pie. You can also preorder smoked turkey, brisket and pork by the pound. Pickup will be on Thanksgiving before noon. At the O'Fallon location, you can order a seventeen-pound smoked turkey for $75 and pick up other sides, meats and pies. Pickup will be from 11 a.m. to 2 p.m. on Thanksgiving. Make your order before November 24.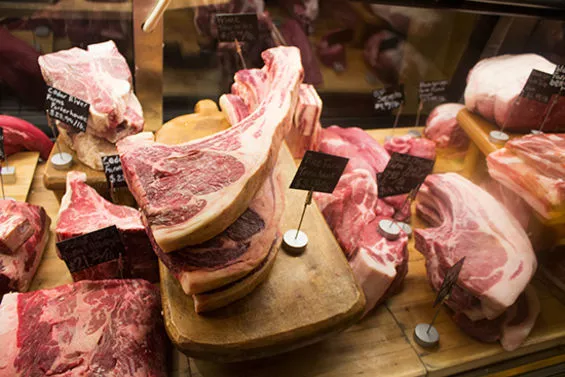 Order your Thanksgiving turkey and then some. | Mabel Suen
Truffles & Butchery (9202 Clayton Road, Ladue; 314-567-9100)
Truffles and its new adjacent butchery are teaming up to provide classic Thanksgiving meals. The meal for four includes a Buttonwood Farm turkey's breast, green-bean casserole, cranberry compote, mashed potatoes, gravy and stuffing. It's $99.99 for four, $119.99 with wine or $59.99 for the turkey breast only. Order by noon on November 17 by calling 314-567-7255 or email info@todaytruffles.com. Pickup is November 25 and 26.
Gut Check is always hungry for tips and feedback. E-mail the author at Nancy.Stiles@RiverfrontTimes.com.
Follow Nancy Stiles on Twitter:
---