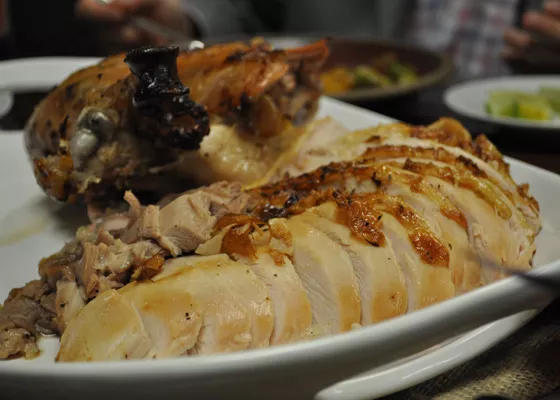 The turkey is brined for 48 hours.
Cielo (999 N. 2nd Street; 314-881-5759) at the Four Seasons always has a pretty solid Thanksgiving buffet, but you can also take home a ten-person feast prepared by chef Gian Nicola Colucci and his team. You don't even have to tell your family you didn't cook it. We stopped by the restaurant's Gaja Room to preview that most sacred of foodie holidays.
See also: The Perfect Cocktails to Drink on Thanksgiving
The meal's centerpiece is of course, a glorious free-range turkey, which is brined for 48 hours before being baked for about two hours before serving, giving it just the right amount of moisture and flavor. You also get orange cranberry sauce, sage-giblet gravy (!), roasted sweet potato purée, roasted Brussels sprouts, whipped potatoes, green bean casserole (with no Campbell's soup in sight) and your choice of two pies (we suggest pumpkin and apple).
It's $295 for a meal that serves ten people. You must order by November 17; pick up your feast on Thanksgiving at the entrance to the hotel. Call 314-881-2105 to place your order. Meanwhile, we'll be dreaming of Thanksgiving and a tryptophan-induced nap with these photos.
Here's a recipe from Cielo for the delicious stuffing we had, too -- just switch out gluten-free bread to make it (duh) gluten-free.
Ingredients:
1 pound Italian sausage 2 loaves (1 1/2 pounds) of Focaccia, toasted and diced 2 green apples, skin removed and diced 1/2 gallon turkey stock 2 oz. diced celery 2 oz. diced carrots 2 oz. diced onions
Sautee sausage and vegetables in a large pan. When the sausage is cooked, add the green apple and caramelize it quickly on high temperature. Add bread mix together and add the turkey stock. Cook for 10 minutes on low temperature.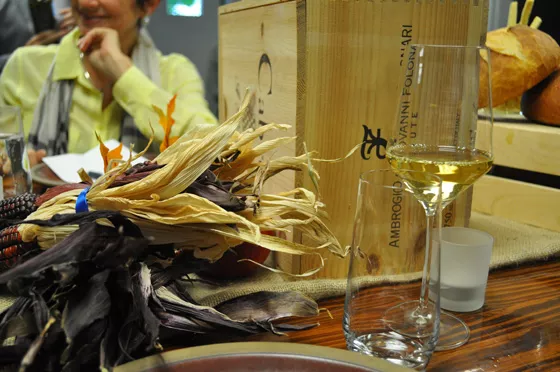 A festive table setting. | Nancy Stiles
Sweet potato puree. | Nancy Stiles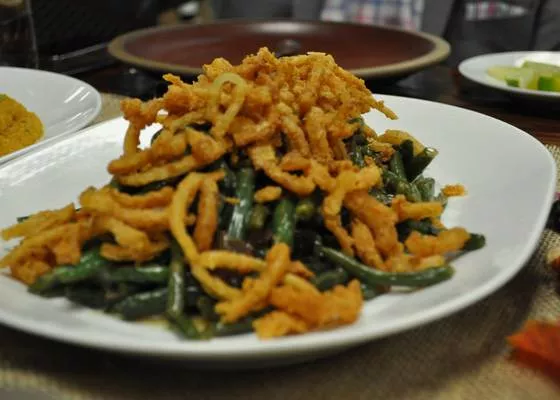 Green bean casserole. | Nancy Stiles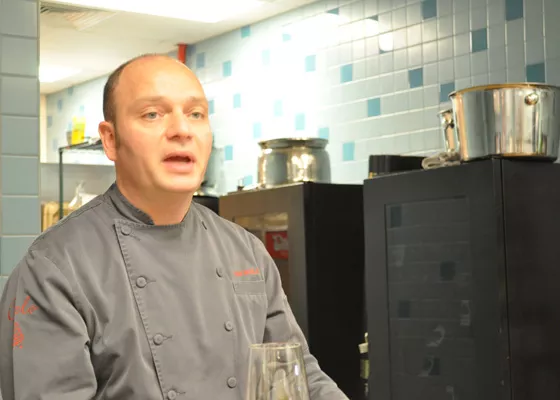 Chef Gian Nicola Colucci explaining his process. | Nancy Stiles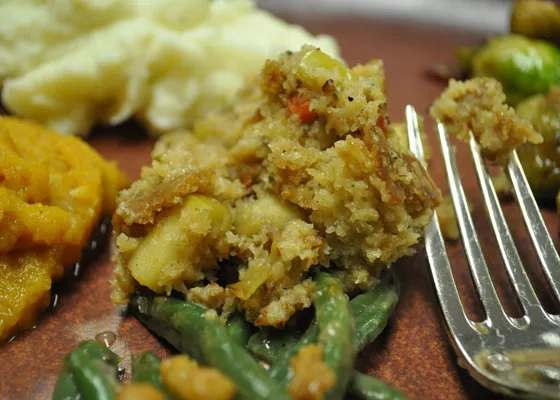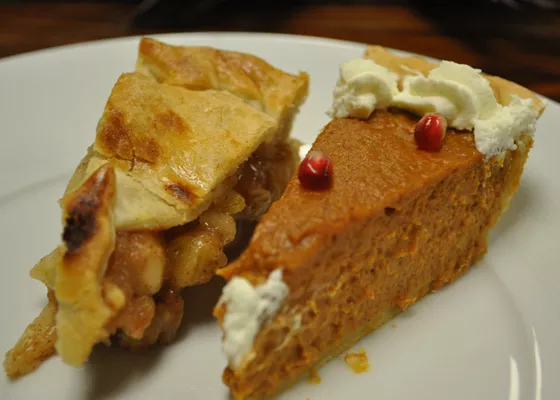 Apple and pumpkin pie. | Nancy Stiles