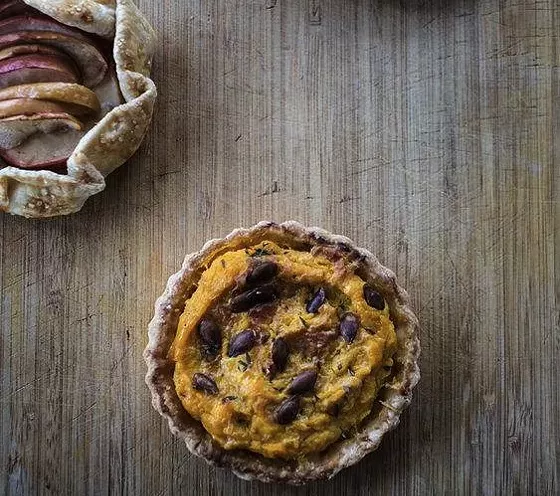 The butternut-squash tart and apple galette from Red Fox Baking & Catering | Jennifer Silverberg
The charming tale of owner Barry Kinder is only part of the Grove East Provisions (3101 Arsenal Street; 314-802-7090) story. The Tower Grove East storefront is also home to the white-hot Red Fox Baking & Catering, a small collective of bakers who have been churning out some of St. Louis' best bread since 2013. Owners Jake Marks, Chris Scheets and Jenny Wilson started making their baked goods out of Black Bear Bakery, but finally got a place of their own this year when they were presented with the opportunity to share Kinder's space.
See Also: Review: A Drummer Finds a New Calling with a Charming Neighborhood Bodega at Grove East Provisions
I had the opportunity to sample some of Red Fox's handiwork while dining at Grove East Provisions and have developed a full-fledged obsession with the bakery. The classic ciabatta loaf had a crisp, toasty exterior while its soft, chewy middle tasted of tangy yeast. The sesame semolina loaf was coated in the small, nutty seeds. Most bakeries stop there, but Red Fox infuses the interior of the loaf with a sesame swirl. It was heavenly.
The butternut-squash tart tasted like autumn. Creamy, sage-spiked squash filled the buttery shell and toasted squash seeds and thyme gave the tart a savory crunch. The apple galette was a delicious open-face alternative to apple pie. The fruit, cooked enough to soften but not so much as to break down too far, was spiked with cinnamon and sugar, then folded up into a flaky crust. Served warm, this sweet treat was pure comfort.
Red Fox's chocolate rye cookies topped with sea salt are "wake up in the middle of the night with a craving" good. The roasted flavor of the rye flour combined with bittersweet chocolate made for a semi-sweet treat that begged to be paired with a Guinness.
On its own, Grove East Provisions is a charming spot. Coupled with Red Fox Bakery, this Arsenal Street corner store is one of the tastiest spots in town.
Follow Cheryl Baehr on Twitter at @CherylABaehr. E-mail the author at Cheryl.Baehr@RiverfrontTimes.com.
---