Ramen at Hiro Asian Kitchen. | Jennifer Silverberg
As chilly fall temperatures sweep in, we're looking forward to steamy bowls of noodle soup, rich with umami, to warm us up. Cozy up with the best Japanese ramen and Vietnamese pho the city has to offer for a comforting way to beat the autumn frost.
See also: Death in the Afternoon makes lunch the most important meal of the day
Hiro Asian Kitchen 1405 Washington Avenue; 314-241-4476
At Hiro Asian Kitchen, the secret to an exquisite bowl of ramen is time. Clear, hearty pork broth is simmered for twelve hours, and pork belly is slow-braised with a secret combination of spices (a coveted recipe from owner Bernie Lee's mother) for eight to ten hours. Both are combined with fresh, medium-length and -thickness wheat noodles, roasted scallions, fresh bean sprouts, market fresh baby bok choy and topped with warm-centered hard boiled eggs.
Chicken and mushroom ramen at Death in the Afternoon. | Adam Frager
Death in the Afternoon 808 Chestnut Street; 314-621-3236
Death in the Afternoon chef Nicholas Martinkovic has received rave reviews for his ramen. The menu currently offers two versions. The chicken mushroom ramen is made from a broth of a fortified chicken stock and kombu dashi, "a double soup of sorts." It's served with fermented mustard greens, enoki mushrooms, braised char Sui pork belly, soy-poached chicken breast, grilled shiitake mushrooms, a marinated soft-boiled egg, nori and thinly sliced scallions. The secret behind the broth is the seasoning of each individual bowl with schmaltz and chicken tare. The turnip miso ramen features root vegetables, a soft-boiled egg, black garlic oil and mushrooms.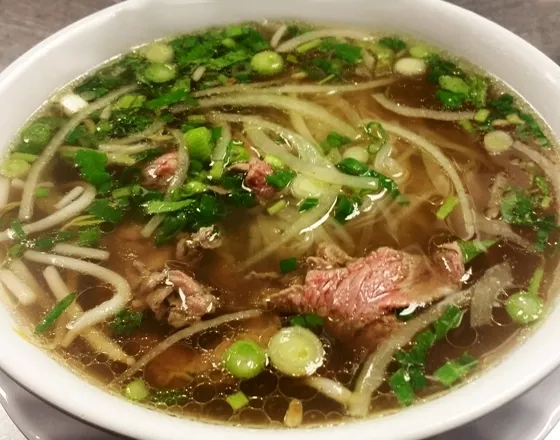 Pho tai at Mai Lee. | photo courtesy of Mai Lee
Mai Lee 8396 Musick Memorial Drive, Brentwood; 314-645-2835
The secret behind Mai Lee's beef pho tai is owner Qui Tran's mother's variation on the traditional recipe and fresh toasted spices -- fennel seeds, star anise, clove, allspice and cinnamon. Beef bones are simmered for stock for eight to twelve hours. Ginger and onions are then roasted to bring out their sweetness. The stock is ladled into bowls with thinly sliced raw flank steak (the hot broth cooks the beef) and fresh rice noodles.
Pho beef at Sen Thai Asian Bistro. | Kom
Sen Thai Asian Bistro 1221 Locust Street #104; 314-436-3456
Sen Thai Asian Bistro offers a version of this popular Vietnamese noodle soup. Rice noodles are served with tender, thinly sliced beef, bean sprouts and green onion in a beef broth. The clear broth is made of beef marrow, beef chuck roast, ginger, onion, soy sauce, rock sugar, star anise and sea salt simmered for three to four hours. The beef marrow lends a rich, meaty flavor. Part of the delight of pho are the accompanying sides. Here, cilantro, bean sprouts and lime are offered along with plum sauce.
A bowl of pho at Pho Long. | Ian Froeb
Pho Long 8629 Olive Boulevard, University City; 314-997-1218
Pho Long, as you might imagine, offers a wealth of pho options for beginners and aficionados alike, including beef brisket, round steak, meatball, chicken, shrimp, tripe and ox tail. All are served with the customary sides of cilantro, basil, bean sprouts and jalapeno.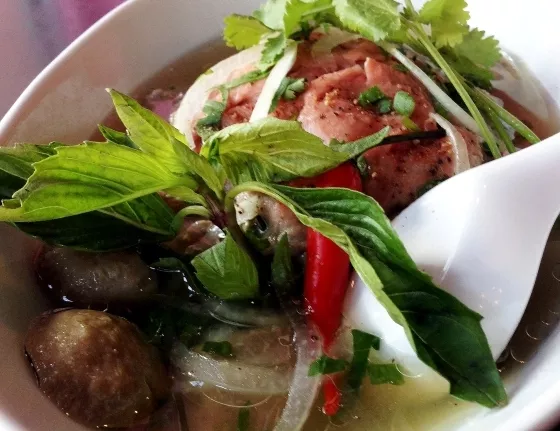 Pho bo at Cafe Mochi | Dung Pham
Café Mochi 3221 South Grand Boulevard; 314-773-5000
Local sushi favorite Café Mochi offers a solid lineup of Vietnamese specialties. Pho ga features thinly sliced chicken breast with rice noodles in broth garnished with fresh herbs. Cafe Mochi's version of pho bo (beef) starts with a made-from-scratch beef stock that has been slow cooked for ten hours and served topped with cilantro, scallions and a generous dash of black pepper.
Follow Sara Graham on Instagram at @SaraSunshineSTL and Twitter at @SaraSunshineSTL. E-mail the author at saralouisegraham@yahoo.com.
---