Grilled veggie sandwich with grilled zucchini, red pepper, caramelized onion, spinach and cheese. | Jennifer Silverberg
Grove East Provisions (3101 Arsenal Street; 314-802-7090) 11 a.m.-8 p.m. Mon.-Sun.
Barry Kinder admits his new café and grocery store, Grove East Provisions, is a work in progress. Sometimes he runs out of product. (On my initial visit he discouraged me from taking the last apple galette in the dessert case because he feared it wouldn't be fresh enough.) Other times he orders too much stuff. Then there are the folks who wander in and complain about what he doesn't carry. ("You don't have channa masala seasoning and cooking sherry?!"). Still, Kinder should be proud of what he has been able to accomplish in the five months since Grove East Provisions opened its doors.
A drummer by trade, the 48-year-old Kinder has zero grocery or retail experience. He decided to delve into this new career path upon returning to the United States from London where he worked as a touring musician. He loved how in England, and everywhere else he visited in Europe, there was a market in every neighborhood. When he moved back to his native St. Louis a few years ago, he noticed a dearth of these neighborhood bodegas, especially in the Tower Grove East area he calls home.
See also: Grove East Provisions is a charming little south side bodega
Last December, Kinder set out to fill this void. He didn't have the funding to open Grove East Provisions right away. Instead, he played gigs around town and would take his nightly earnings to buy equipment -- a refrigerator here, a display case there, a couple of sinks. Kinder even built out the corner restaurant's storefront himself. Finally, after about seven months of work, he was ready to open his doors.
Grove East Provisions has the feel of an old-fashioned market. All of the woodwork -- the booths, the floor-to-ceiling display cases, the wall details -- is made from old gymnasium bleachers salvaged from a Centralia, Illinois, high school. Kinder finished them in an espresso color and painted the walls goldenrod to give the space a warm, cozy feel. Vintage display cases stocked with colorful produce, shelves dotted with kitchen staples and coolers filled with wine and beer make up the retail portion of the store. Kinder mans the counter, flanked by a keg of Civil Life beer and an ice cream cart filled with gelato.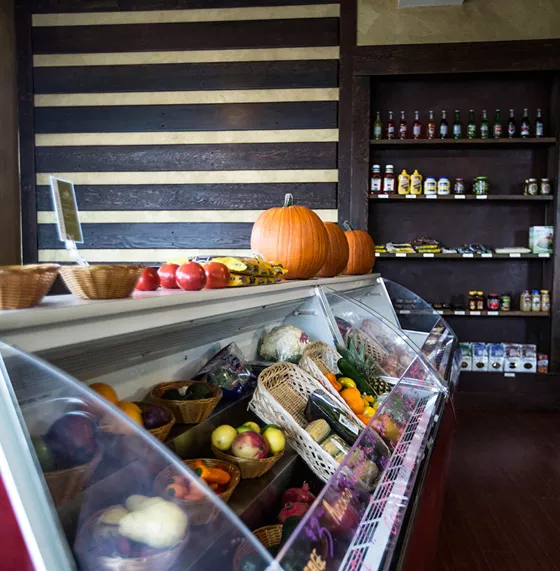 The produce case. | Jennifer Silverberg
Kinder originally anticipated the retail side of the business to be the big draw, but it turns out that customers mostly come for the café items. The menu is admittedly simple. Although Kinder has cooked in a posh French bistro in London (George Michael was a regular), he wanted to keep things casual for Grove East Provisions. What the menu lacks in breadth it makes up for in quality.
The BLT, for instance, is the Platonic form of the classic sandwich. Kinder begins with two slices of Red Fox Baking's country white bread (the local bakery shares the Grove East Kitchen space with Kinder), piles it with more strips of perfectly cooked Wenneman's bacon than I could count, garnishes it with crisp romaine lettuce, tomato and garlicky aioli and presses it in a panini griddle.
The club sandwich is another example of how using superior products can elevate a simple sandwich. Subtly sweet Miller Ham Company ham is thinly shaved and served on the same white bread as the BLT. The ham is topped with Wenneman's bacon and slices of turkey breast that Kinder smokes in a wood oven. A few slices of Marcoot Jersey Creamery's cheddar cheese, lettuce, tomato and aioli round out this magnificent sandwich.
I was impressed with the tender and juicy pulled chicken, but I would have liked more spice and smoke in the accompanying barbecue sauce. It was tomato-y and sweet but needed a bit more zing. The sauce worked better as a glaze for the meatloaf melt. Kinder thickly slices his green-peppery meatloaf, coats it in the barbecue sauce, melts cheddar cheese over the top and griddles it on white bread. The result is a hearty meal in sandwich form.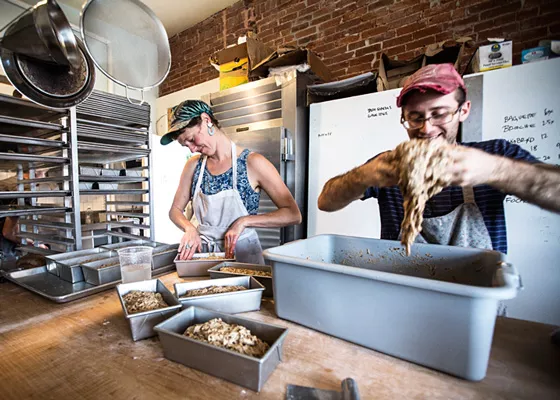 Jenny Wilson and Jake Marks of Red Fox Baking preparing Rugbrød (a Danish bread) in the Grove East kitchen.. | Jennifer Silverberg
Grove East Provisions' veggie melt is simple but done well. Strips of pleasantly charred zucchini, roasted sweet red peppers, caramelized onions, and fresh spinach are pressed with melted cheese for a satisfying vegetarian option.
At the moment, Kinder only has one side dish. The coleslaw is served complimentary with each sandwich, but he could charge a pretty penny for it. It's an old family recipe that consists simply of cabbage and shredded carrot marinated in a vinegary, mustard-seed dressing for a refreshing zip. Somehow, it retains a snappy crunch as well. I find it hard to believe I am raving about coleslaw, but there is something about Kinder's version that turns this throwaway dish into something special.
If there is one item destined to be the signature dish at Grove East Provisions, it's the homemade chicken noodle soup. Kinder makes the thick, doughy egg noodles by hand then simmers them in a rich broth teeming with onions, thick carrot rounds, celery and a mound of freshly roasted pulled chicken. He planned on having a rotating soup selection, but the chicken noodle was so popular that folks in the neighborhood begged him to offer it daily. As the weather turns cold, I can't think of anything better than this quintessential bowl of comfort. Kinder has big plans for Grove East Provisions: a beer garden, regular live music, wine tastings and bistro-style specials.
For now, though, he's taking it slowly, making sure he nails the fundamentals as this drummer-turned-grocer gets comfortable in his new gig. If his current offerings are any indication, his quaint little spot has a bright future.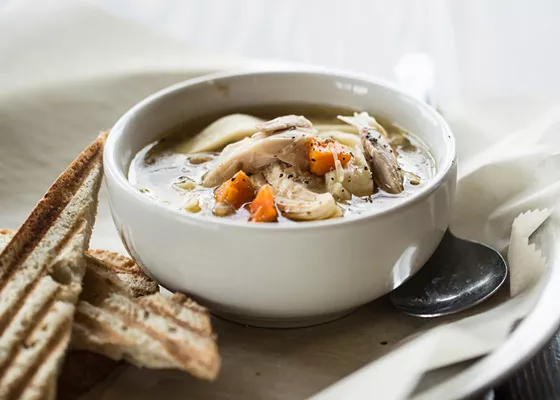 Chicken noodle soup. | Jennifer Silverberg
Follow Cheryl Baehr on Twitter at @CherylABaehr. E-mail the author at Cheryl.Baehr@RiverfrontTimes.com.
---