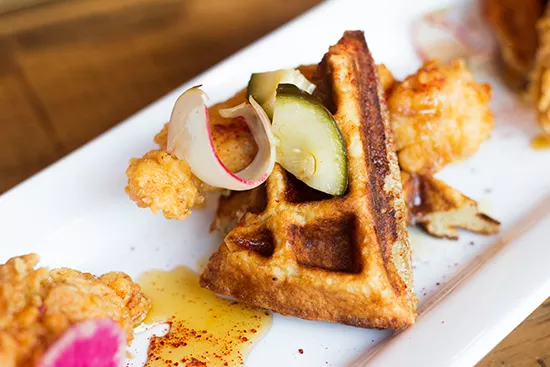 Juniper's chicken and waffles with fish sauce caramel, turmeric pickles and Korean chile flake. | Photos by Mabel Suen
The Place: Juniper (360 North Boyle Avenue; 314-329-7696)
The Hours: Happy hour is offered Monday through Friday from 5 to 6 p.m.
The Deals: $3 off of specialty cocktails and "snackies."
The Scene: Gut Check readers are undoubtedly acquainted by now with Juniper, chef John Perkins' Southern-cuisine concept in the Central West End that opened last year and knows how to throw down the perfect breadbasket. The cozy, candlelit dining room features country-inspired decor complete with rustic wood tabletops, exposed brick and cotton blossoms on every table. Vintage refrigerators await behind the bar, where a variety of fragrant craft cocktails are born.
Andouille corn dogs with spicy ketchup.
The Food: Discounted appetizer options include deviled eggs, Andouille corn dogs, a take on chicken and dumplings, fried oysters battered in blue cornmeal, a country-ham flight, smothered frog legs, and chicken and waffles. The bar's specialty cocktails -- normally $9 but available for $6 during happy hour -- include nine options sorted into four different categories: boozy, bitter, herbal and sour.
Did Juniper make the grade? Find out on the next page.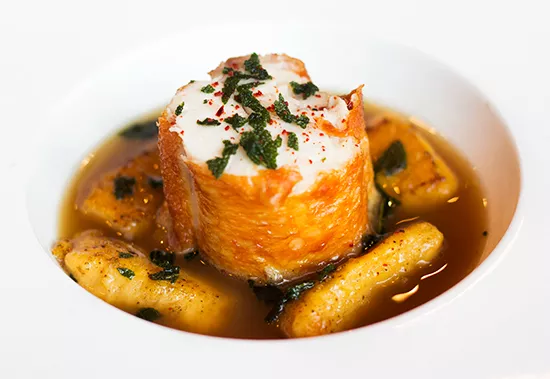 "Chicken & Dumplings" with Cornish game hen, sweet-potato gnocchi and smoked chicken broth.
The Verdict: Juniper's appetizer-size version of chicken and waffles ($9) pack quite the punch. Three waffle wedges come topped with tender fried-chicken strips, garnished with a fish-sauce caramel, turmeric pickles and Korean chile flake -- a substantial dish for fans of sweet and savory combinations.
A platter of Andouille corn dogs ($5) provides a hearty finger food, getting the extra kick it needs from a housemade spicy ketchup. The most impressive of the dishes we tried were the "Chicken & Dumplings" ($5), made up of impossibly juicy Cornish Game hen wrapped in crisp skin as well as tender sweet-potato gnocchi in smoked chicken broth -- a dish full of warm, balanced textures and flavors.
Juniper's "I Don't Want No Shrubs" cocktail.
All in all, Juniper's happy hour is a great opportunity for early birds to swoop in for deals on drinks and appetizers in a serene setting before dinnertime. Cocktails are poured with a heavy hand, so plan on showing up for this brief happy-hour window at dusk to get the most bang for your comfort-lovin' buck.
Located in the Central West End.
The Rating: On a scale of one to five...
Previously on Happy Hour Handbook: - United Provisions - Hammerstone's - Ranoush - Siam - SOHA Bar & Grill - Modesto - Square One Brewery - Cicero's - SqWires - Layla - Five Star Burgers - Central Table Food Hall - Planter's House - Atomic Cowboy - Stella Blues - Triumph Grill - Lola - Basso - Blue Ocean Sushi - Hwy 61 Roadhouse and Kitchen - Gringo - Jax Cafe - Mile 277 Tap & Grill - Sandrina's - Mangia Italiano - Kirkwood Station Brewing Company - Steve's Hot Dogs on the Hill
We're always looking for some more happy hour meal deals. E-mail the author at mabel.suen@riverfronttimes.com