Welcome to Sugar High, a series devoted solely to spotlighting the best ways to sate a sweet tooth in St. Louis. We'll sample the best the city has to offer at restaurants, bakeries and holes-in-the-wall, and provide some insight on how these confections are made along the way.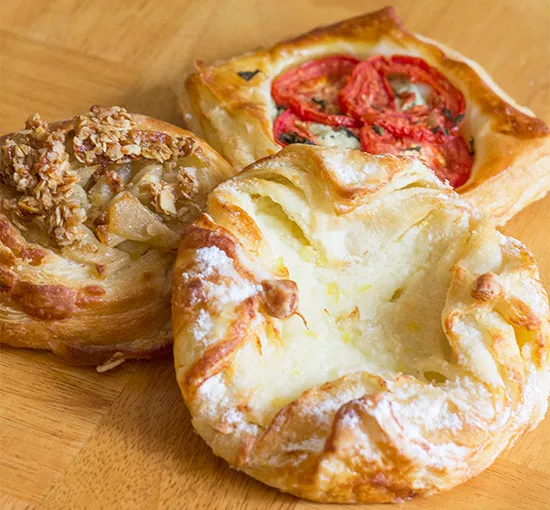 Pastries come in sweet and savory varieties at Whitebox Eatery. | Photos by Mabel Suen
At Whitebox Eatery (176 Carondelet Plaza; 314-862-2802), brunch is key, and no brunch would be complete without a little something sweet to feed a hearty appetite. Pastry chef Jamie Hardesty's cheese pastry sates that craving without laying it on too heavily. Her lighter take on the traditional breakfast treat awaits in the pastry case daily alongside a variety of other options including savory tarts, muffins, cookies and more.
See also: Whitebox Eatery's New Breakfast, Lunch and Brunch Restaurant in Clayton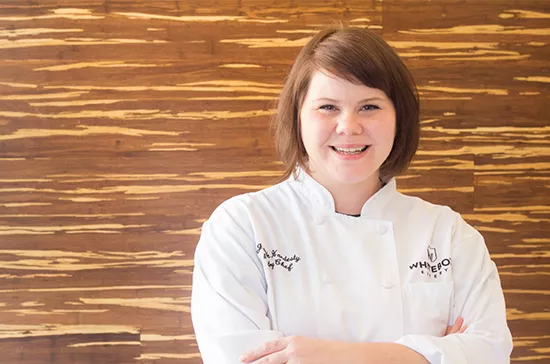 Pastry chef Jamie Hardesty.
Hardesty, who comes fresh off of the Vincent Van Doughnut food truck -- a concept that took home a first-place prize on the Cooking Channel's Donut Showdown -- says her style at Whitebox revolves primarily around traditional French pastry. Airy croissant dough in her kitchen gets topped with everything from tomato and goat cheese to chopped apples and granola. In the case of her cheese pastry, a lemon and ricotta filling offers a delicate counterpart to the flaky crust, making up a dessert that's not overly sweet yet indulgent.
Each comes with a requisite dusting of powdered sugar.
Previously on Sugar High: - Comet Coffee's Mousse Cakes - Whisk's Apple-Cinnamon "Pop Tartlets" - The London Tea Room's Blueberry-Lemon Cake - Corner 17's Fluffy Ice - The Fountain on Locust's "Banana Bourbon" Sundae - Vinnie's Pinwheel Baklava - Red Fox Baking & Catering's Lemon Tart - Sugarfire Smokehouse's Crack Pie - Russell on Macklind's Coconut Cake - The Kitchen Sink's Sweet Potato Fries - Giovanni's Kitchen's Panna Cotta Trio - Crepes Etc.'s Crepe Cake - Cafe Ventana's Beignets - Frida's Raspberry-Chocolate Avocado Mousse - India Palace's Gulab Jamun - Melt's "Violet Beauregarde" Waffle - Brevan's Patisserie's "Brendan" - Winslow's Home's Chocolate Cake with Espresso Meringue - La Patisserie Chouquette's Eclair - Black Bear Bakery's Raspberry Oat Bar - Gelateria's London Fog Gelato - 4 Seasons Bakery's German Cheesecake - Libertine's "Candy Bar" - Cleveland-Heath's Old Fashioned Cherry Pie - Schlafly Tap Room and Bottleworks' Sticky Toffee Pudding
We're always looking for some sweet ideas. E-mail the author at mabel.suen@riverfronttimes.com.