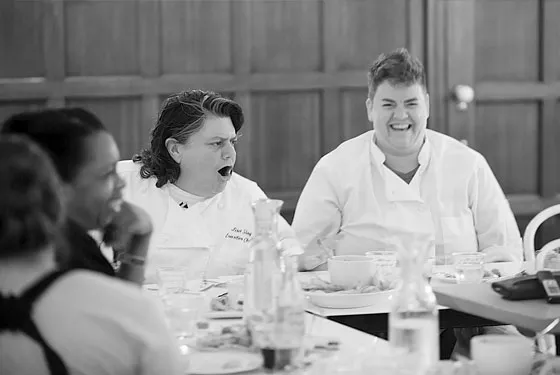 Grace Dinsmoor (far right) shares a laugh with her colleagues. | Corey Woodruff
Ask Grace Dinsmoor why she cooks, and she'll tell you that it isn't really a choice. "I'm a chef by blood," she says. This doesn't mean it's come easy; this self-taught culinarian has spent the last twenty years working her way up in some of the city's hottest kitchens (Blue Water Grill, Modesto, Nico) and traveling the world to hone her craft. People have taken notice. At the age of 27, while serving as executive chef at Modesto, the restaurant was picked as one of America's best tables by Gourmet magazine -- not bad for someone whose first restaurant gig had her making Jell-O shots for raucous college students.
See Also: Women Chefs of St. Louis Talk About Whether Gender Matters in the Kitchen [Q&A]
Dinsmoor took a break from her role as executive chef for the Whittemore House (6440 Forsyth Boulevard, Clayton; 314-935-5210) at Washington University to share her thoughts on the St. Louis culinary scene, her long-standing food crush and her Spanish-style last meal wish.
What is one thing people don't know about you that you wish they did? I'm sweet (with a devilish grin).
What daily ritual is non-negotiable for you? Walking in Tower Grove Park with my dogs; it's a great way to start off the day. I live for a positive world and what better place to start, than in a beautiful city park surrounded by nature. I'm late most days due to this...
If you could have any superpower, what would it be? To fly so I can travel at any moment.
What is the most positive trend in food, wine or cocktails that you've noticed in St. Louis over the past year? Local, local, local. The word itself is wearing out but our farms are NOT!! Andy Ayers [of Eat Here, St. Louis!] is continuing to work harder than ever with Missouri and Illinois farmers to bring us chefs the best quality and freshest produce around. The meats are becoming more plentiful as well.
Who is your St. Louis food crush? Kevin Nashan always [Sidney Street Cafe]! I love his balance between work, creativity and healthy quality of life. He is very inspiring to me, and has been in both conversation and eating his fine dishes.
Who's the one person to watch right now in the St. Louis dining scene? Chris DeMercurio [of Old Standard]. I've kept in contact with this kid for some time and he is growing up, staying confident and continuing to learn. Now he's an executive chef at Old Standard in Botanical Heights.
Which ingredient is most representative of your personality? There are too many to choose just one. Fresh fish has been my favorite protein and I love the ocean because it's beautiful and powerful. I'm at peace when I'm near the ocean.
If someone asked you to describe the current state of St. Louis' culinary climate, what would you say? Growing into a stronger community of talent, commitment and teamwork. Most chefs are very dedicated to being the best for their fan base and set the tone for others to excel as well. It's not a cutthroat competitive community; we all work very hard to support one another.
Name an ingredient never allowed in your kitchen. Preservatives.
What is your after work hangout? At home with my dogs. I just moved into my new house, so relaxing there has been nice.
What's your food or beverage guilty pleasure? Cheeseburgers and bourbon.
What would be your last meal on earth? Hardest question ever. Definitely tapas all over Spain. I'm not the traditional meal girl. I want all the meals!
Follow Cheryl Baehr on Twitter at @CherylABaehr. E-mail the author at Cheryl.Baehr@RiverfrontTimes.com.
---