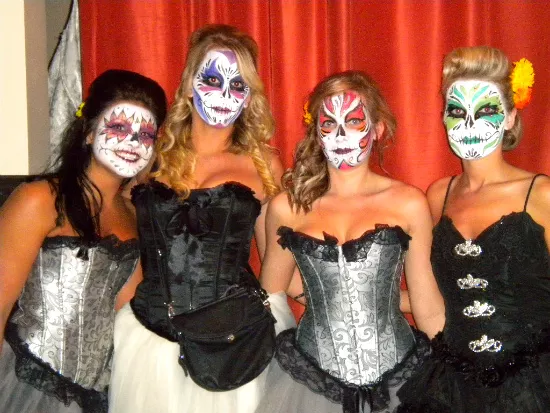 Cuervo Girls at Dia de los Muertos 2011. | Deborah Hyland
Halloween is here! We're so excited about this spookiest of holidays that we're just going to pretend that November isn't the next day. There is still one more beer festival this weekend, and it's the big Kahuna: the Saint Louis Brewers Guild Harvest Festival. If you'd rather pass on the beer, stop at Juniper for a low-country boil or celebrate Dia de los Muertos on Cherokee Street. Continue for all our food-related recommendations.
See also: 10 Best Bakeries and Candy Shops to Score Special Halloween Treats
Friday (Oct. 31):
Fright Night Halloween Party @ Ballpark Village
Johnnie Brock's Dungeon has taken over Ballpark Village for this spooky bash. The party is multi-venue and all-inclusive. It's an open bar from 8 to 11 p.m. at Cardinals Nation, Fox Sports Midwest Live!, Howl at the Moon, Budweiser Brew House and PBR. There will be $5,000 in total cash prizes and a grand prize of $4,000 in the costume contest. Jambone will provide live music from 8 to 11 p.m., and there will be a showing of Rocky Horror Picture Show at midnight. Tickets are required; get them here for $35.
Low Country Boil @ Juniper
Juniper is nixing its usual Friday night menu and hosting a low-country boil with live music. Eat from Juniper's long communal table while Natural Bridge serves up funk, soul and R&B. If you come in costume, you'll get a free can of Dixie Beer. From 6 to 8 p.m. $20 at the door.
Spirits in the Garden: Creepy Crawl @ Missouri Botanical Garden
"The Missouri Botanical Garden invites all the adult ghouls and goblins to Spirits In The Garden: Creepy Crawl from 6 to 9 p.m. on Halloween night. Get spooked at the chance to don a costume, hit the dance floor, and sample ghoul-approved cocktails with names such as Casper's Punch and The Haunted Moon made by distilleries specializing in botanical-infused drinks. If you're not planning to drink don't get scared -- designated drivers get in for half the cost, and can still enjoy themselves. There's also be a cash bar and a costume contest, with awards for originality, creepiness, couples and best botanical inspiration. Your kid self will be jealous that you actually get to stay out past trick-or-treat time on this special night -- just don't toilet paper anyone's house once it's over. Admission is $20 to $30, or $15 for designated drivers."
Come in your best costume and dance the night away to St. Louis' best cover bands. There are contests for scariest, sexiest and silliest costumes. There will also be an post-Halloween party on Saturday night with the Captain Morgan Girls, live music, prizes, Kräftig tastings and more. Friday and Saturday, 9 a.m. to 1 p.m. Admission is free.
Saturday (Nov. 1):
Saint Louis Brewers Guild Harvest Festival @ Lafayette Park
Twenty-three of your favorite local breweries will be on hand to serve up classic and seasonal brews. Enjoy unlimited samplings from Anheuser-Busch, 4 Hands, 4204 Main Street, Alpha Brewing, Cathedral Square, Charleville Brewing, Crown Valley, Excel Brewing, Exit 6, Ferguson Brewing, Heavy Riff, Kirkwood Station, Morgan Street Brewery, O'Fallon Brewery, Perennial, Schlafly, Six Row Brewing, Square One, the Civil Life, Trailhead and Urban Chestnut. For $7 more, come an hour early and take a yoga class with Yoga Buzz. There will also be food trucks, a silent auction, costume contests and live music. From 1 to 5 p.m. Tickets are $35, available here.
Sunday (Nov. 2):
Dia de los Muertos @ Empire Hall
You didn't think Cherokee Street would skip out on this Mexican holiday, did you? Businesses along the street will create handmade altars leading up to Empire Hall, where volunteers from St. Anthony of Padua Catholic Church will be cooking traditional dishes, like the special pan de muerte, plus beer, soda, coffee, tequila and mezcal. There will also be live music. From 2 p.m. to midnight. Food is $10 a plate; RSVP on Facebook here.
Day of the Dead Fiesta @ Hacienda
Celebrate Dia de los Muertos with drink specials and traditional dishes. Get a $15 Espolon tequila flight or a $5 Peigroso cinnamon shot. There's also $6 Peligroso Bloody Marias, El Diablos or apple-cider margaritas, plus Mexican hot chocolate served with dead bread. You can also get $1 off draft beer. From 4 p.m. to close. Admission is free.
Gut Check is always hungry for tips and feedback. E-mail the author at Nancy.Stiles@RiverfrontTimes.com.
Follow Nancy Stiles on Twitter:
---