Old Standard's three-piece chicken dinner. | Photos by Mabel Suen
Old Standard Fried Chicken (1621 Tower Grove Avenue; 314-899-9000) opened in Botanical Heights on October 20, joining a league of concepts headed by chef Ben Poremba that includes Olio, Elaia and La Patisserie Chouquette. The self-proclaimed "chicken shack" features comfort food starring ethically raised Indiana's Miller Poultry chicken, flanked by all the trimmings.
See also: Ben Poremba Adds Fried Chicken to His Flock of Restaurants
Guests can start with a variety of snacks including boiled peanut hummus with smoked chliies ($6), "Mrs. Edna Mae's Pimento Cheese" with horseradish pickles ($6) and "Mrs. Arnold's Saturday Night Shrimps" ($15). A "Biscuits & Breads" option includes a variety of housemade biscuits and cornbread served with your choice of butters, jams and jellies.
For something to offset the weight of the main course, select from vibrant salads including tomato and cucumber salad as well as a "Fall Salad" loaded with a bounty of colorful vegetables. Order fried chicken as a whole, half or a la carte portion, and select from a list of individual sides including smothered green beans, a ramekin of creamy sweet potatoes topped with pecans and marshmallows, cole slaw and more.
For dessert ($6), choose from banana pudding, cheesecake with whiskey sauce, and apple cobbler. A full bar offers a variety of whiskeys, mixed drinks, beer, wine and housemade sodas, iced tea and lemonade.
Old Standard Fried Chicken's current hours are Monday through Saturday from 4:30 p.m. to midnight and Sunday from 10:30 a.m. to 8:30 p.m. An early Sunday supper option runs from 3 to 8 p.m. featuring a whole Cornish game hen dinner for two for $24 a person. For more information, visit the Old Standard website or follow it via Facebook.
Click through for more photos.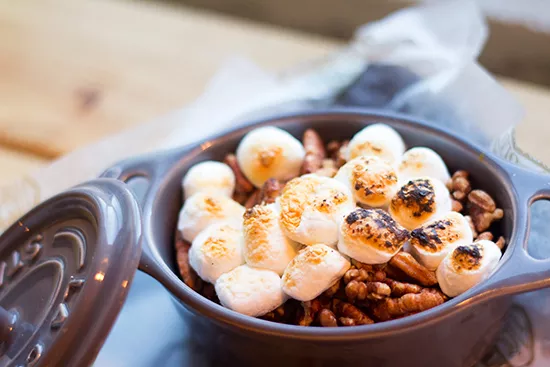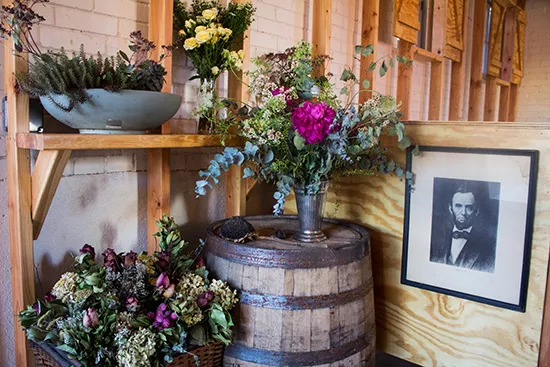 Fresh flowers and rustic decor.
A portion of the dining room.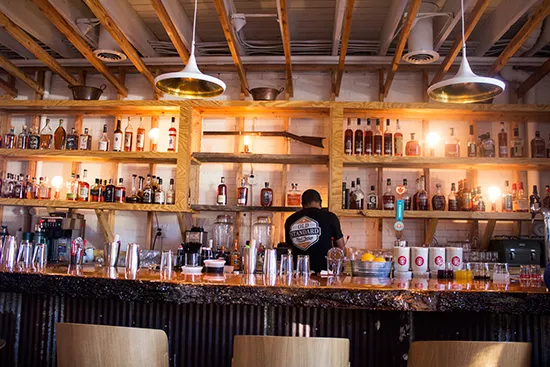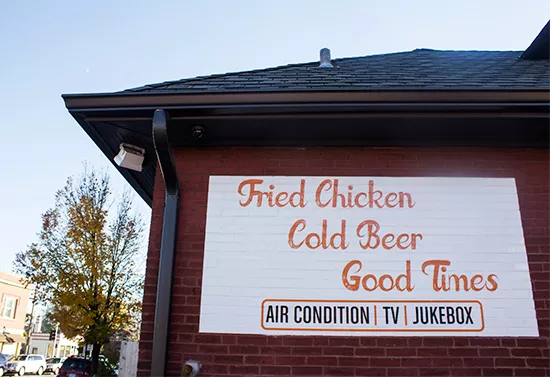 From the side of the building.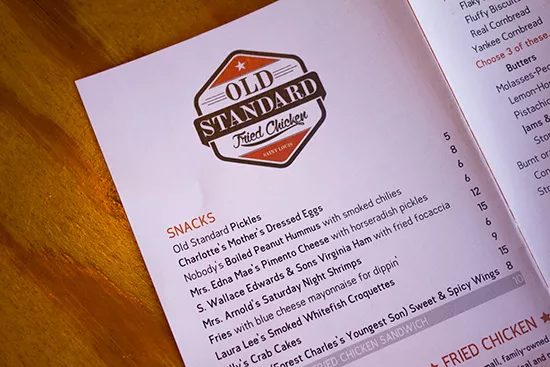 The bar and a portion of the dining room.
Now open in Botanical Heights.
See also: - First First: Truffles Butchery - First Look: Strange Donuts - Kirkwood - First Look: Cabana on the Loop
Gut Check is always hungry for tips. E-mail us!