Sushi at United Provisions' the Dining District. | Photos by Mabel Suen
The Place: United Provisions (6241 Delmar Boulevard, University City; 314-833-5699)
The Hours: Happy hour is offered Fridays from 4 to 6 p.m.
The Deals: Half-off select sushi, sake, wine and beer.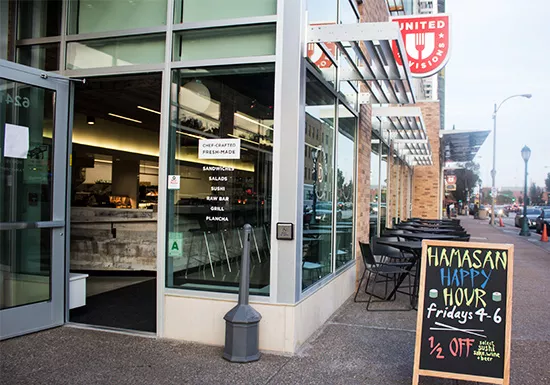 The Scene: We got our first look of United Provisions' the Dining District -- the new hybrid grocer and prepared-foods vendor in the Delmar Loop -- just last month. The shiny new facility's open kitchen currently offers everything from sandwiches to charcuterie, but a sandwich board that sits at the entrance advertises the restaurant's specialty: sushi. Several area students have already caught on to the Friday food deal, so show up early to get a piece of the half-price action.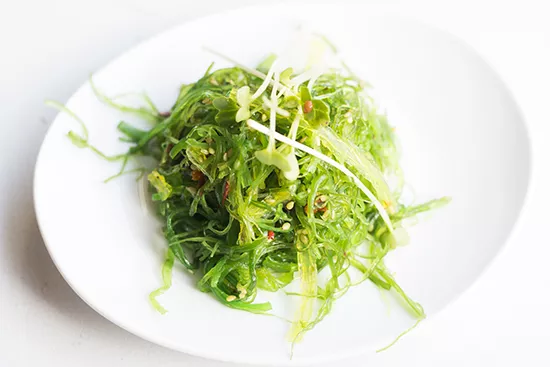 The Food: The Dining District features a special happy-hour menu that starts with appetizers: edamame, seaweed salad, octopus salad and miso soup -- each for $2.75 or less. The menu continues with a la carte nigiri or sashimi ($.36 to $1.50) including quail egg and eel, and it concludes with a list of more than fifteen sushi rolls that range from avocado and asparagus rolls ($2.25 to $2.50) to specialty combinations including "Mexican" and "Crunch" rolls ($5).
Did United Provisions make the grade? Find out on the next page.
Eel, smelt roe and fluke.
The Verdict: The seaweed salad was a simple but satisfying preparation of cool, well-dressed strands to amp up our appetites while waiting for the bulk of our meal. Instead of a traditional plate, the sushi came presented on a wooden platter, arranged in artful rows and sections. A la carte items including the eel and fluke gave us acute first impressions of the flavors to come -- the eel a perfectly seasoned portion over supple rice and the fluke a delightfully fresh cut of fish.
"Crunch," "Crazy" and "Mexican" sushi rolls.
Of the rolls, the spicy tuna with spicy sauce, green onion, fish roe, soy, sesame oil and cucumber seemed to play it safe with a delicate, well-done preparation. A couple of unique rolls with a bit of a kick include the "Crazy" with tuna, salmon, whitefish, spicy sauce, fish roe, cucumber and avocado, as well as a "Mexican" with chicken, spicy sauce, cucumber, avocado and cilantro.
However, our favorite was the "Crunch" roll with shrimp, avocado, cucumber, panko, and a spicy mayo with a hint of sweetness that took the right balance of textures and tastes over the top. All in all, United Provisions provides a particularly sweet meal deal for students and beyond albeit for a tiny time frame -- get it before it's gone.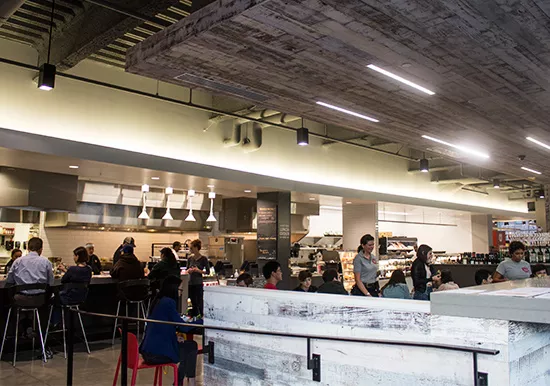 Happy hour at United Provisions.
The Rating: On a scale of one to five...

Previously on Happy Hour Handbook: - Hammerstone's - Ranoush - Siam - SOHA Bar & Grill - Modesto - Square One Brewery - Cicero's - SqWires - Layla - Five Star Burgers - Central Table Food Hall - Planter's House - Atomic Cowboy - Stella Blues - Triumph Grill - Lola - Basso - Blue Ocean Sushi - Hwy 61 Roadhouse and Kitchen - Gringo - Jax Cafe - Mile 277 Tap & Grill - Sandrina's - Mangia Italiano - Kirkwood Station Brewing Company - Steve's Hot Dogs on the Hill
We're always looking for some more happy hour meal deals. E-mail the author at mabel.suen@riverfronttimes.com.