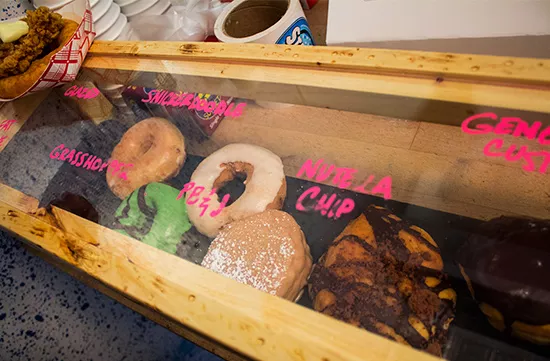 The display case with options inside. | Photos by Mabel Suen
Shortly after celebrating the first anniversary of its original Maplewood store, Strange Donuts (2709 Sutton Boulevard, Maplewood; 314-932-5851) debuted the second location of its growing empire. Strange Donuts' (107 1/2 East Argonne Drive) Kirkwood outpost opened on October 22, with two more unique locations -- one in the Central West End and another in Columbia -- on the way.
See also: Strange Donuts Opens October 22, Central West End Location Soon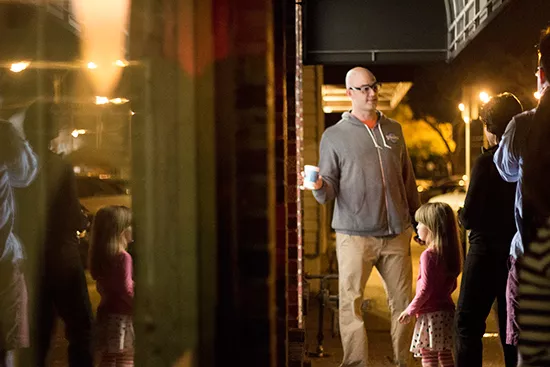 Co-owner Jason Bockman greeting customers at the door.
During its first Saturday in business, a sweet-toothed crowd formed a line down the block while co-owner Jason Bockman directed traffic at the door like an attendant at a theme-park waterslide, giving the go-ahead to groups of visitors for their time with the fun inside. The bite-size space echoes the blue-and-gray theme of the Maplewood storefront and offers classic doughnuts and "new creations" as well as the brand's signature collaborations -- dubbed "Strangers" -- over the weekends.
Racks filled with freshly fried, stuffed and glazed delights await behind the counter: Classics including long johns and glazed doughnuts will set visitors back $1 apiece, while "new creations" including a gooey-butter doughnut and maple bacon option cost $2 each. "Strangers" including a chicken-and-waffle doughnut cost $5 each, and a mixed dozen offers a discounted package at $17 a box.
Strange Donuts - Kirkwood's hours are the same as its flagship's: daily from 6 a.m. to 2 p.m. or until sold out as well as Thursday through Saturday from 9 p.m. to midnight or until sold out. For more information, visit the Strange Donuts website or follow it via Facebook.
Click through for more photos.
A Strange Donuts mixed dozen.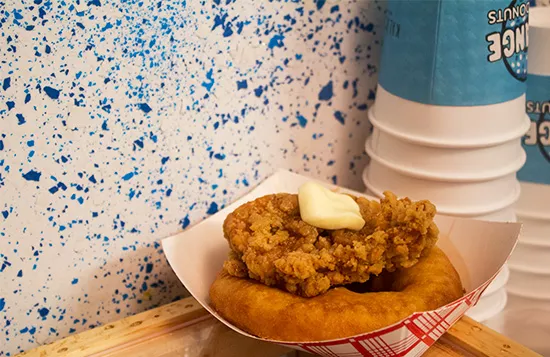 The chicken and waffle flavored "done."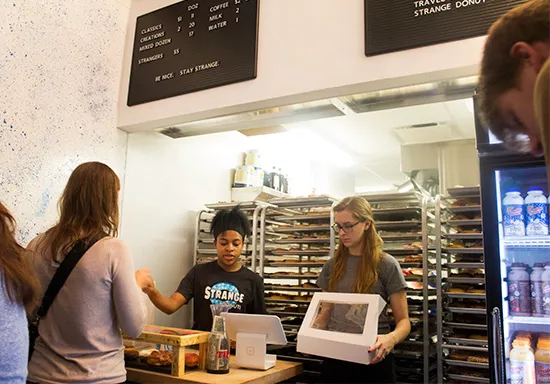 Make your selections at the counter.
Ready to be boxed up or bagged.
Crowds begin to line up as early as 8:45 p.m. during weekend evenings.
See also: - First Look: Cabana on the Loop - First Look: El Tropical - First Look: Peacock Diner - First Look: BaiKu Sushi Lounge
Gut Check is always hungry for tips. E-mail us!