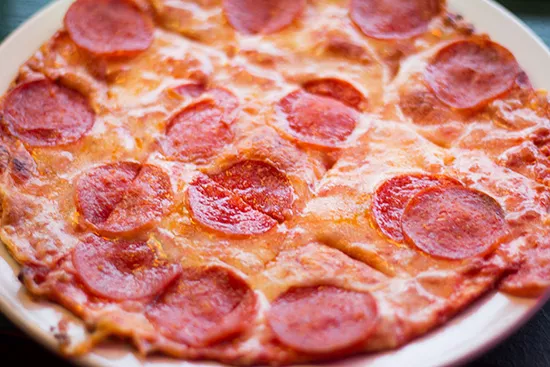 Appetizer-sized pepperoni pizza. | Photos by Mabel Suen
The Place: Hammerstone's (2028 South Ninth Street; 314-773-5565)
The Hours: Happy hour is offered Monday through Friday from 2 to 7 p.m.
The Deals: Discounted appetizers. Fifty cents off of drafts, wells and domestics.
The Scene: Hammerstone's dimly lit environs provide a low-key spot for hanging out in Soulard. Since 1996, Hammerstone's has carried on the neighborhood's festive Mardi Gras tradition, boozing year round from early morning until late evening. Mid-day happy hour at the watering hole shows a softer side of the bar. The room, which frequently bustles with live music and a robust nightlife crowd on the weekends, makes way for a quieter atmosphere ideal for a laid-back drink or two.
The Food: From its appetizer menu, Hammerstone's offers half-price pizza, toasted ravioli, wings, hummus with pita bread, and onion rings, as well as a half-order of chicken tenders and fries for a discounted price.
Did Hammerstone's make the grade? Find out on the next page.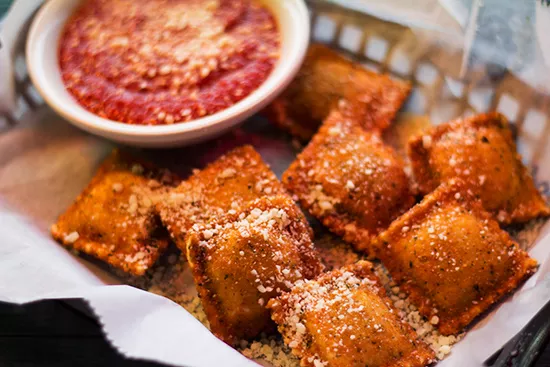 Toasted ravioli -- also available with vegetable filling.
The Verdict: While the selection doesn't stray far from the standards, Hammerstone's does them well and for a fair price. We opted for the St. Louis-style options: toasted ravioli and a nine-inch pizza, and neither disappointed. In fact, they were both exactly what we expected, and sometimes that's all this happy hour enthusiast could ask for.
A great place to get -- you guessed it -- hammered.
The ravioli came out piping hot and not the least bit soggy, served with a requisite dusting of Parmesan and bright marinara sauce. The pizza was a mini but mighty one with gooey Provel and greasy pepperoni. We only regret that we didn't try "Hammerstone's Famous Chicken Tenders," which appear to be breaded in... cornflakes? Bring us a couple beers; we're not complaining.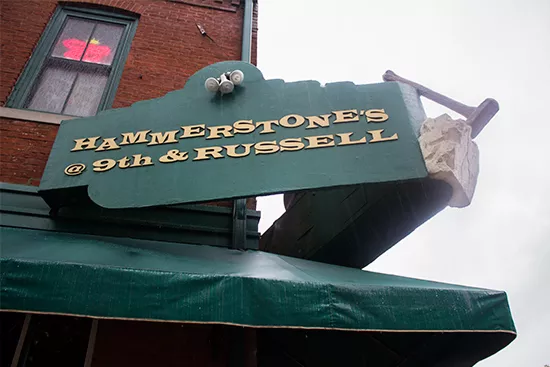 The Rating: On a scale of one to five...
Previously on Happy Hour Handbook: - Ranoush - Siam - SOHA Bar & Grill - Modesto - Square One Brewery - Cicero's - SqWires - Layla - Five Star Burgers - Central Table Food Hall - Planter's House - Atomic Cowboy - Stella Blues - Triumph Grill - Lola - Basso - Blue Ocean Sushi - Hwy 61 Roadhouse and Kitchen - Gringo - Jax Cafe - Mile 277 Tap & Grill - Sandrina's - Mangia Italiano - Kirkwood Station Brewing Company - Steve's Hot Dogs on the Hill
We're always looking for some more happy hour meal deals. E-mail the author at [email protected]