"No Apologies" | Patrick J. Hurley
The Drunken Vegan, a.k.a. Patrick J. Hurley, is a full-time barman at the Civil Life Brewing Company and cocktail enthusiast about town. He's an unapologetic drunkard, a vegan and a bon vivant, and, no, he doesn't think those last two terms contradict each other.
More and more bars and restaurants in St. Louis are offering carefully concocted cocktails. The challenge of these craft cocktails is staying true to the classics while remaining inventive in an increasingly crowded market. Tony Saputo, bar manager at Layla (4317 Manchester Avenue; 314-553-9252), strikes this balance nicely with his newest cocktail list.
See also: Warming Up with Whiskey-Based Cocktails at Small Batch
The "No Apologies" is a prime example of this approach. "It's one of my favorites," Saputo says. "You take a Sazerac as far as you can." The drink uses bourbon rather than rye, along with some rum. The traditional Peychaud's bitters are there, but also the unusual Fernet Branca.
The Fernet definitely comes through, but you still get the sweetness of the bourbon and rum. As the drink warms slightly the flavors meld -- with the Fernet blending in with the bourbon and rum -- but that nice, refreshing mentholated note still comes through. You have to like Fernet Branca to really enjoy it.
Saputo says of the curious name, "If you don't like it," he pauses menacingly, "tough."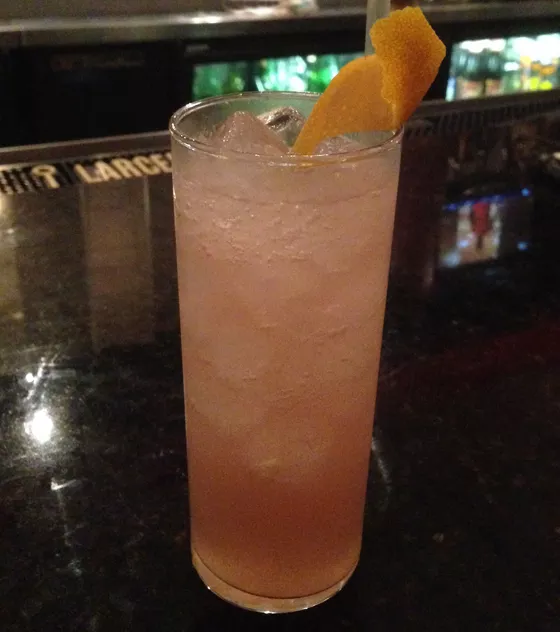 The "Tom Treuse" | Patrick J. Hurley
For the "Tom Treuse," bartender George Fiorini wanted a version of a Tom Collins with Green Chartreuse. That spicy, complex Chartreuse comes through in the "Tom Treuse," but it doesn't dominate. It is somewhat tart, with subtle botanical notes and a clean bitterness showing as well. Saputo uses a little Cocchi Rosa (a complex Italian vermouth). "I call it my secret ingredient. It's so good at adding a little acid and lengthening everything. That Chartreuse is so sweet, it's a good way to really slow that fucker down."
The "Smooth Opepperator" | Patrick J. Hurley
The "Smooth Opepperator" is a gin rickey with some very novel additions, including bell pepper and a celery shrub (a "shrub" is an acidulated fruit or vegetable infusion using vinegar). The drink has lots of fresh, clean flavors -- green pepper, celery and tart lemon. Sumac syrup imparts a nice, earthy, sour note. It's very well-balanced overall: sweet and tart, sour and floral, fresh, clean and quaffable.
These cocktails may sound a little strange, but there's a traditional drink at the heart of each of them. As Saputo says, "There's nothing new under the sun. Everything reverts to the classics."
Follow Patrick J. Hurley on Twitter at @VeganDrunkard. E-mail the author at Patrick.J.Hurley@HurleyHouse.com.
---