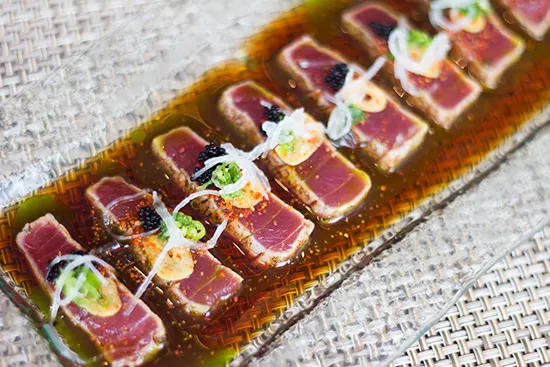 BaiKu's "Tuna Tiradito," lightly seared big-eye tuna with ponzu, chive oil, tobiki, spooled daikon, schchimi togarashi and toasted garlic chips.
As reported by Gut Check in July, BaiKu Sushi Lounge (3407 Olive Street; 314-896-2500) joins the Hotel Ignacio building's offerings which includes the MOTO Museum and Triumph Grill. Keeping with the overarching concept, BaiKu -- Japanese for motorcycle -- features a dining area with deconstructed bike parts as well as a contemporary lounge to sip on beer and sake by the glass or bottle.
See also: BaiKu Sushi Lounge Opening in Midtown
Chef Soung Lee prepares dishes at the sushi bar with another chef.
At the sushi bar, chef Soung Lee -- previously of Miso and Central Table Food Hall -- prepares fresh fish including chilled dishes, nigiri, sashimi, specialty fish flown in from Hawaii, and colorful sushi rolls including "the Serpent" with shrimp tempura, cucumber, eel, avocado, scallions and a sweet-soy reduction.
On the hot side of the menu, chef Joshua Norris cooks up pork-belly steamed buns, yakitori, lobster dumplings, soba and ramen bowls, and more. Large plates include fresh Hawaiian snapper and Korean-style hanger steak.
BaiKu also has a long list of wines as well as a forthcoming specialty cocktail list created by former Araka bartender Tim Kosuge. The restaurant will host a grand-opening event this Friday, October 17 -- reservations suggested.
BaiKu Sushi Lounge's current hours are Monday through Thursday from 11 a.m. to 2 p.m. and 4:30 to 10 p.m.; Friday from 11 a.m. to 2 p.m. and 4:30 p.m. to midnight; Saturday from 3 p.m. to midnight and Sunday from 3 to 10 p.m. For the full menu and more information, visit the BaiKu Sushi Lounge website or follow it via Facebook.
Click through for more photos.
"Char Siu Steamed Buns" with barbecue pork belly and pickled cucumber.
The "Onisan" with lemon-garlic crab, cucumber, avocado, gobo, salmon, jalapeno, chili aioli, ponzu tobiko and scallions.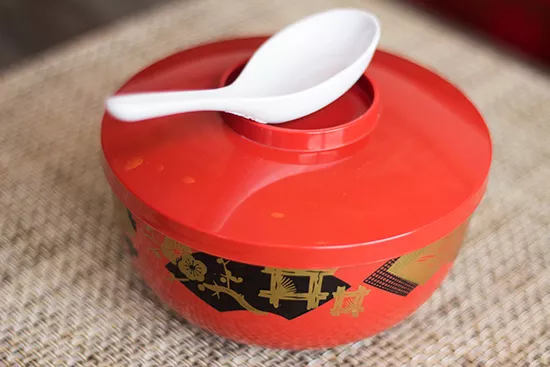 Noodles served with a lid and spoon.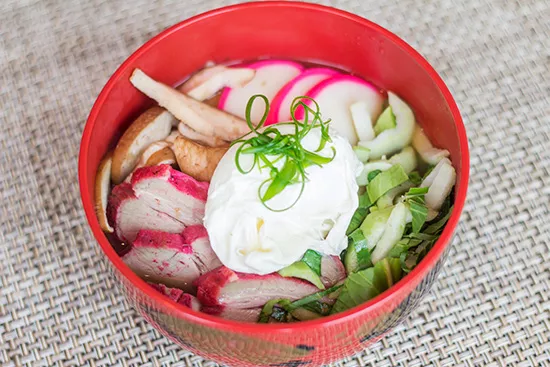 "Hawaiian Saimin" with char-siu pork, poached egg, fish cake, bok choy, shitake and green onions a dashi-ramen broth.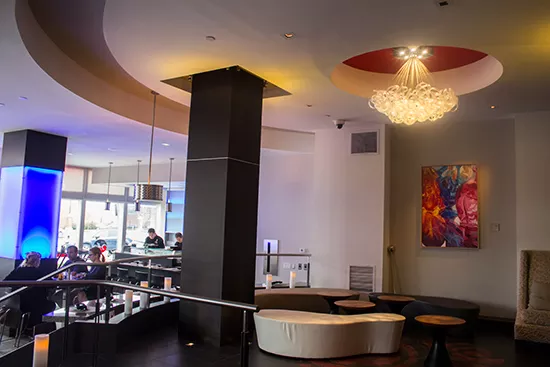 Carved apple for dessert.
Another look at the dining room.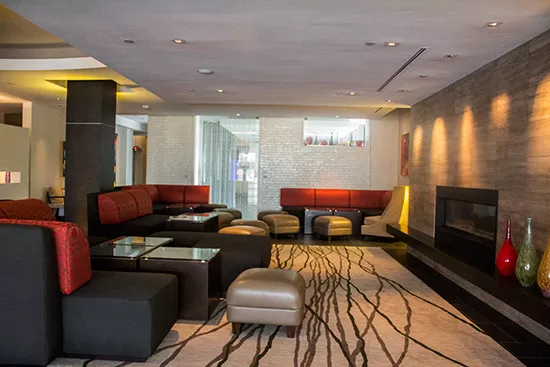 The lounge, with a hallway connecting to the Hotel Ignacio foyer.
Another look at the lounge.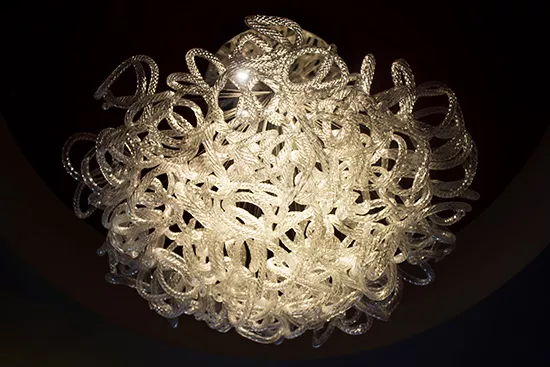 Patio, complete with a fireplace.
See also: - First Look: Good Luck Bar & Grill - First Look :McMurphy's Cafe - First Look: Rooster - South Grand
Gut Check is always hungry for tips. E-mail us!