"Ranoush Chicken and Shrimp." | Photos by Mabel Suen
The Place: Ranoush (6501 Delmar Boulevard, University City; 314-726-6874)
The Hours: Every day from 3 to 6 p.m.
The Deals: Half-off prices on the entire menu, excluding hookah. This includes wine, beer, food and cocktails.
The Scene: The atmosphere at Ranoush is as colorful as its owner, Aboud Alhamid, who greeted patrons enthusiastically throughout our visit to the Delmar Loop restaurant. The dining room features festive tapestries and decor, with an intricate mural of a bazaar scene on the back wall. Diners can choose from tables set for four, cushioned booths or a seat on the patio -- a prime spot for people watching in the busy neighborhood.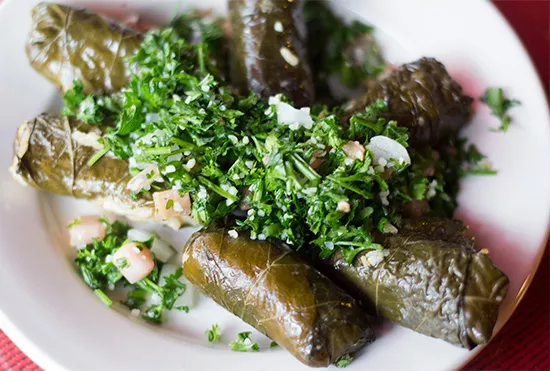 The Food: Choose from cold mezza, hot mezza, salads, main courses, side dishes and dessert. The full dinner menu is discounted, including everything from the hummus and stuffed grape leaves to grilled kebabs and baklava.
Did Ranoush make the grade? Find out on the next page.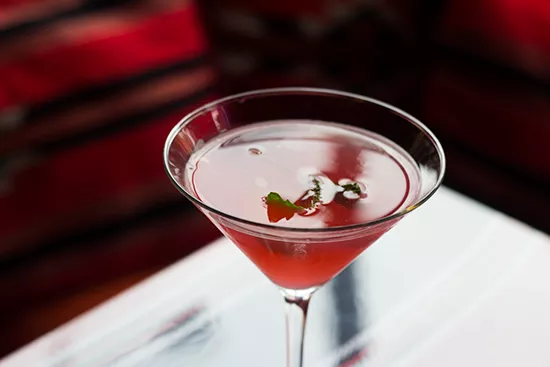 The "Ranoush Kiss" cocktail.
The Verdict: We had to double-take -- and heard neighboring diners do the same -- as we were seated with menus. Half-price... everything? "Yes," the server would respond -- everything but the hookah. While many happy hours are limited to just a select section of appetizer and drink specials, Ranoush pulls out all the stops with this recently implemented mid-day meal deal. Cocktails tend toward the sweet side, with delicate concoctions combined from fruity vodka and other select spirits.
Vegan-friendly grape leaves stuffed with rice, lemon juice and Syrian spices, was a simple dish without much to entice our taste buds. A topping of some fresh, tangy house tabbouleh, however, made the dish a welcomed, refreshing start to our meal. From the hot mezzes, we opted for "Batata Harra," tender potato cubes tossed with hot and spicy coriander, garlic and red peppers, which played a perfect contrast to the cold appetizer. "Ranoush Chicken and Shrimp" served on a pita came well-marinated, with a pomegranate-and-garlic sauce to take it to the next level.
Curious to know how the rest of the menu fares? Check out this full review from former RFT food critic Ian Froeb, circa 2009. With so many inexpensive options to choose from, it serves as a handy guide for your next half-priced, Middle-Eastern themed dinner date.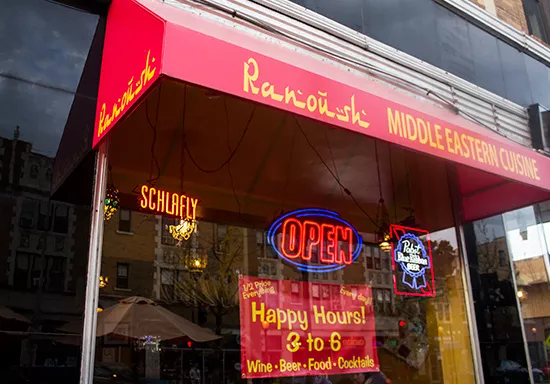 Located in the Delmar Loop.
The Rating: On a scale of one to five...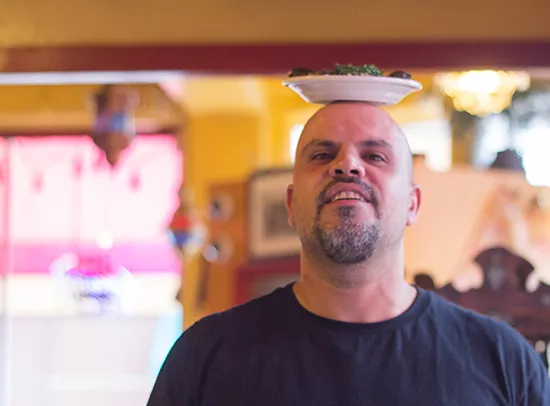 Bonus: Ranoush owner Aboud Alhamid might surprise you by bringing out your food like this.
Previously on Happy Hour Handbook: - Siam - SOHA Bar & Grill - Modesto - Square One Brewery - Cicero's - SqWires - Layla - Five Star Burgers - Central Table Food Hall - Planter's House - Atomic Cowboy - Stella Blues - Triumph Grill - Lola - Basso - Blue Ocean Sushi - Hwy 61 Roadhouse and Kitchen - Gringo - Jax Cafe - Mile 277 Tap & Grill - Sandrina's - Mangia Italiano - Kirkwood Station Brewing Company - Steve's Hot Dogs on the Hill
We're always looking for some more happy hour meal deals. E-mail the author at mabel.suen@riverfronttimes.co