The "Monster" cupcake at the Cup | Relic Photography
We here at Gut Check International Headquarters are all about helping guide our readers to the very best eats, and come Halloween-time that includes making sure you and your little ones are armed with great trick-or-treating jokes. Food and drink-related ones, at that:
Q: Why did the ghost go into the bar?

A: For the boos.

Q: What's the ratio of a pumpkin's circumference to its diameter?

A: Pumpkin pi

Q: What did the zombie order for take-out?

A: Pizza, with everyone on it!
Now you're all set to score big on Halloween, but if you can't wait that long for spooktacular treats, here's a round-up of some of our favorite sweets available only at this very creepy time of year.
The Cup (28 Maryland Plaza; 314-367-6111) The Cup takes the business of Halloween treats seriously, along with a big dollop of fun and a healthy frosting of creativity. This year's scary cupcakes include the "Monster" (pictured) made of chocolate mint and vanilla buttercream, and mint chocolate chip cake topped with a bloodshot monster eye. The "Mummy" cupcake is made with vanilla buttercream and chocolate chip cake, covered with a chocolate fudge frosting layered to look like mummy wraps.
Merb's Candies Bionic Apple | Emily Bearden
Merb's Candies (4000 South Grand Boulevard; 314-832-7117) A Merb's Candies bionic apple is a Halloween tradition for many in St. Louis. To make these decadent treats, extra large Granny Smith apples are covered in caramel and then rolled in southern pecans. Molasses puffs are also popular at this time of the year--molasses sponge candies covered in either milk or dark chocolate. And "snappers" are Merb's version of the turtle candy -- caramel-covered southern pecans smothered in either milk or dark chocolate.
Skin Deep and Ghoulish Cupcakes at La Patisserie Chouquette | Patrick Devine
La Patiserrie Chouquette (1626 Tower Grove Avenue; 314-932-7935) La Patisserie Chouquette is a boutique bakery owned by the former executive pastry chef of the Ritz-Carlton in Clayton, Simone Faure. With that kind of pedigree, you'd think her creations would be dainty and proper, and they mostly are -- except around All Hallow's Eve. Faure's "Skin Deep" and "Ghoulish" cupcakes are as creepy as they are delicious, and they're available by special order now and throughout Halloween week. Also available are the pumpkin crème "fauxnuts" -- a nod to the cronut -- with maple glaze and toasted pepitas (pumpkin seeds).
Kakao Chocolate | Barb Baue
Kakao Chocolate (7272 Manchester Road; 314-645-4446) Kakao Chocolate has hand-crafted several chocolate candies perfect for Halloween festivities -- chocolate lollies in the shapes of owls, ghosts and mummies, and chocolate pumpkins, coffins and more. Fall-themed confections include pumpkin-chocolate truffles, pumpkin marshmallows, Schlafly pumpkin ale brittle (made with pumpkin seeds) and butternut squash caramels.
Miss M's Candy Boutique | Sharon Echols
Miss M's Candy Boutique (6193 Delmar Boulevard; 314-721-7000) Though Miss M's Candy Boutique offers all manner of sweets all year long, Halloween is the time of year when it can truly let its freak flag fly when it comes to novelty confections. This is your source for all the hairy spiders, "Scary Orange" hot chocolate (pictured), "Blood" energy potion, gummy eyeballs, gummy vampire teeth, gummy candy corn and gummy brains you need to scare your trick-or-treaters.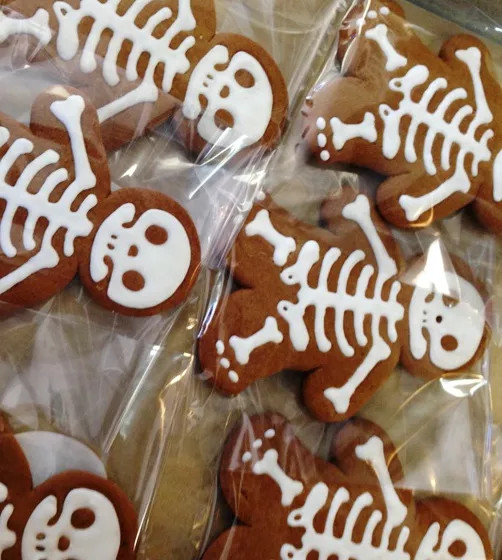 Gingerbread Skeletons at Pint Size Bakery | Christy Augustin
Pint Size Bakery (3825 Watson Road; 314-645-7142) Everything at Pint Size Bakery is made with only real butter, cane sugar, farm fresh eggs and unbleached flour. Want a little kick with your Halloween treats? The "Drunken Punkin" cupcakes are made with cinnamon rum chata buttercream. Or, add some spice with gingerbread "Skeletor" cookies. This "small batch from scratch" bakery also makes custom cupcake and cake toppers to add even more ghoulishness to your candlelit party.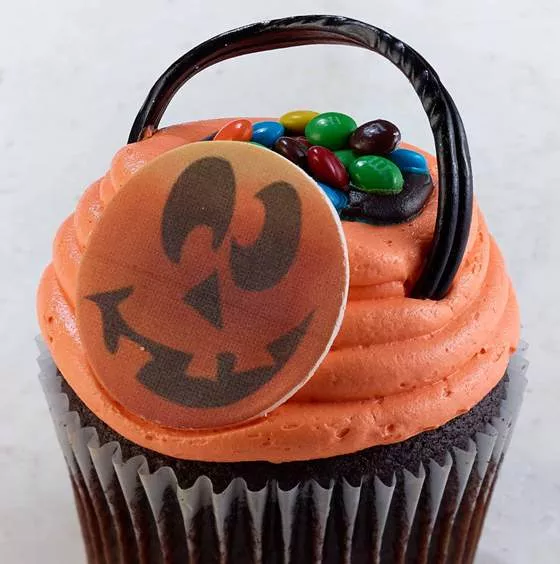 The Trick or Treat Cupcake at Jilly's Cupcakes | Michele Haven
Jilly's Cupcakes (8509 Delmar Boulevard; 314-993-5455) Jilly's Cupcakes offers a treat with a trick: their signature Halloween cupcake is made with chocolate or vanilla cake, orange vanilla buttercream with a black licorice handle, and is filled with mini M&Ms that spill out when you bite into it. Other festive fall cupcake flavors include caramel apple and pumpkin cheesecake. All cupcakes are available in mini stuffed, standard stuffed and jumbo gourmet (over half a pound) sizes.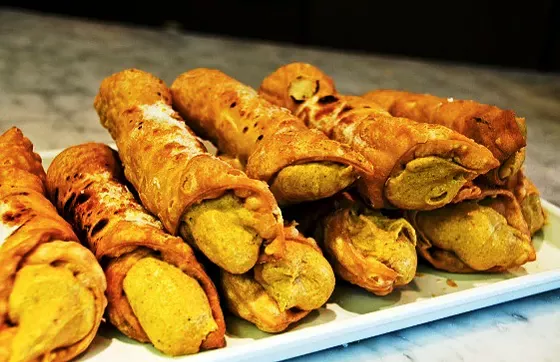 Pumpkin Cannoli at Piccione Pastry | Sara Ketterer
Piccione Pastry (6197 Delmar Boulevard; 314-932-1355) This Italian bakery in the Delmar Loop specializes in handmade cannolis and this month's special Halloween and fall-inspired flavors include pumpkin cannoli and a pumpkin cassata cake. Also, on Halloween night, every customer gets a treat: from 8 to 11 p.m., all of Piccione Pastry's treats are 25 percent off, making it the perfect place for weary parents to score a little pick-me-up after a long night of doorbell ringing.
Chocolate Chocolate Chocolate Company | Dan Abel Jr.
Chocolate Chocolate Chocolate Company (5025 Pattison Avenue; 314-338-3501) All nine locations of the Chocolate Chocolate Chocolate Company offers specialty Halloween treats like caramel apples with lightly salted pecans or solid chocolate candies in shapes of pumpkins, witches, ghosts, mummies and more. Pumpkin pie-flavored caramels, truffles and chocolate bark are also available for a limited time only.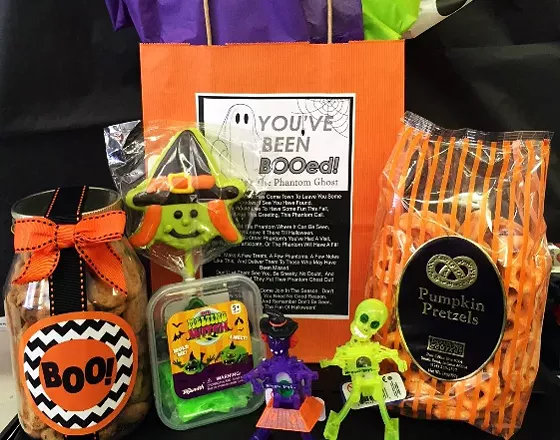 The "Boo Bag" at Sweet Be's Candy and Gifts | image courtesy of Sweet Be's
Sweet Be's Candy & Gifts (12027 Manchester Road; 314-835-1400) Sweet Be's "Boo Bag" allow you to surprise your friends, family and coworkers. Customize each bag with a mix of options from the store like pumpkin pretzels, chocolate-covered rice crispy treats, "Melting Witches," monsters, skulls, pumpkins, brains, ghosts and more spooky treats.
Follow Sara Graham on Instagram at @SaraSunshineSTL and Twitter at @SaraSunshineSTL. E-mail the author at saralouisegraham@yahoo.com.
---