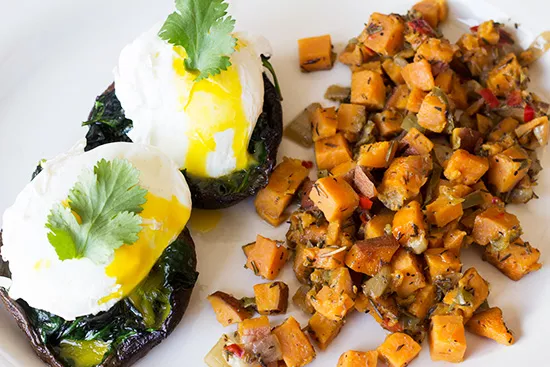 Portabella benedict with sweet-potato hash at the Corner Cup. | Mabel Suen
The Corner Cup (1221 Tamm Avenue; 314-899-0287) opened in Dogtown back in January, and after several months, co-owner Ben Strake and his team are kicking things up a notch. Chef Bob Brazell, formerly of Athlete Eats, has come on as a culinary consultant to introduce a new menu quarterly.
See also: First Look: The Corner Cup's Paleo Breakfast Options in Dogtown
"Everything that we feature now is locally sourced from the St. Louis area," Strake tells us. "You can get paleo, gluten-free, vegetarian options -- a pretty wide array, so it fits to whatever people's eating plan might be."
Brazell has a background in health-conscious food at Athlete Eats, which was founded by the nutritionist for the Cardinals. "When we opened back in the end of January we really wanted a health-conscious menu," Strake says. "We just didn't have anyone in the kitchen that could execute what we wanted our concept to be. So when I saw Bob left Athlete Eats, I had the opportunity to snag him."
Another big change is breakfast deliveries. Strake is hesitant to call it catering, but your office can get breakfast delivered any day, with coffee, fruit and pastries. Corner Cup has just been trying out it out with three or four clients, to much success.
"It's something we always wanted to implement -- we just wanted to get all of our systems in place and then start targeting other businesses," Strake says. "I really think there's a possibility to double our revenue by taking on catering clients. That's a lot of cups of coffee."
Follow the Corner Cup on Facebook for the latest updates.
Gut Check is always hungry for tips and feedback. E-mail the author at Nancy.Stiles@RiverfrontTimes.com.
Follow Nancy Stiles on Twitter:
---