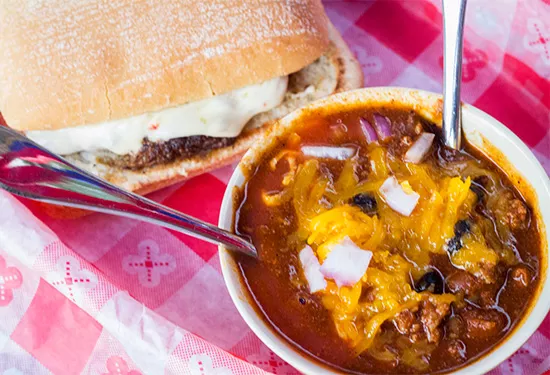 A cup of spicy chili with the "Bourbon Street Burger." | Photos by Mabel Suen
When asked to describe Good Luck Bar & Grill (2501 South Ninth Street; 314-833-5825), owner Patrick Lowery replies, "I just wanted to keep it simple and true to the good old-fashioned American bar and grill. I would say we're a classic corner spot with simple but good food, priced affordably."
See also: Good Luck Bar & Grill Bringing Irish Spirit to Soulard
The Good Luck Bar & Grill.
Lowery's first foray into the bar business opened in September on a quiet Soulard street corner. As reported by Gut Check in March, the concept features signature chili -- regular, spicy, chicken and vegetarian -- as well as eight beers on tap. The interior seats 30, while two patios have room for 40 more.
Besides the from-scratch "Good Luck Chili," the grill offers additional appetizers including fried green beans, pretzel bread and chicken wings. Burgers feature handmade third-pound patties; salads come topped with chili, chicken or a black bean patty; and sandwich options range from chili dogs to turkey reubens.
A drink token atop a tabletop Pac-Man machine.
Good Luck Bar & Grill's current hours are Tuesday through Saturday from 11 a.m. to 1:30 a.m., and Sunday from 11 a.m. to 12:30 a.m. For the full menu and more information, visit the Good Luck Bar & Grill website or follow it on Facebook.
Click through for more photos.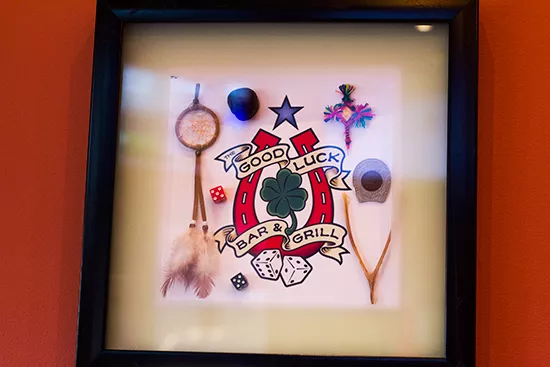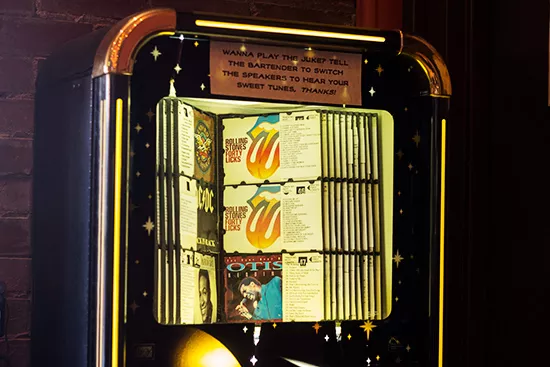 See also: - First Look :McMurphy's Cafe - First Look: Rooster - South Grand - First Look: Kakao in Clayton - First Look: Kitchen House Coffee
Gut Check is always hungry for tips. E-mail us!