"McMurphy's Reuben" served with chips. | Photos by Mabel Suen
McMurphy's Cafe (800 North Tucker Boulevard; 314-802-5478) isn't your typical lunch spot. The downtown restaurant is one of St. Patrick Center's twenty programs that assists its clients -- individuals who are homeless or at risk of becoming homeless as well as individuals with mental health or substance-abuse issues -- with housing and employment training. Its slogan? "Eat well. Do good."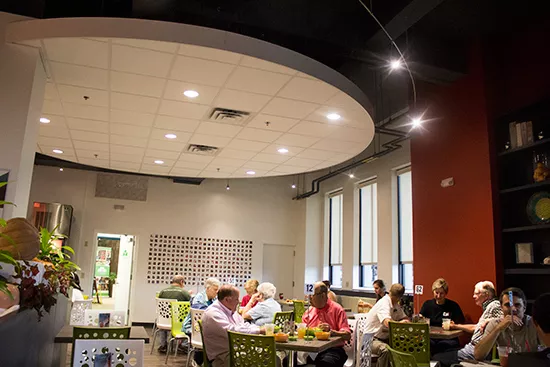 The hospitality-focused vocational program -- the first of its kind in the nation -- was initially established in 1990 with McMurphy's Grill (1800 North Tucker), which closed in 2012 and was replaced with two subsequent McMurphy's Express locations downtown. Today only one express location is in operation, and the new on-site cafe opened to the public on September 25 offering an expanded catering menu as well as a private meeting-room space.
At McMurphy's Cafe, a team of more than fifteen food-service trainees under the guidance of St. Patrick's Center staff members prepare breakfast and lunch items in-house utilizing fresh, seasonal ingredients. The menu takes a decidedly Irish spin to tie into the organization's overarching theme -- try a cup of Irish beef stew as a side to "McMurphy's Reuben," a heaping corned-beef sandwich served atop a wooden cutting board crafted in another St. Patrick's Center training program.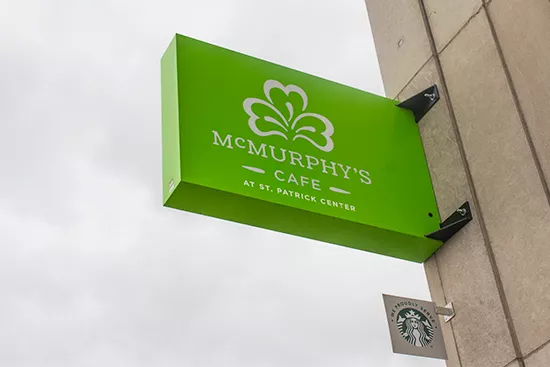 Look for the bright green signage on the building.
The kitchen also eventually hopes to utilize produce from St. Patrick Center's City Seeds Urban Farm, a horticulture-training program in conjunction with Gateway Greening that often offers up the fruits of its labors at local farmers' markets. For now, expect a breakfast and lunch menu with simple but satisfying options: breakfast sandwiches, smoothies, salads, soups, flatbreads and a variety of sandwiches and wraps including a turkey club, chicken salad and a roasted veggie wrap with black bean sauce.
McMurphy's Cafe's current hours are Monday through Friday from 7 a.m. to 2 p.m. For the full menu and additional information, visit the McMurphy's Cafe website or follow it via Facebook.
Click through for more photos.
Roasted veggie wrap with seasonal roasted vegetables and Del Carmen's black bean hummus.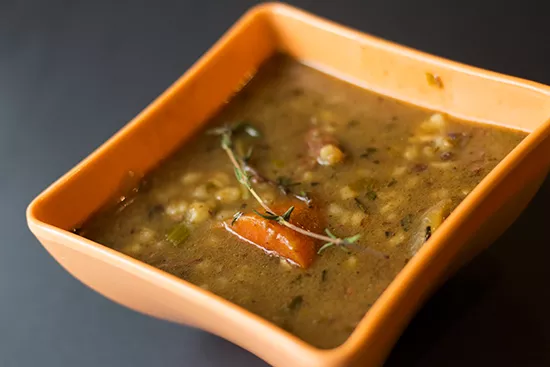 "St. Pat's Irish Beef Stew."
A St. Patrick's Center staff memeber assists a client with expediting.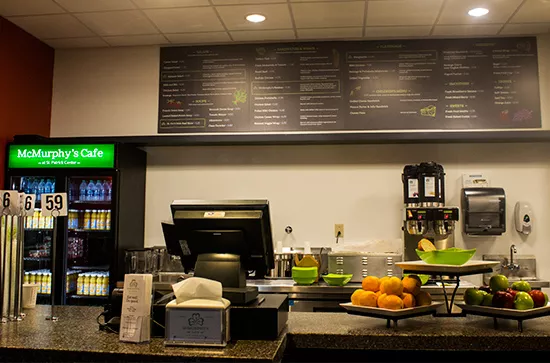 Another look at the dining room.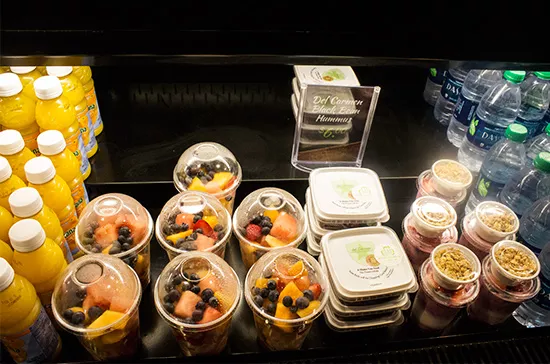 Fresh fruit parfaits also available.
Individually wrapped baked goods for dessert.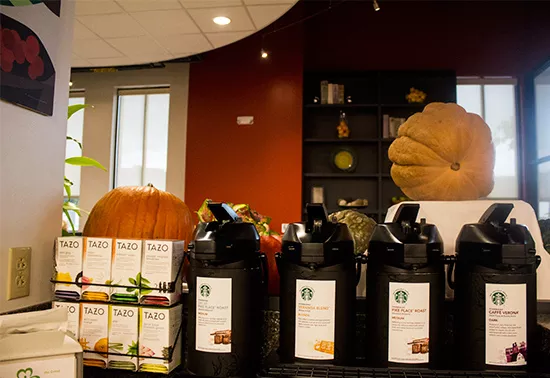 Starbucks coffee and Tazo tea available.
Now open in downtown St. Louis.
See also: - First Look: Rooster - South Grand - First Look: Kakao in Clayton - First Look: Kitchen House Coffee
Gut Check is always hungry for tips. E-mail us!