Prime 1000 | Laura Ann Miller
The hottest spots in St. Louis are hoppin' -- buzzing with conversation and packed with people. It's where to be. But what if you want to have dinner with a special someone, share an intimate conversation or discuss something important? Sometimes we all just need a little quiet and, thankfully, there are options that offer a menu worth celebrating with noise levels conducive to hearing your dinner companions. Here are some of our favorites.
See also: The 10 Bars With the Best Food in St. Louis
Prime 1000 (1000 Washington Avenue; 314-241-1000)
Located in the middle of downtown St. Louis' Washington Avenue strip, Prime 1000 offers a calm oasis from the hustle and bustle. First of all, the steaks are incredible and the wine list is artfully composed, so it's a must-visit for anyone looking for a great meal. The décor is bold and tasteful with soaring ceilings characteristic of the area's historic brick architecture. The dining area is spacious and lined with large windows overlooking the main drag. Carpeting, leather chairs, fabric art installations and tablecloths serve to soften the noise level to a busy (but soft) hum, providing an elegant backdrop for your intimate occasion.
Cielo | Photo courtesy of the Four Seasons Hotel St. Louis
Cielo (999 North Second Street; 314-881-5800)
Cielo is understandably a busy spot on any night of the week on account of its expertly executed modern Italian menu, unparalleled rooftop views of the Arch and the Mississippi River and gorgeous outdoor patio dining area (weather permitting). Noise levels are kept in check, though, by the restaurant's plush carpeting, upholstered chairs and sumptuous leather booths. Cozy up with a bottle of wine or a Scotch and indulge in a feast for the senses.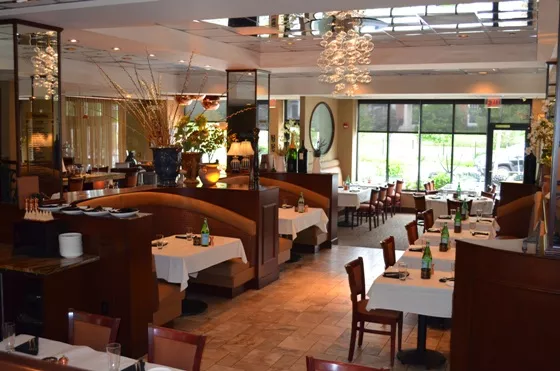 Scape American Bistro | Photo courtesy of Scape American Bistro
Scape American Bistro (48 Maryland Plaza; 314-361-7227)
Though it's located right in the heart of the Central West End, Scape offers a quiet alternative in view of the iconic Maryland Plaza fountain. Its contemporary interior features well-spaced tables, carpet and low lighting, promoting quieter conversations. Enjoy fresh seafood from the Dayboat Special, a dry-aged steak or farm-to-table salad without needing to shout to your dining companions. Another great spot, weather permitting, is the chic outdoor courtyard in back with plush seating and soft, twinkling lights -- a perfect date-night spot.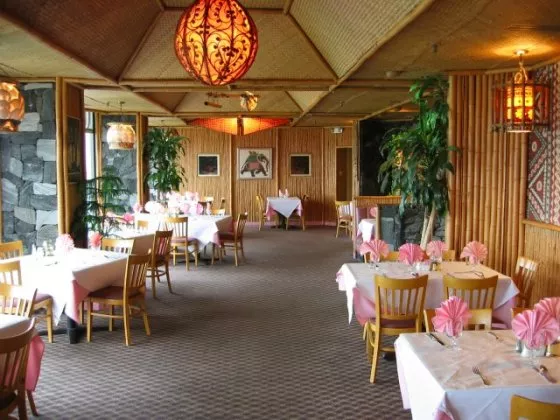 India Palace | Photo courtesy of India Palace
India Palace (4534 North Lindbergh Boulevard; 314-731-3333)
Many dine at India Palace at the top of the Airport Plaza Inn for the setting alone, as it overlooks the traffic from Lambert International Airport from its eleventh-story perch. And the food is some of the best Indian in the city. The décor is a bit reminiscent of 1990s-era fine dining with faint hints of a tiki bar, but the service and view are first class. The ceiling and walls are covered with bamboo -- a great sound buffer. Paired with wall-to-wall carpeting and tables covered in white linen, the restaurant offers up the perfect intimate dinner ambiance.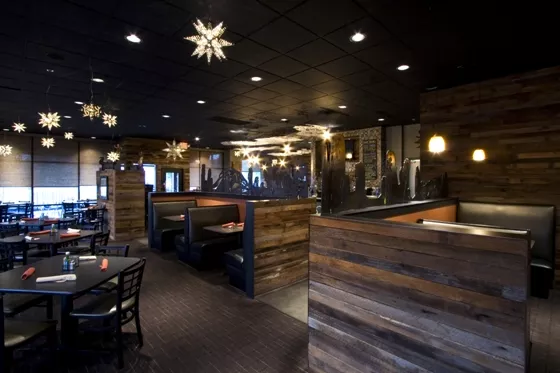 Milagro Modern Mexican | Space Architects
Milagro Modern Mexican (20 Allen Avenue #130; 314-962-4300)
Milagro Mondern Mexican brings authentic Mexican food to Webster Groves. Jalapeno, chile, chorizo, tinga, cilantro, lime, crema, mesa, hibiscus, avocado, mango, jicima, blue corn, pepitas and mole are just some of the rich flavors you'll find at this contemporary rustic hideaway. Reclaimed wood lines the walls and surrounds the booth seating areas in the carpeted dining room, providing great sound mitigation. In addition, the bar is located a good distance from the dining area and tables are spaced generously, keeping conversations and diners comfortably ensconced at their respective tables.
Follow Sara Graham on Instagram at @SaraSunshineSTL and Twitter at @SaraSunshineSTL. E-mail the author at saralouisegraham@yahoo.com.
---