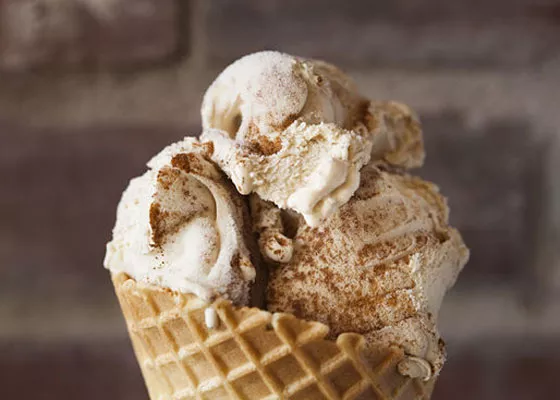 Gelato from the Hill's Gelato Di Riso. Laura Ann Miller
It was difficult for Pete Manzo to close the sausage shop his father opened in 1955 last September. The numbers just weren't there, and St. Louis said goodbye to an institution. Then he went to Chicago and Tuscany. Manzo had another idea for his expertise: EAT St. Louis Food Tours.
See also: Manzo Sausage Kitchen & Market to Close September 14
"Since I closed the shop in September, I went to Chicago and I was taking some food tours there and I was surprised we didn't have anything like that here," Manzo tells Gut Check. "I needed something that fit with my background. As a kid I grew up over at the store, and I would deliver to the restaurants and pizzerias on the Hill."
Manzo takes guests on a three-hour walking tour of the Hill with six restaurant tastings, with architectural and cultural stops along the way. Manzo doesn't like to tell people which restaurants they'll be going to, but offerings include just what you'd hope: St. Louis style-pizza, handmade toasted ravioli and handmade, artisanal-quality gelato.
"It took three months to design the tour. I whittled down a long list of places I thought would showcase what the Hill has to offer," he says. "I also interviewed the residents. That's where I got the nitty-gritty of the tour. I wanted something extremely unique -- not just going around and eating, but learning about the really rich history of the Hill that isn't really in all the historical books that have been written."
Manzo will be giving tours of the Hill until the end of November. He'll spend the next few months researching and getting ready for the spring season, which will feature another historic neighborhood: Soulard.
"I wish I would have done this awhile back," Manzo laughs. He says EAT St. Louis has been doing very well. "There's so much history and so much food, and there's a lot of St. Louisans that have been to the Hill and feel they know it, but after they take the tour they're like, 'Wow, I have just scratched the surface!'"
Tours can be privately booked, too, which Manzo says is often the case for corporate managers with new hires or for team-building experiences. Tickets are $45 for adults, $30 for adolescents and $15 for kids. You can pick a date and buy your tickets here
"People that love food not only learn about the history of the Hill, but the history of the food they're eating," Manzo says. "It's interesting for foodies and people who are interested in history alike."
Gut Check is always hungry for tips and feedback. E-mail the author at Nancy.Stiles@RiverfrontTimes.com.
Follow Nancy Stiles on Twitter:
---