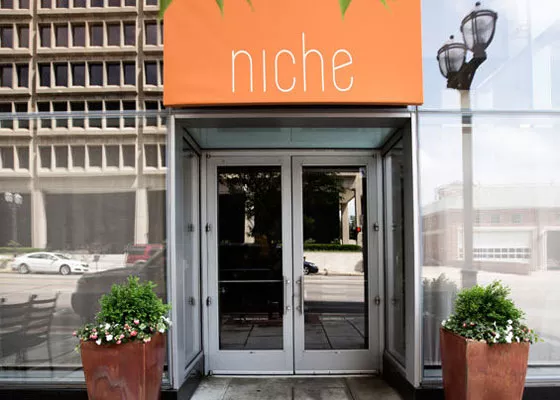 Outside Niche. | Jennifer Silverberg
Restaurateur Gerard Craft has recently named Chicago's Aaron Sherman as sommelier and beverage director for Niche Restaurant Group, which includes Niche, Pastaria, Brasserie and Taste. We caught up with Sherman to hear about his vision for Craft's restaurants and not being a wine snob.
See also: Best Wine List (Price Be Damned) 2013: Elaia Sommelier Andrey Ivanov's Favorite Wine
Sherman began as a classical percussionist, but fell into a restaurant job and ended up selling wine for five years in a "little mom-and-pop shop with this amazing mentor, this crazy little old German guy named Gary," he says. The best education he had was simply tasting and handling wines every day.
After tasting about 50 to 75 different wines a day, four days a week with a 30-year veteran of the business, Sherman says he was exposed to an incredible selection of the market. After that, he headed up programs at Avenues at the Peninsula Chicago hotel and NoMI at Park Hyatt Chicago. Most recently, he was the sommelier at James Beard Award winner Stephanie Izard's Girl & the Goat.
"In a relatively short career, I've had an opportunity to see a pretty broad swath of what restaurant-beverage programs do and should do. I was lucky that I managed to walk into two incredible, almost European-style, apprenticeships. You learn how to run a program by being in the cellar, counting bottles, counting stock," Sherman says. "Part of it also is that I came from a different career, so I'm a little less stuck in the single-mindedness of wine."
Sherman says one of his favorite parts of his job is the conversation he gets to have with people about wine. It shouldn't be about using buzzwords that are supposedly what wine people say, but rather what you'd like to get out of a wine. The good thing is that he doesn't have to come in and revamp the lists at Craft's restaurants -- instead he gets to play around with the wine and keep things running smoothly.
"The fun thing but the challenge is that I'm new to St. Louis. I don't know everybody yet, I don't know the clientele. I'm gonna have ideas, and Gerard is going to look at me and say, 'That's an insane idea!' and we can work backwards from that. It's a process," he says.
And those who love the pairing and cult-y wines at Niche, everyday bistro wines at Brasserie and focused Italian wines at Pastaria -- don't freak out. That stuff isn't going away. Instead, Sherman wants to encourage more of a dialogue between staff and customers.
"I would hate for someone to walk in today and have been in last week -- 'The new guy's here, check out this wine list, it's crazy.' I want them to go, 'Oh, I haven't seen that before, I'll try that glass. Next time, where else can you take me?' he says. "I want it to be a living, breathing list. I want people to come in and get excited that there's something cool on there."
Gut Check is always hungry for tips and feedback. E-mail the author at [email protected].
Follow Nancy Stiles on Twitter:
---