Welcome to Sugar High, a series devoted solely to spotlighting the best ways to sate a sweet tooth in St. Louis. We'll sample the best the city has to offer at restaurants, bakeries and holes-in-the-wall, and provide some insight on how these confections are made along the way.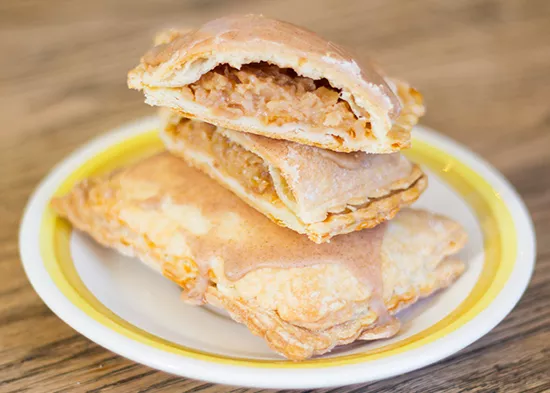 Whisk's "Apple-cinnamon pop tartlet." | Photos by Mabel Suen
Whisk: A Sustainable Bakeshop (2201 Cherokee Street; 314-932-5166) excels at lots of things, from award-winning cupcakes to a veritable rainbow of juicy popsicles. While visitors can expect warm and fuzzy flavors coming out of its ovens this fall -- sweet-potato cupcakes with maple frosting, pumpkin brownies and apple-cider pops, just to name a few -- there's one pastry that baker Kaylen Wissinger refers to as her go-to this time of the year: apple-cinnamon "pop tartlets."
"Whisk's desserts are like the treats you grew up with, but better. We love making homemade versions of junk you ate out of a box when you were a kid," she says. "We aim to make really yummy sweet treats that make you and your tummy happy."
Wissinger first created her take on the classic breakfast snack two years ago for the Best of Missouri market, and they've been available in varying flavors at her brick-and-mortar bakery ever since it opened its doors shortly thereafter.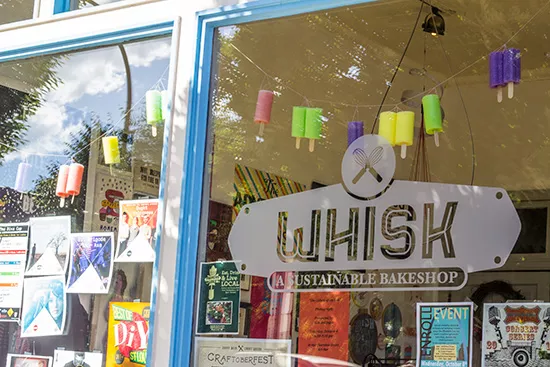 Available at Whisk's storefront on Cherokee Street.
Buttery, flaky pastry enriched with milk and egg -- like pie-crust consistency but better, Wissinger insists -- encases a hand-shredded fresh-apple filling that gets its wholesome flavor from the addition of brown sugar, lemon juice and salt. Stamped together in a special rectangular mold with crimped edges, the handheld tart gets a special glaze after it has been baked.
"The cinnamon glaze with powdered sugar idea I stole unabashedly from my mom," says Wissinger. "As kids, we made Christmas cookies and glazed with powdered sugar, water and food coloring. All of our glazes are made with powdered sugar, milk and whatever else -- spices, fruit juice, etc."
From her cozy childhood memories all the way to her Cherokee Street bakery, Wissinger's baked goods harness the power of homemade. Get a taste of the season's peak before it's too late.
Previously on Sugar High: - The London Tea Room's Blueberry-Lemon Cake - Corner 17's Fluffy Ice - The Fountain on Locust's "Banana Bourbon" Sundae - Vinnie's Pinwheel Baklava - Red Fox Baking & Catering's Lemon Tart - Sugarfire Smokehouse's Crack Pie - Russell on Macklind's Coconut Cake - The Kitchen Sink's Sweet Potato Fries - Giovanni's Kitchen's Panna Cotta Trio - Crepes Etc.'s Crepe Cake - Cafe Ventana's Beignets - Frida's Raspberry-Chocolate Avocado Mousse - India Palace's Gulab Jamun - Melt's "Violet Beauregarde" Waffle - Brevan's Patisserie's "Brendan" - Winslow's Home's Chocolate Cake with Espresso Meringue - La Patisserie Chouquette's Eclair - Black Bear Bakery's Raspberry Oat Bar - Gelateria's London Fog Gelato - 4 Seasons Bakery's German Cheesecake - Libertine's "Candy Bar" - Cleveland-Heath's Old Fashioned Cherry Pie - Schlafly Tap Room and Bottleworks' Sticky Toffee Pudding
We're always looking for some sweet ideas. E-mail the author at mabel.suen@riverfronttimes.com.