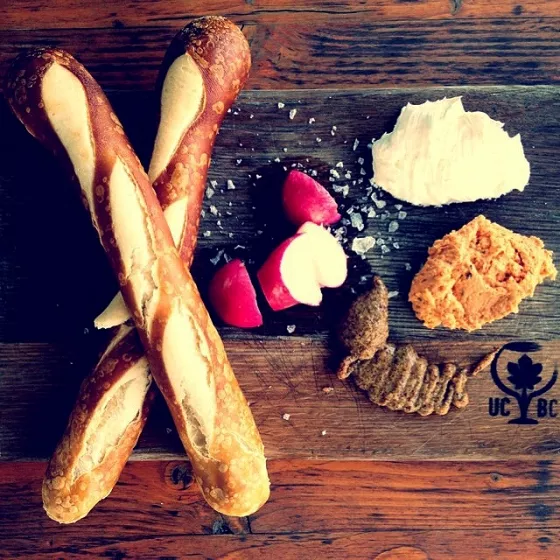 The Brezen Board at Urban Chestnut | Sara Graham
What goes best with a drink? Food, of course! We all have our favorites, that perfect snack to pair with beer or cocktail hour. Gut Check has rounded up a top ten that do both extremely well. Some offer the fatty, salty classics that keep us in perfect drinking spirits all night and others offer a little something out of the ordinary that make us rethink the concept of bar food. Either way, we love it.
See also: The 10 Most Beautiful Bars in St. Louis
Urban Chestnut (4465 Manchester Avenue; 314-222-0143)
The menu at Urban Chestnut's new location in the Grove is modeled after a traditional German bierhall with European-inspired dishes that incorporate local ingredients whenever possible. A popular dish is the brezen (pretzel) board that comes with an assortment of housemade spreads (usually whipped unsalted butter, mustard and cheese). The rotating bratwurst board and the daily schnitzel sandwich are close seconds. Everything, of course, is best paired with one of Urban Chestnut's European-style hand-crafted beers.
Porchetta Louie at Dressel's Public House | Jennifer Silverberg
Dressel's Public House (419 North Euclid Avenue; 314-361-1060)
Owner Ben Dressel explains that what sets Dressel's Public House apart from the rest is a commitment to buying and using whole animals, supporting farms that treat their animals respectfully and maximizing seasonally available produce. The menu is simultaneously accessible to everyone and a gourmand's paradise -- farm-to-table cuisine for the masses. A customer favorite is the burger made with with Ridgley Farms Missouri beef, aged cheddar and onion jam served on a brioche bun. Dressel estimates he purchases an entire cow every two to three weeks. Plus, Food Network's Guy Fieri simply cannot get enough of the porchetta "Louie" sandwich with herb-roasted local pork butt.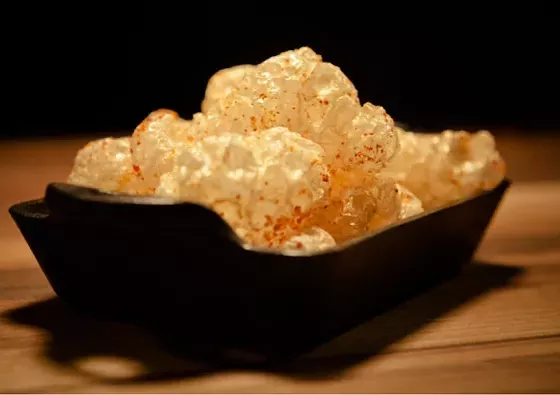 Pig Popcorn at Taste Bar | Tuan Lee
Taste (4584 Laclede Avenue; 314-361-1200)
Taste offers a departure from the traditional bar-food experience by infusing its dishes with creativity. In creating the menu, executive chef Matt Daughaday chose dishes that might offer a connection to a customer, whether it be a food from their childhood or cherished American bar fare. Then, he seeks a new and fun way to present it, either by switching out a primary ingredient or adding something new. A recent example is the fried green beans, considered classic dive bar food, usually made from frozen beans. At Taste, fresh local green beans from Double Star Farm are fried in beer batter and topped with pickled blueberries, candied pine nuts and basil aioli. A coveted favorite dish, when available, is pig (skin) "popcorn."
Schlafly Tap Room | RFT Image
Schlafly Tap Room (2100 Locust Street; 314-241-2337)
Local craft-beer leader Schlafly has also provided St. Louis with praiseworthy bar food, ideal for the light grazer or European pub fan with stick-to-your-ribs heartiness. All of the choices pair perfectly with one of Schafly's twenty-plus beers. Spare ribs, poutine, country-style pâté, frog legs, five varieties of mussels and fries, fish and fries, pork schnitzel, vindaloo curry, plate of swine and an imperial steak pie are just some of the mouth-watering choices. Companion pretzels with Schafly Hefeweizen cheese sauce is a favorite on the late-night menu.
Smoked Salmon Chips at Three Sixty. | Image courtesy of Three Sixty
Three Sixty (1 South Broadway Avenue; 314-241-8439)
With stunning views into Busch Stadium and of the Mississippi riverfront, Three Sixty is undeniably a striking spot to grab a small bite or even a full entrée as you drink in the view. Chef Rex Hale has amped up typical bar food, offering items like popcorn drizzled with truffle oil, smoked-salmon chips, a selection of local cheeses from Baetje and Marcoot Farms, seafood ceviche, four different beef sliders, a grass-fed double burger, raw oysters and a salume platter. Locally sourced food is featured throughout the menu; the small-plate late-night menu is offered until 11 p.m.
John D. McGurk's Irish Pub | Drive Social Media
John D. McGurk's Irish Pub (1200 Russell Boulevard; 314-776-8309)
A St. Louis institution since 1978, John D. McGurk's Irish Pub and Garden in Soulard is known just as much for its food and beer as the traditional Irish music seven nights a week. Most of the menu is standard American bar food: perfectly done chicken wings, Southwest chicken salad, bacon-wrapped shrimp, a grilled chicken sandwich, grilled chicken penne pasta, pork chops, rib eye, beef tenderloin and more. Several Irish specialties are also included, such as Mrs. McAteer's potato soup, Murphy's Irish onion gratin soup, corned beef and cabbage, fish and chips, Irish lamb stew, Guinness stew, bangers and mash and Gaelic steak. Whatever you choose, there are four large brick- and wood-clad rooms inside, a beautiful garden patio for the warmer months and an all-season enclosed patio in which to enjoy it.
Sanctuaria (4198 Manchester Avenue; 314-535-9700)
Sanctuaria offers a unique tapas experience and an innovative cocktail menu wrapped in Latin-infused décor. Chef Will Pelly's cooking style is inspired by his Cuban-born mother and grandmother. A sampling of the menu includes tuna lime coco ceviche, mango melon shrimp ceviche, wicked good shrimp, mussels with coconut and habanero, jalapeño cornbread, Cuban pork and beef chorizo sliders and a Cuban sandwich with mojo-braised pork and ham. The menu changes seasonally and features local, fresh produce, some of it from Sanctuaria's own garden.
The Dubliner | Drive Social Media
The Dubliner (1025 Washington Avenue; 314-421-4300)
A European-style gastropub, the Dubliner brings the Irish pub experience to Washington Avenue. The menu offers hearty traditional favorites like corned beef, short ribs braised in stout, a Guinness stew, potato boxty, bangers and mash and fish and chips. Depending on the night, a rugby match on TV, a live Irish, rock or blues band or a comedy act. Also a long-loved bar tradition is the eating competition. Plus, if you can finish off the Hot Mess (a stack of three six-ounce burgers with Swiss and Irish cheddar cheese), a pint of Guinness and a shot of Jameson whiskey in 30 minutes or less, you'll get your picture on the restaurant's "wall of shame" and a Hot Mess T-shirt.
Polenta Fries at Mangia Italiano | Image courtesy of Mangia Italiano
Mangia Italiano (3145 South Grand Boulevard; 314-664-8585)
Known for its fresh pasta, American twists on Italian cuisine, and a 3 a.m. closing time, Mangia Italiano has been a beloved south-city restaurant for more 30 years. The regular menu includes a full list of pasta, pizza, sandwiches, paninis, desserts and appetizers. All pair well with beer and Mangia's nightly live music. There are more than 50 items on the late-night menu served until 1:30 a.m., including favorites like grilled strip steak with smoked gouda and steak sauce aioli, polenta fries, honey cayenne wings and gnocchi with three sauce options. Fun late night "south side drink combos" include the Number One (slice of pizza and a PBR), the Lo-Brow (a Stag and a shot of Ten-High) and the Hi-Brow (a PBR and a shot of Jameson). It's no surprise Mangia was just named the Best 3 a.m. Bar in our Best of St. Louis issue for the second year in a row.
The Royale | Steven Fitzpatrick Smith
The Royale Food & Spirits (3132 South Kingshighway Boulevard; 314-772-3600)
The Royale has the cheer and comfort of a great neighborhood bar. It was one of the first bars in St. Louis to explore the craft of classic cocktails, and the DJs spin old-school vinyl. With a small "submarine kitchen galley," as described by owner Steven Fitzpatrick Smith, the Royale offers a small food menu, but does it well. A customer favorite is the farm-raised catfish tacos encrusted in crushed corn chips and cumin, pan-fried and topped with cabbage, pico de gallo and chipotle aioli. The top-shelf grilled cheese sandwich with tomatoes, pesto, cheddar and provolone cheeses must-try.
Follow Sara Graham on Instagram at @SaraSunshineSTL and Twitter at @SaraSunshineSTL. E-mail the author at saralouisegraham@yahoo.com.
---