"One Long Table" | Sara Graham
Just over 100 guests dined together at the trademark "one-long-table" at this weekend's Outstanding in the Field event at Such and Such Farm in Desoto. Farm owners Dave Blum and Autumn Sij welcomed everyone with wine, appetizers and a tour of their 88 acres, showing off their vegetable beds, chickens, pigs, goats and photogenic turkey.
The feast was created in partnership by Josh Galliano, chef and owner of the Libertine in St. Louis, and executive chef Ryan Trimm of Sweetgrass and Southward from Memphis, Tennessee.
Outstanding in the Field is a series of outdoor dinners arranged across the country. Check out our photo digest of the evening.
Reflecting on the evening's event, Galliano offered thanks and praise. "We are honored and love that we were asked to do an Outstanding dinner, but it is always about all the folks who made this dinner happen. Look at all the help from awesome people, farmers and friends. Ryan Trimm is simply incredible for coming up from Memphis and rocking out some amazing food. And it always is great to have our entire Libertine crew come together to put on this major feat -- from Tori choosing the wines to Gustavo camping out the night before to get an early start and Josh Poletti working his tail off the entire time. It was a ton of work and we had a blast doing it all."
Said the owners of Such and Such Farm, "We were so honored that Josh Galliano selected us for outstanding in the field's first farm dinner in the St. Louis area! We couldn't have asked for a better day: great weather, great people and unbelievable food from the Libertine and Sweetgrass from Memphis!"
The evening came to a close just after sunset with dessert by candlelight (winter squash sticky toffee pudding with maple syrup and a bourbon and black walnut butter) and a well-deserved standing ovation for all of the cooks and the Outstanding in the Field team.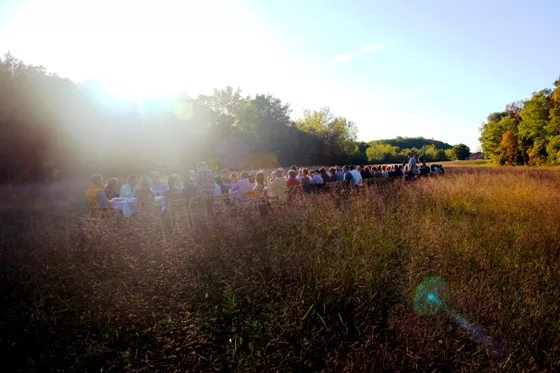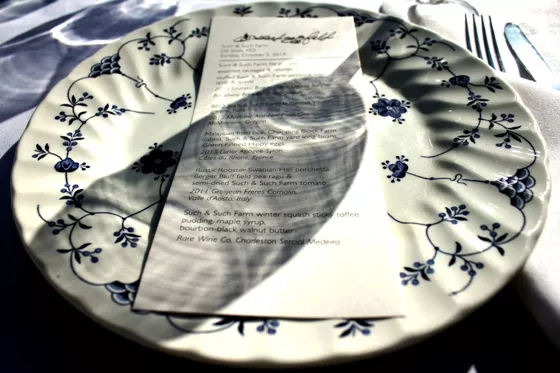 Chicken legs and Such & Such Farm Greens | Sara Graham
BBQ Such & Such Farm butternut squash, greens, nuts | Sara Graham
Malaysian fried rice, Chopping Block Farm rabbit, Such & Such Farm yard long beans, Green Finned Hippy eggs | Sara Graham
Heirloom Tomatoes | Sara Graham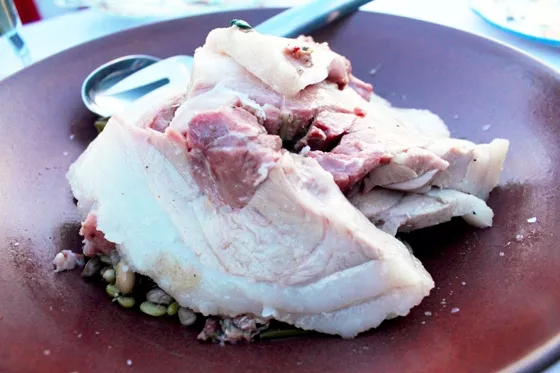 Rustik Rooster Swabian Hall porchetta, Berger Bluff field pea ragu & semi-dried Such & Such Farm tomato | Sara Graham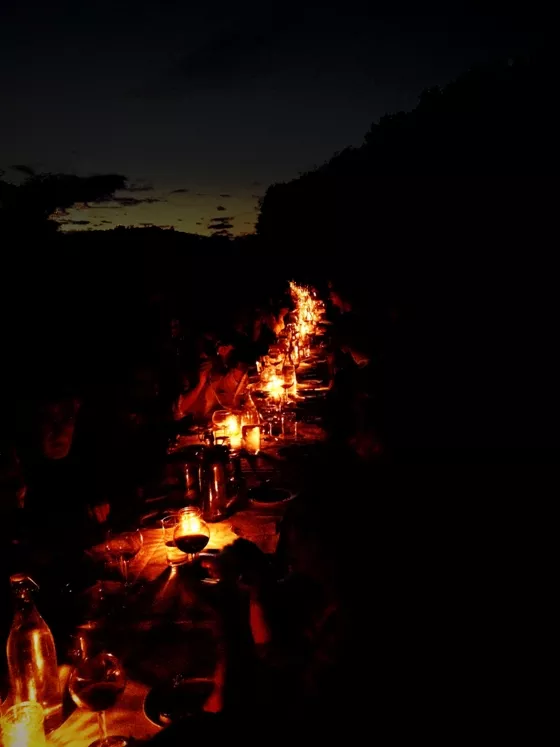 Dessert by candlelight | Sara Graham
Follow Sara Graham on Instagram at @SaraSunshineSTL and Twitter at @SaraSunshineSTL. E-mail the author at [email protected].
---