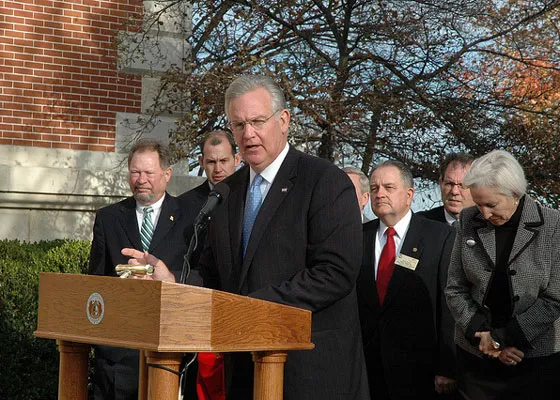 Jay Nixon not eating beef brisket at the Governor's Mansion. | Missouri News Horizon
In the most adorable school project ever, ten-year-old Lauren Wu of San Carlos, California, decided to create a cookbook with the favorite recipes of all 50 U.S. governors. Not everybody responded, but she put together a book of 26 recipes. One state missing? Our own Missouri.
See also: From Michael Ruhlman to Mom: The Favorite Cookbooks of St. Louis Chefs
We were unable to get a hold of little Lauren Wu, but Governor Nixon's press secretary Scott Holste tells Gut Check that there was, in fact, a correspondence with her in early March. Nixon's office sent several recipes that it already has on hand for requests such as this one. Holste was unsure why Wu did not include Nixon in her cookbook -- whether it was because they sent more than one recipe, they missed the deadline or another reason.
Holste sent us Nixon's "favorite" recipes, though, which seem more like selections that are routinely served at the Governor's Mansion: root vegetable soup, mixed greens and encrusted goat cheese salad with a basil vinaigrette, dinner rolls, beef brisket, a K.C. strip steak, julienne carrots and zucchini, three potato casserole, cinnamon ice cream and blackberry cobbler.
For you Illinois folks, Governor Pat Quinn submitted recipes for caramel corn and the classic Chicago dog. Want to pretend like you're dining with ol' Jay Nixon? Here you go:
Recipes from the Governor's Mansion
And here's Lauren Wu's American Cooking: