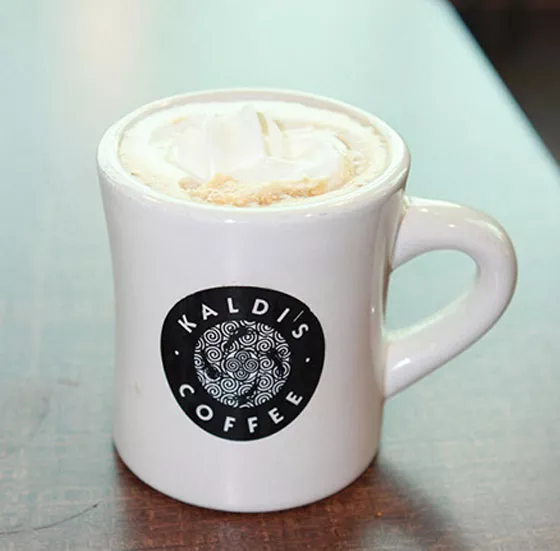 Kaldi's maple pumpkin latte. | Zoe Klein
A gust of wind blew yellow leaves across Forest Park Parkway today, driving home what we already know: It's fall. Though the air hasn't turned cold enough for coats, the emerging autumn colors and shorter days mark the beginning of pumpkin spice latte season. For this week's Thursday Throwdown, we searched the city for two local examples of this taste of the season that sends connoisseurs into frenzies, settling on the two big St. Louis coffee roasters: Kaldi's Coffee (multiple locations including 187 Carondelet Plaza, Clayton; 314-726-2900) and Northwest Coffee Roasting Company (multiple locations including 8401 Maryland Avenue, Clayton; 314-725-8055).
See Also: Six of the Best Locally Brewed Pumpkin Beers
The pumpkin-pie latte at Northwest Coffee Roasting Company. | Cheryl Baehr
Northwest Coffee Roasting Company
Northwest Coffee bills its version of the pumpkin-spice drink as a "pumpkin pie latte," though it tastes closer to a ginger-bread cookie. The coffee roaster begins with its fresh-roasted espresso, adds pumpkin-pie syrup and steams whole milk. There are no bells and whistles with this one: It's simply coffee, syrup and milk. The result is a ginger-forward, frothy, warm treat with subtle hints of nutmeg and cinnamon.
Kaldi's pumpkin-maple latte requires about as much effort as baking a homemade pie. The coffee roaster proudly boasts that its autumn-themed beverage is made completely from scratch. For three years now, Kaldi's has been working to perfect its recipe. Fresh pumpkin is roasted for 30 minutes, then mixed with maple syrup and cinnamon. Baristas add this concoction to espresso and steamed milk, then top the drink with whipped cream and a dusting of freshly shaved nutmeg. Kaldi's pumpkin-maple latte is bright and almost tealike in taste.
The Verdict
Those looking for a toasty, gingerbread-cookie-tasting beverage will prefer Northwest Coffee's pumpkin-pie latte. It's the sweeter of the two, tasting more like dessert. Kaldi's pumpkin-maple latte, however, is more multidimensional, with layers of bright, bitter and spice-box flavors. Add to the amount of effort that goes into making the real pumpkin base, and Kaldi's takes the prize.
Follow Cheryl Baehr on Twitter at @CherylABaehr. E-mail the author at Cheryl.Baehr@RiverfrontTimes.com.
---