Siam's happy-hour sushi. | Photos by Mabel Suen
The Place: Siam (4121 Manchester Road; 314-533-7426)
The Hours: Happy hour is available Wednesday through Sunday from 4 to 7 p.m.
The Deals: Half-price sushi, $4 wine and $2 domestics.
A section of the spacious patio.
The Scene: Siam opened in June, filling the space left by long-time Grove mainstay, Novak's. It carries on the LGBT-friendly tradition in the Grove and features a full menu of pan-Asian fusion cuisine. The interior and patio are plenty spacious, so pick a seat to mingle at the bar, have a more low-key experience at booth or get some fresh air out on the large patio. Happy hour is available no matter where you sit, and the '80s pop tunes over the house speakers come as part of the package.
The happy-hour selection.
The Food: Regular sushi rolls available at half price include a California roll, spicy-tuna roll, vegetable roll, Philly roll, crunchy Philly roll, shrimp-tempura roll, unagi-eel roll and futo-maki roll. After the discount, these range from $3 to $4 each.
Did Siam make the grade? Find out on the next page.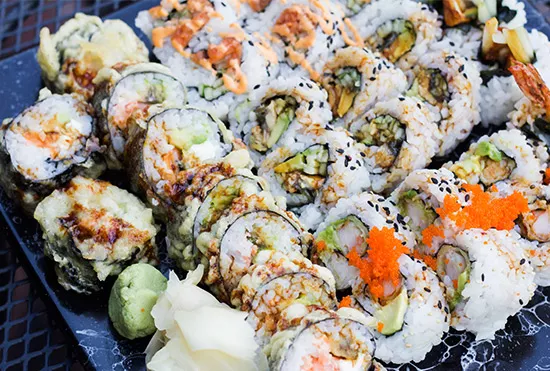 The Verdict: Shortly after ordering, a bountiful platter full of colorful sushi rolls arrived at our table. The rice came well seasoned, and the components from each roll stood on its own: Spicy tuna had a nice kick to it, the shrimp tempura roll was flavorful and fresh, tender eel came glazed in sweet soy, and the crunchy Philly roll gave us our fried-food fix with crisp breading and a gooey cream-cheese center.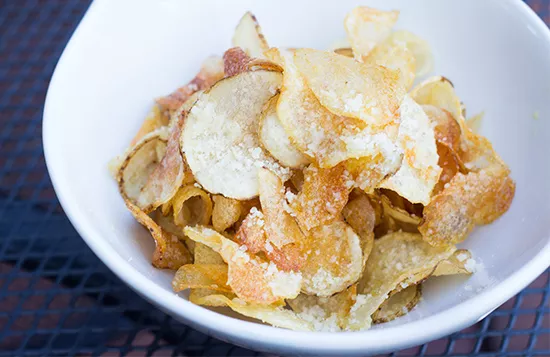 Recommended snacking on the side: Parmesan-truffle potato chips.
Overall the platter gave a lot of bang for its buck, and unlike a lot of happy hours, could serve as a stand-in for dinner rather than just a precursor to a more substantial supper. Those looking for a savory, addictive snack, however, should try out Siam's housemade chips -- something we ordered on a whim. Though they're not on the happy-hour menu, the paper-thin potatoes come flash fried and flavored with options including truffle oil and Parmesan cheese.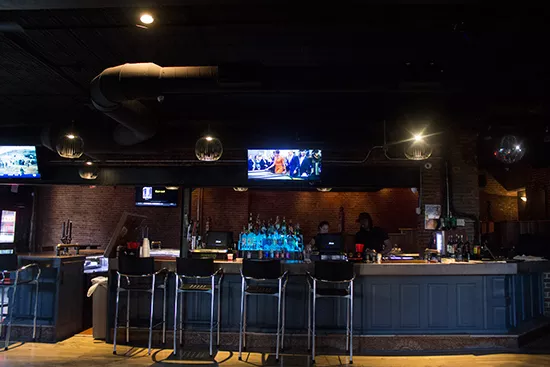 Standard sit-down meals are available through regular dinner service as well -- a new fall menu coming soon. At Siam, patrons are encouraged to "dine, drink and dance." Though we won't be spinning under the disco balls with full stomachs anytime soon, our wallets would happily shimmy up to the affordable and satisfying happy-hour selection again and again.
The Rating: On a scale of one to five...
Previously on Happy Hour Handbook: - SOHA Bar & Grill - Modesto - Square One Brewery - Cicero's - SqWires - Layla - Five Star Burgers - Central Table Food Hall - Planter's House - Atomic Cowboy - Stella Blues - Triumph Grill - Lola - Basso - Blue Ocean Sushi - Hwy 61 Roadhouse and Kitchen - Gringo - Jax Cafe - Mile 277 Tap & Grill - Sandrina's - Mangia Italiano - Kirkwood Station Brewing Company - Steve's Hot Dogs on the Hill
We're always looking for some more happy hour meal deals. E-mail the author at mabel.suen@riverfronttimes.co