The 16 oz. New York strip steak. | Jennifer Silverberg
801 Chophouse (137 Carondelet Plaza, Clayton; 314-875-9900) 4-10 p.m. Mon.-Thurs., 4-11 p.m., Fri.-Sat., 4-9 p.m. Sun.
"Greed is good," Gordon Gekko famously said in the 1987 movie Wall Street. Immediately afterward, I like to imagine he headed to dinner at a place resembling 801 Chophouse. The Omaha-based chain is a gratuitous display of wealth: $100 steaks, bathroom attendants tasked with endlessly filling the urinals with ice, the massive golden bull statue in the middle of the dining room that looks very much like the famous charging bull statue from the actual Wall Street. If other local steakhouse chains are the 80-foot sailboats in the Caymans, 801 Chophouse is the yacht in Monte Carlo with a helipad.
The restaurant occupies the space across from the Ritz-Carlton that used to house Araka. The former tenant's sleek modern motif has been replaced with an homage to the Roaring Twenties. Dark wood, hunter green leather, bankers lamps and Art Deco accents on the bar set a vintage scene. Even the servers' jackets are money green. It is arguably the most opulent restaurant in town.
See also: Why Are the Urinals at 801 Chophouse Filled with Ice?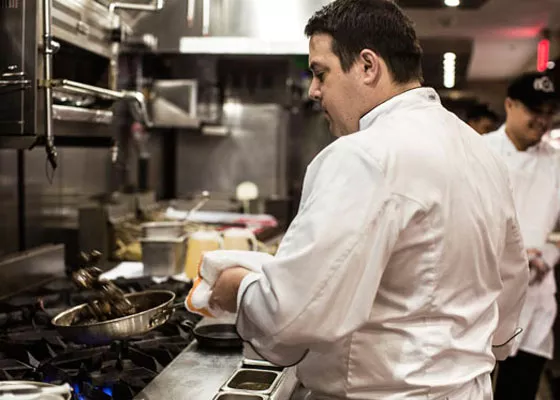 Executive Chef Christopher Dennis in the 801 Chophouse kitchen. | Jennifer Silverberg
Let me be clear: 801 Chophouse is exquisite. The service was largely impeccable, and the food was delicious. That said, I hold a restaurant that is going to charge the equivalent of airfare to Paris for a party of four to a very high standard, and for the most part, the restaurant met that. Almost immediately, in fact, during the appetizer course: Vibrant red beef carpaccio, beautifully marbled, was simply served with capers, arugula, shaved Parmesan and a drizzle of olive oil. Roasted beef bones, halved to reveal the rich, creamy marrow, bordered on shameful. The accompanying tomato chutney provided a welcome acidic counter to the decadent marrow. A gigantic crab cake, generously studded with large chunks of fresh lump meat and accompanied by caper tartar sauce, is the best I have had off the coasts.
The one miss in the appetizers I sampled were the lobster corn dogs -- not so much in taste but in their misleading description. The golden fritters, served on a stick, are actually filled with a lobster and shrimp mousse. No chunks of whole lobster meat here.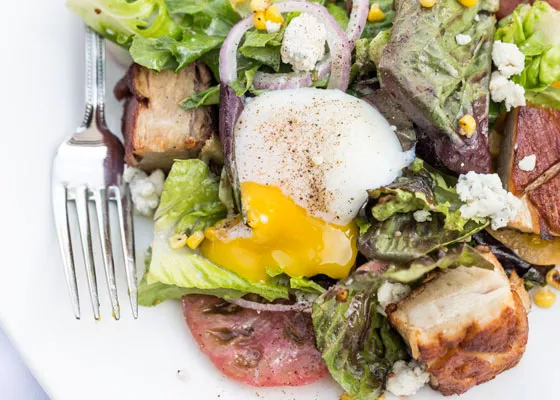 801 Chophouse Salad with mixed baby lettuces, roasted corn, tomato, shaved red onion, braised pork belly, maytag blue cheese crumbles and herb vinaigrette. topped with poached egg. | Jennifer Silverberg
Salads at 801 Chophouse are well-executed. The "801 Wedge" was half an iceberg lettuce head smothered in creamy blue cheese dressing. Instead of croutons, the restaurant substitutes diced cubes of fried bacon. Those who want their salad course to pack as much heft as a cheeseburger will enjoy the "801 Chophouse Salad." This hearty plate of lettuce, corn, onion, tomato and blue cheese is served with two large hunks of pork belly and an over-easy egg. It's a meal unto itself.
I passed on the pornographic 44-ounce "Tomahawk" steak (a double-cut rib eye with a foot-long bone sticking out) and slummed it with the single-cut, boneless 16-ounce rib eye. 801 Chophouse broils its steaks at 1,800 degrees, resulting in a pleasant char encrusting both sides. Though well-marbled, I felt it was overcooked (based on the menu's description of what medium means). The bone-in strip, however, was divine: robust meaty flavor, juicy, perfectly cooked.
The restaurant's non-steak offerings deserve equal billing. A veal chop "lollipop" had just enough bitter char flavor to stand up to the accompanying portabella ragout. A bone-in pork chop sourced locally from Washington's Deppe Farms was double-cut so it was as thick as a phone book. Apple cider brine enhanced the pork's natural sweetness, as did the chunky spiced-apple compote. Our server encouraged us to order the pork Cajun-rubbed, saying it would result in a nice sweet and spicy combination. Instead, it proved to be overpowering. I would have preferred the simple grilled flavor.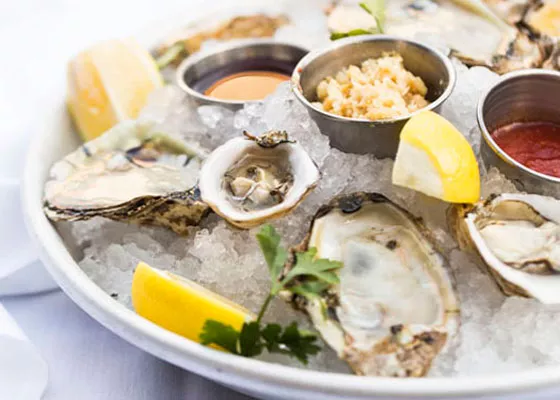 Bluepoint and Kusshi Oysters served with red champagne mignonette, cocktail sauce and fresh horseradish. | Jennifer Silverberg
The seafood selections impressed. The seared scallops paired with sweet-corn bisque, bacon, golden chanterelle mushrooms and thyme brown butter demonstrated the steakhouse's competence with fish. A salad of heirloom tomatoes and peaches was the perfect end-of-summer preparation for the Alaskan halibut. The lovely piece of fish was pearlescent, but slightly overcooked -- I have a feeling it had sat in the window for too long.
The à la carte-style menu has 24 different side dishes to pair with the entrées -- it's difficult to narrow down selections, but fortunately, most are available in half sizes (this is not advertised; our server mercifully shared the secret). The classic grated hash browns are flecked with white onions and cooked to a golden crisp. I was floored by the price of the lobster macaroni & cheese until the dish arrived brimming with meat: two whole claws and a large chunk of tail. The gloriously cheesy scalloped-potato casserole is not available as a half order -- a dangerous situation considering that I almost ate the entire dish. However, I did not care for the creamed spinach. The cornbread-style crust was overly salty and made the dish mushy.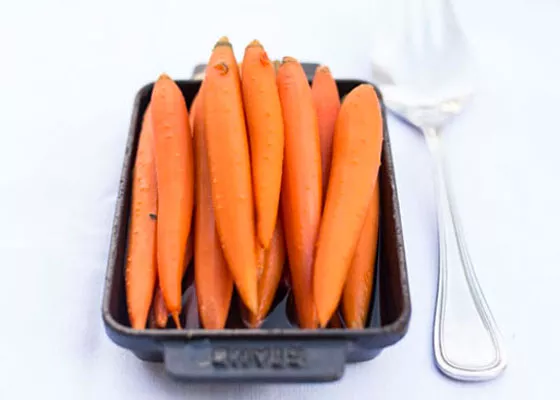 Caramelized baby carrots with a brandy and brown sugar glaze. | Jennifer Silverberg
The Grand Marnier soufflé was a light, fluffy dessert, presented with ramekins of vanilla anglaise, chocolate sauce and berry compote -- perfect after such a heavy meal. Conversely, there was nothing light about the behemoth slice of New York-style cheesecake. Though we tried hard -- the citrus-infused cream cheese was an excellent update to the classic dessert -- my table of four could not take it down.
801 Chophouse delivers, extravagantly. If, however, you're not rolling in it, you'll leave full of good food, but probably a little shell-shocked -- not by what you had, but by what you have not.
Inside 801 Chophouse. | Jennifer Silverberg