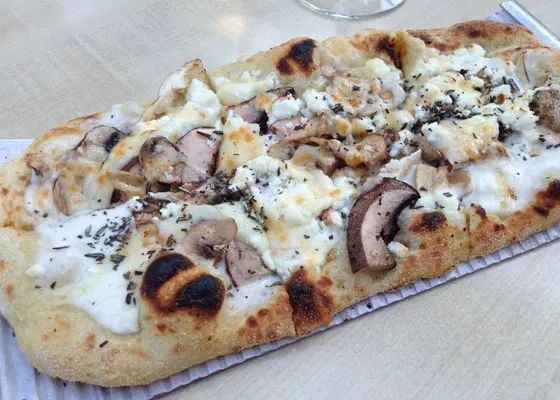 Flatbread with parmesan cream, shiitake, portabella and white mushrooms, mozzarella and goat cheese with fresh rosemary.| Nancy Stiles
It was another beautiful weekend in St. Louis. Seriously, we are getting spoiled -- hopefully the weather gods aren't prepping us for a winter even worst than last year's. We hope you enjoyed your time off with some football and maybe a festival or two. We have something to get you through the week: free food. All you have to do is guess where we got this mushroom flatbread and we'll hook you up.
UPDATE: Commenter hedleyrambunctious got it right -- we were at Crushed Red (8007 Maryland Avenue; 314-725-8007).
See also: Guess Where I'm Eating Caprese Salad and Win $20 to De Palm Tree [UPDATED]
Simply study the photo and leave your best guess in the comments. If you're the first correct answer, we'll give you $25 to Hokkaido Grill (660 North US Highway 67, Florissant; 314-921-6666).
Rules: To be eligible, you must leave a valid e-mail address (or Twitter handle or Facebook profile URL) in the comment-entry field. One guess per e-mail address. Employees of the restaurant in question and the Riverfront Times are not eligible.
Gut Check is always hungry for tips and feedback. E-mail the author at Nancy.Stiles@RiverfrontTimes.com.
Follow Nancy Stiles on Twitter:
---