Lamb Chops at Aya Sofia | RFT Photo
The next time you get a taste for flavors reminiscent of the turquoise waters and sun-bathed beaches of the Mediterranean, you don't have to travel very far. St. Louis has a wealth of restaurants that feature the cuisines of Greece, Morocco, Italy, Turkey, France and Spain, offering seafood, lamb, beef and chicken and a bounty of vegetables all flavored by olive oil and native herbs and spices. Continue on for our top ten favorites.
See also: #9: Meat Shawarma at the Vine Mediterranean Cafe & Market
Aya Sofia (6671 Chippewa Street; 314-645-9919)
Chef and co-owner Mehmet Yildiz heads the kitchen of St. Louis' only Turkish restaurant. Yildiz built his menu of familiar Middle Eastern dishes and specialty Turkish recipes based on the traditional flavors of garlic, olive oil, lemon and mint. The kilic baligi kebap is a simple yet perfect pairing of grilled and skewered swordfish and lemon. A little spicier, the adana kebap presents grilled ground lamb on a Turkish sword. And a regional specialty, the imam bayildi, is a vegetarian dish of eggplant baked with onions, garlic, tomatoes, olive oil and tomato sauce.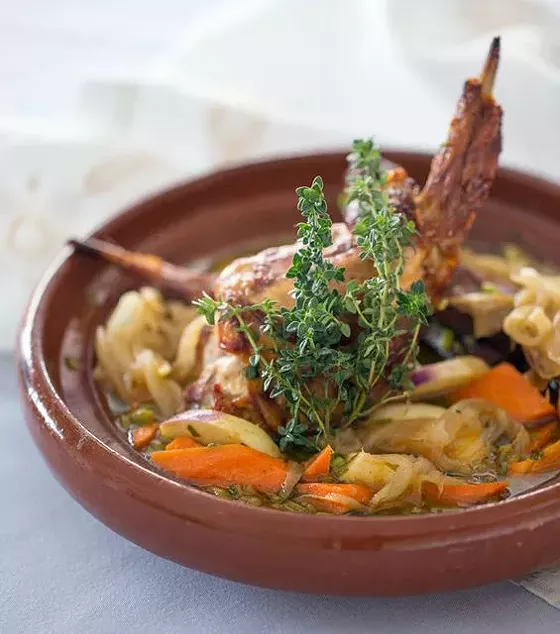 Rabbit Tajine at Baida | Jennifer Silverberg
Baida Moroccan Restaurant (3191 South Grand Boulevard; 314-932-7950)
Baida is St. Louis' first Moroccan restaurant, open just over a year. An entire section of the menu is devoted to tagine, dishes cooked and served in a traditional lidded clay tagine pot. The tangier, or chicken tajine, is a slowly braised half-chicken with onions, potatoes, preserved lemon, green olives, ginger, saffron and cardamom. A distinctive dish, the chicken bastille is spiced pulled chicken pie cooked with eggs, onions, almonds, cinnamon and honey, dusted with powdered sugar and topped with a plum and apricot sauce. And a customer favorite, the mash'wee, is oven-roasted lamb shoulder, rubbed in sea salt, cumin, coriander, garlic, vegetables and saffron.
Yogurt Dip at Cafe Natasha. | Jennifer Silverberg
Café Natasha (3200 South Grand Boulevard; 314-771-3411)
Owners Behshid and Hamishe Bahrami have been providing St. Louis with authentic and revamped Persian/Iranian cuisine for more than 30 years. The restaurant's maxim, "We will not offer anything unless it's wonderful," reflects the owners' passion for creating a delicious, authentic dining experience for guests they treat like family. The gormeh sabzie, or lamb stew, is replete with classic Persian flavors of parsley, cilantro and saffron. The smoke-grilled salmon fillet also features the decidedly Persian taste of pomegranate sauce. The walnut olive feta cheese spread represents some of the menu's original recipes. Check out their newly opened Gin Room, headed by the owners' daughter and restaurant namesake, Natasha.
Salmon Pistachio at Joyia. | Jennifer Silverberg
Joyia Tapas (4501 Manchester Avenue; 314-531-5300)
Joyia Tapas offers a variety of Mediterranean-inspired dishes. A great place to start your meal might be with the one of spreads -- hummus, htipiti, blue cheese, tzatziki or red lentil -- all served with warm pita bread, Lebanese flatbread or focaccia bread. A seasonal soup and salad give a nod to locally available produce, like roasted butternut squash soup and Fuji apple salad with strawberries. Then dive into the diverse tapas menu with contemporary choices such as bacon-wrapped dates, grilled octopus, steamed mussels in a coconut-cashew broth and shrimp and grits. If you're still hungry after that, a full menu of Italian pasta and grilled pizzas, Middle Eastern gyros and kabobs and entrees of chicken, duck, seafood and beef will surely do the trick.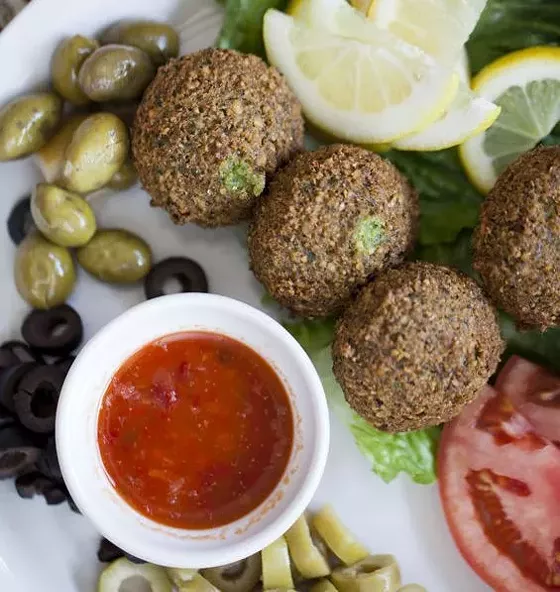 Layla | Jennifer Silverberg
Layla (4317 Manchester Avenue; 314-553-9252)
Layla offers an unexpected twist on traditional Middle Eastern fare. From the decor to the menu, old- and new-world style and Middle Eastern and American cuisine have been combined to create a unique dining experience in the Grove. Where else can you find falafel fries, nacho pita, a chicken shawarma flatbread or a beef and sliced leg of lamb burger? There are plenty of familiar dishes, but each includes a novel surprise, such as apricot ketchup, lemon-garlic mayo, pomegranate molasses, preserved lemon guacamole, chartreuse pickles and sumac flavoring anything from wings to onions to roasted apples. Layla's cocktail list is just as inventive.
Momos (630 North and South Road; 314-863-3511)
Momos offers traditional Greek dishes in the tapas, or small plate, style. Hummus, tzatziki, roasted eggplant, roasted pepper and fava bean spreads top the menu, all served with warm pita bread. The restaurant's three soups feature the Greek staple vegetables: zucchini, eggplant and red peppers. All of your favorite classic Greek dishes are here -- dolmades, Greek salad, Kalamata olives, baked feta and baked goat cheese, spanikopita, breaded calamari, garlic shrimp and Greek meatballs. The menu also includes gyros, kabob, pasta, seafood, beef, and traditional Greek desserts. A customer favorite is the saganaki, a cheese flambé that arrives at the table engulfed in blue flame.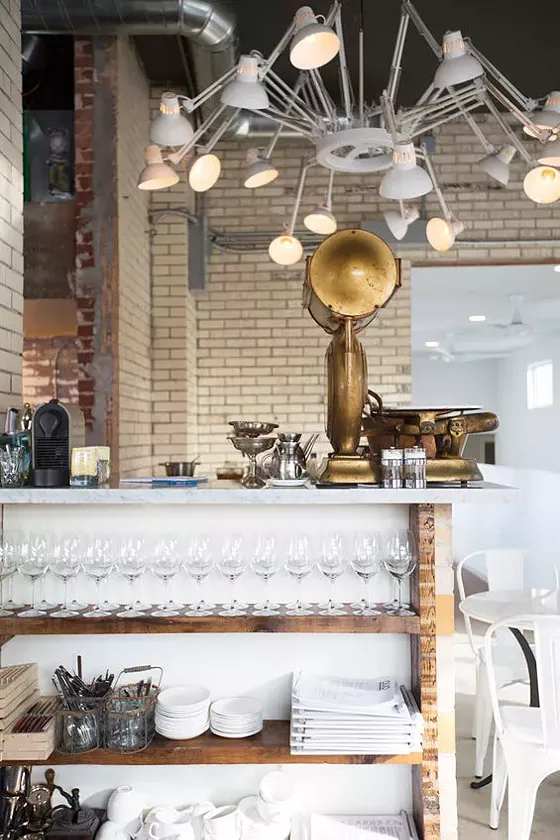 Olio | Jennifer Silverberg
Olio (1634 Tower Grove Avenue; 314-932-1088)
Olio is a one-of-a-kind treasure, housed in a renovated Standard Oil gas station with a rustically elegant, upscale décor. Its small tasting menu is inspired by the cuisines of the Middle East, southern Europe and North Africa and created by renowned chef and owner Ben Poremba, who was recently named a James Beard Foundation Best Chef: Midwest semifinalist and a Food and Wine Best New Chef semifinalist. The menu leans heavily towards vegetable and fish dishes; an Argentine grill selection is available daily and a rotisserie game hen is available "occasionally after 5:30 p.m." Here's just a sample of Olio's unique menu: burrata with Hugo's "Chef I can't get enough of it" salsa verde and toasted ciabatta; a baby artichoke, lemon, oregano, ricotta and provolone sandwich and an entire section devoted simply to eggplant.
Lamb Kofte Slider at Pan D'Olive | Jennifer Silverberg
Pan D'Olive (1603 McCausland Avenue; 314-647-8000)
Pan D'Olive offers "a bite of Mediterranean" cuisine with contemporary, Californian-style preparation. Italy is well-represented on the menu with several pasta dishes like baked cannelloni, lobster ravioli and seafood linguine, three flatbreads, including a Napoletana and appetizers such as carpaccio, calamari and arancini. Entrees include salmon, shrimp, trout, chicken beef and pork. Chef Sam Kacar also offers several Turkish specialty entrees: lamb kabob, lamb shank, sirloin and branzini. An extensive wine list rounds out the experience.
Ranoush (6501 Delmar Boulevard; 314-726-6874 and 200 North Kirkwood; 314-984-8899)
The menu at Ranoush is based on owner and chef Aboud Alhamid's family recipes from his home country of Syria. A hefty offering of mezza (Syrian appetizers) include hummus, baba ganoush, labneh, stuffed grape leaves, tabbouleh, falafel, kibbeh and plenty more. Our favorites are the fatoush salad tossed with toasted pita bread pieces in sumac dressing and the cucumber and yogurt salad with garlic and mint. For those unable to choose, the mezza for two platter is a great option. Entree selections are just as plentiful and include traditional favorites of beef and lamb kebob and chicken and beef shawarma. If you still have room for dessert, you can't pass up the house-made baklava.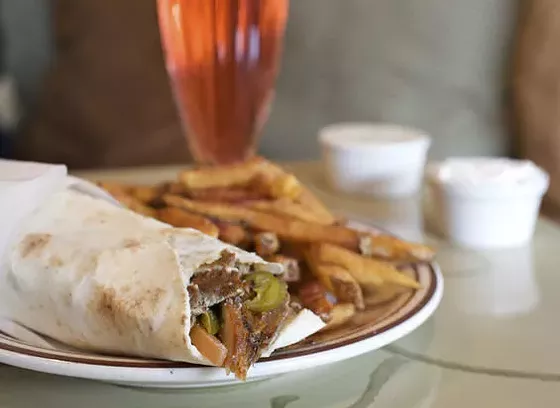 The Vine (3171 South Grand Boulevard; 314-776-0991)
Lebanese cuisine is the specialty at the Vine's restaurant, bakery and market. Food is plentiful here and it's pretty much guaranteed that no one will leave hungry. Family recipes are the foundation of the traditional menu. A full page of appetizers include hummus, falafel, fava beans, lebnah, kibbeh, tabouli, fatoush, yogurt salad and lentil soup. Beef and chicken shawarma, beef and chicken kafta and beef kabob and lamb chops are solid favorites, along with newer dishes such as zatar and garlic-flavored wings and a Lebanese-style burger. All breads and desserts are made in-house and tempt you from the moment you walk in the door.The adjacent market offers Lebanese staples and hard-to-find spices.
Follow Sara Graham on Instagram at @SaraSunshineSTL and Twitter at @SaraSunshineSTL. E-mail the author at saralouisegraham@yahoo.com.
---