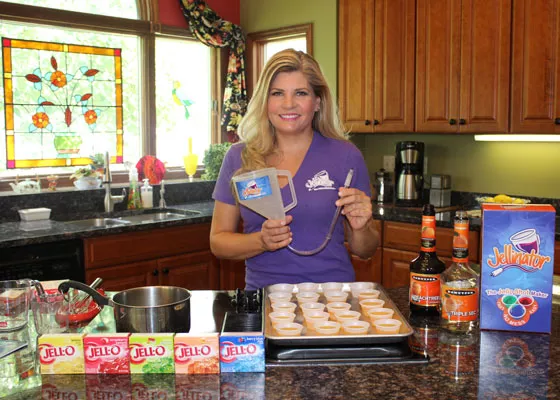 Trish Piazza with the Jellinator. | Courtesy Trish Piazza
Jell-O shots are probably the best thing to happen to that jiggly snack since Bill Cosby. They're a bit of a pain to make, though, especially in bulk. Creve Coeur native Trish Piazza dreaded the annual golf fundraiser for her husband's rugby team. Somehow the task of making 1,000 Jell-O shots for the event always happened at her house, though others came to help. One day, she couldn't take it anymore, and the Jellinator was born.
See also: The Jellinator: A Test of the Ultimate Jell-O Shot Maker
"This basically happened from my bitching at my husband," Piazza laughs. He went out to his work bench and started tinkering around, going back and forth after Piazza made adjustments. Finally, it was perfect.
Piazza had been using the Jellinator for events, and friends and family frequently asked to borrow or it or for a contraption of their own. We wrote about the Jellinator back in 2012, when Piazza had a full-time job as a speech pathologist for Special School District. But after being laid off (not once, but twice), she seriously considered taking the Jellinator to the next level.
The Piazzas met with a lawyer at Creative Venture Law here in St. Louis to see about getting a patent. The process is not easy, and it's pretty subjective, but after some back and forth explaining their product on conference calls to the patent committee, they were awarded the patent -- meaning there was literally nothing else out there like this.
Piazza has been selling the Jellinator online since 2012, and you can pick one up at Lukas Liquor, Dirt Cheap and American Carnival Mart. But everything's being done out of the Piazza's house, and she doesn't have the capacity to do anything other than assemble the parts. What she'd like to do is create a mold for it, so it's 100 percent Piazza (and St. Louis) made.
Recently, Piazza's daughter saw that Martha Stewart was holding "American Made" contests to find artisans and small businesses from across the country in crafts, design, food and style. Piazza applied, and she's now one of 1,000 finalists. Eventually, Martha Stewart and her judges will pick nine winners, and a popular vote on the website will choose the Audience Choice Award Winner. The ten winners will get $10,000 to take their product to the next level, among other Martha Stewart prizes.
"If we're able to manufacture, that will stay in St. Louis. We believe in supporting other local businesses as well," Piazza says. "We're all about giving back to St. Louis, so we're kind of hoping St. Louis will get behind us."
You can vote for the Jellinator and read more about it here.
Gut Check is always hungry for tips and feedback. E-mail the author at Nancy.Stiles@RiverfrontTimes.com.
Follow Nancy Stiles on Twitter:
---