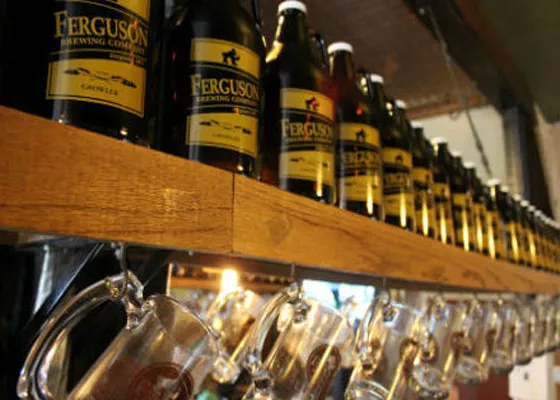 Growlers at Ferguson Brewing Company. | Pat Kohm
Pumpkin beer season is in full swing now, as is Oktoberfest. We asked our readers to let us know which pumpkin beer we should be paying more attention to. After tons of great nominations, we narrowed it down to Ferguson Brewery, Square One Brewery, Crown Valley Brewing and Charleville Brewing. After a vote, St. Louis named Ferguson's Pumpkin Ale the most underrated pumpkin beer in town.
See also: Six of the Best Locally Brewed Pumpkin Beers
Ferguson's Pumpkin Ale, the winner by a landslide, comes in at 4.9 percent ABV and has notes of cinnamon and nutmeg. It's not too heavy or crazy on the pumpkin for those of you skeptical of this popular seasonal beer. While Ferguson came in first place by far, Kirkwood Station was the most popular write-in. Its pumpkin ale is a 5.8 ABV brew.
Here's the full report:
Ferguson Brewing Company: 57.63 percent Square One Brewery: 12.63 percent Charleville Brewing Company: 11.05 percent Crown Valley Brewing: 9.74 percent Other: 8.95 percent
Gut Check is always hungry for tips and feedback. E-mail the author at Nancy.Stiles@RiverfrontTimes.com.
Follow Nancy Stiles on Twitter:
---