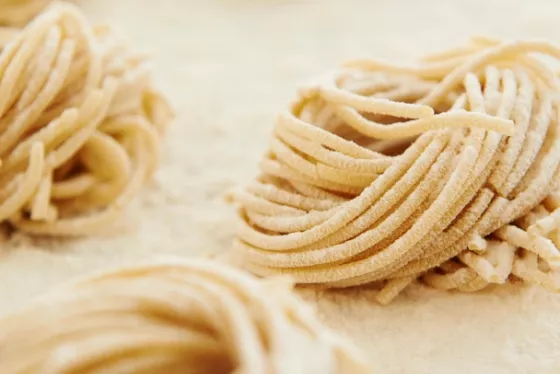 Pasta is one of the world's most cherished foods. St. Louisans certainly love their pasta and there is almost one Italian restaurant on every block in some neighborhoods. You may not be surprised to learn that there are several restaurants that offer fresh pasta made daily, going that extra mile to craft every bite of your meal by hand.
See also: The Best Rooftop Patios in St. Louis including Cielo, Three Sixty, Element and More
Pastaria's Pistachio Ravioli | Greg Rannells
Pastaria (7734 Forsyth Boulevard; 314-862-6603)
As its name suggests, Pastaria takes the craft of making pasta very seriously. In fact, there are only a few non-pasta dishes on its menu. As award-winning chef and owner Gerard Craft explained via email, he opened Pastaria "to explore the truth in Italian cuisine -- to highlight the simplicity and quality ingredients." Most of the pastas are made in the abruzzese style with only semolina flour and water. Diners and passersby can view pasta being made daily right in the restaurant's front window and participate -- on some level -- in its creation. Fresh pastas and sauce are also available to go.
Customer favorite: Strozzapreti with bolognese, made in a traditional style from Bologna, Italy
Squid Ink Spaghetti at Katie's Pizza and Pasta | Katie Lee
Katie's Pizza and Pasta (9568 Manchester Road; 314-942-6555)
The owners at Katie's Pizza and Pasta set about to create fresh, from-scratch meals one might find in family kitchens in Italy. The pasta is made using a pasta extruder straight from Italy with bronze dies that traditional, artisanal Italian pasta makers swear by. Owner Katie Lee incorporates unique shapes and flavors to the menu that people might not have tried before. Traditional pastas include pappardelle, paccheri, bucatini, spaghetti and capellini. The menu also features an exclusive pasta shape called fiori which looks like a flower. Flavored pastas include squid ink spaghetti, arugula reginette, lemon pappardelle, basil tagliatelle and tomato torchio. Fresh pasta is also available by the pound to take home.
Customer Favorite: Lemon pappardelle pasta with cream, asparagus, pistachio and lemon zest
Image courtesy of Stellina Pasta
Stellina Pasta (3342 Watson Road; 314-256-1600)
The menu at Stellina Pasta changes daily according to the freshest market offerings and seasonal variety. Recipes are simple, letting the fresh flavors come through. All pasta is organic and kneaded by hand and laminated for a fine, delicate texture. Stellina first opened only selling fresh pasta wholesale to area restaurants, at farmers' markets and to individual chefs, owner Jamey Tochtrop opened a restaurant for the public two years later. Fresh pastas are also available for carry out.
Customer Favorite: Whole wheat walnut tagliatelle with spinach, mozzarella, chicken of the woods mushrooms in oil, butter and garlic
Pappardelle Bolognese | Image courtesy of Giovanni's Kitchen
Giovanni's Kitchen (8831 Ladue Road; 314-721-4100)
Giovanni Gabriele, owner of the prominent Giovanni's On the Hill, and son Carmelo Gabriele opened Giovanni's Kitchen earlier this year as a casually elegant, family friendly, mid-range Italian restaurant. All breads and most of the pastas (except for the bucatini and rigatoni) are made house. Gabriele offers this tip for home cooks making their own pasta, "It's all about the dough! Keep working it until it's completely smooth -- it's easy from that point."
Customer Favorite: Pappardelle Bolognese, a ribbon noodle with a meat sauce recipe originating from Bologna, Italy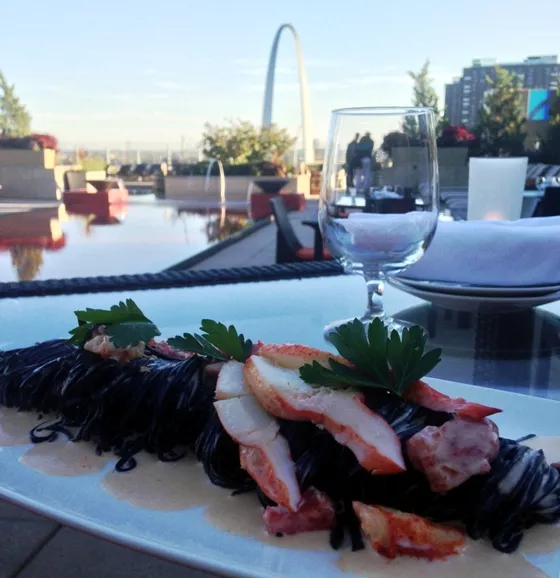 Cielo's Tonnarelli | Shimon Diamond
Cielo (999 North 2nd Street; 314-881-5800)
Cielo's menu includes a wide variety of modern Italian dishes elegantly presented alongside sweeping views of the Gateway Arch and the Mississippi River for a dining experience you won't soon forget. Here, the staple of Italian cuisine -- pasta -- is treated with reverence. A variety of cooking methods, flours, colors and shapes are used to create unique dishes based on traditional, regional recipes. Cuttlefish ink, heritage pork and Genovese-style braised rabbit are just a few of the ingredients executive chef Gian Nicola Colucci pairs with fresh, house-made pasta for out-of-the-ordinary tastes.
Customer Favorite: Tonnarelli, cuttlefish ink-infused spaghetti with sauce bagna, cauda, lobster claw meat and oven dried tomatoes
Mad Tomato's Fettuccine with Gulf Shrimp | Jennifer Silverberg
Mad Tomato (8000 Carondelet Avenue; 314-932-5733)
Mad Tomato goes through 200 pounds of semolina every week to make its pasta fresh daily. House-made pastas include linguine, cavatelli, whole wheat fettuccini, cannelloni, pappardelle and ravioli. Chef Vito Racanelli prepares the pasta the southern Italian way, using only flour and water. His advice for making good pasta at home? After mixing, let the dough rest for a full hour.
Customer Favorite: Pappardelle, a broad, flat pasta tossed with pork rib ragu, truffle oil and topped with pecorino Romano cheese
Ravioli at Onesto Pizza and Trattoria | Amy Lewis
Onesto Pizza & Trattoria (5401 Finkman Street; 314-802-8883)
Onesto Pizza & Trattoria creates traditional Italian dishes using local, organic and seasonal produce, antibiotic- and hormone-free meats and sustainably harvested seafood. The restaurant recycles everything that can be recycled, composts all kitchen waste, and all carry-out containers are reusable or recyclable. Fettuccine and lasagna noodles are made from scratch with farm fresh eggs and unbleached flour, as well as seasonal pastas and specials, such as cavatelli, bow tie, pappardelle, tagliatelle and fusilli.
Customer Favorite: Ravioli stuffed with butternut squash and mascarpone cheese served in a white tomato and oyster mushroom ragu with a hazelnut and sage browned butter sauce and topped with shaved Parmesan cheese
Cucino Pazzo's Linguine with Shrimp and Clams | RFT
Cucina Pazzo (392 North Euclid Avenue; 314-696-8400)
Cucina Pazzo features several pastas made from scratch in house -- pappardelle, fettuccini, tagliatelle and spaghetti. The restaurant hasn't been open a year yet, but has earned a devoted following with its unique spin on traditional Italian pasta dishes. The "Chopstick Pig Pasta" is a take on Asian street noodles and pairs tagliatelle pasta with pancetta, Kalua pork, crispy pork belly, double-cut bacon, Brussels sprouts, wok vegetables, roasted jalapeno and a lemon ginger soy butter sauce.
Customer Favorite: Short rib pappardelle braised with cioppino onions and finished with a roasted mushroom sauce
Tony's (410 Market Street; 314-231-7007)
Nationally recognized and known as the place to go for fine dining Italian in St. Louis, Tony's specializes in fresh, local and seasonal ingredients for its traditional Italian menu. Executive chef Vince Bommarito explains that the cannelloni, ravioli, fettuccine and a special double-wide fettuccine area all made from scratch, while the ziti and rigatoni are sourced dried for optimal flavor and consistency. Bommarito's tip for making fresh pasta at home is just to try it. "I think a lot of people are intimated to make fresh pasta, but it's not as hard as it sounds. Attempting to do it is the first step."
Customer Favorite: Linguine with shrimp and lobster. (A new dish of fettuccine with a confit of duck legs is also catching on fast.)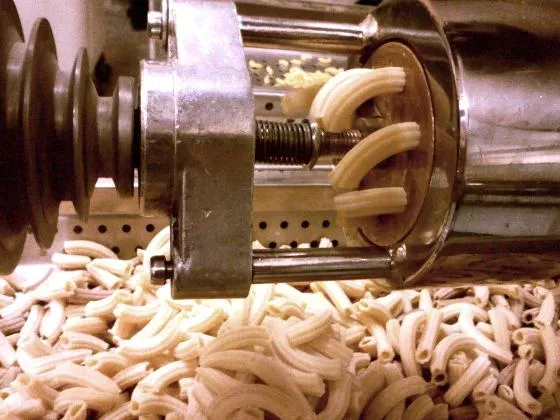 Rigatoni | Image courtesy of Midwest Pasta
Midwest Pasta (2023 Cherokee Street; 314-772-7560)
Midwest Pasta has been making pasta laminated and extruded pasta for the St. Louis community for more than three years. Midwest Pasta's wares can be found a variety of restaurants in St. Louis and the midwest, including Anthonino's, I Fratellini, Mangia Italiano and Villa Farotto. A new storefront also just opened on Cherokee Row offering fresh pasta, ravioli, gnocchi, sauces, olive oils and more.
Customer Favorite: The most popular pasta is linguine; however, a wide variety of specialty cut and flavors are available.
Follow Sara Graham on Instagram at @SaraSunshineSTL and Twitter at @SaraSunshineSTL. E-mail the author at [email protected].
---