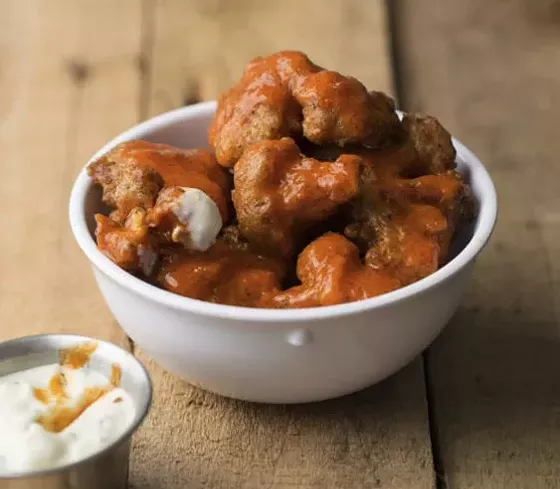 Buffalo cauliflower bites at Lulu's Local Eatery. | Jennifer Silverberg
Lulu's Local Eatery (3201 South Grand Boulevard; 314-357-7717) is vegan, and by extension healthy, nutritious and light -- the kind of place one visits, and afterwards considers signing up for a half marathon and home brewing kombucha. That's all fine and good, but what happens when the devil on the other shoulder begs for some guilt-inducing deep-fried fare?
See Also: Lulu's Local Eatery sets down roots and flourishes
Fortunately, the South Grand restaurant is capable of making some greasy spoon comfort food, as evidenced by its buffalo cauliflower bites. According to owner Lauren "Lulu" Loomis, the little fritters were intended for kids who wanted something like a chicken nugget, but they became so popular that the restaurant began offering them as an appetizer. It's no wonder they were a hit. The homegrown cauliflower is dipped in whole wheat batter then deep fried in peanut oil and smothered in spicy Buffalo sauce. This vegan version of boneless wings could sate even the most committed of carnivores while still guaranteeing a serving of vegetables. It's a win-win.
Previously: #66: Home Wine Kitchen's Shortbread Sea-Salt Biscuits #67: Death in the Afternoon's Grilled Mahi Mahi Sandwich #68: The Brisket Burger at Three Flags Tavern #69: Siam's Kimchi Hot Pot #70: Urban Chestnut's "Strammer Max" #71: "Mom's Special" at Mom's Deli #72: Broasted Chicken at Frank & Helen's Pizzeria #73: Parmesan Chicken Broth at Bocci Wine Bar #74: "Burger" at Small Batch Whiskey & Fare #75: Smoked Salami Sandwich at Adam's Smokehouse #76: Gyro on Pita at Olympia Kebob House & Taverna #77: The Johnny Cake at TreeHouse #78: A Classic Glazed Doughnut from Pharoah's Donuts #79: Skordalia at the Purple Martin #80: Beef Brisket Birria Taco Taco at Mission Taco Joint #81: Cappuccino from Sump Coffee #82: The Salted Caramel Croissant at Pint Size Bakery #83: Gnocchi at the Good Pie #84: Truffled Tater Tots at Blood & Sand #85: Marinated Feta Cheese at Evangeline's Bistro and Music House #86: Chorizo and Egg Sope at Spare No Rib #87: Duck Burger at Planter's House #88: WildSmoke's Smoked Chicken Wings #89: The Duck Prosciutto Flatbread at Bella Vino #90: The "Dam Burger" at the Dam #91: The "Hog Mess" at Blind Tiger #92: Khao Soi at Fork & Stix #93: The "Smokehouse Club" Sandwich at Bud's Smokehouse #94: Cafe Natasha's Yogurt Dip #95: Macarons at La Patisserie Chouquette #96: The Libertine's Fried Chicken #97: Pork Belly at Element #98: M'Lwee at Baida #99: Breadbasket at Juniper #100: Bucatini All'Amatriciana at Pastaria
Follow Cheryl Baehr on Twitter at @CherylABaehr. E-mail the author at Cheryl.Baehr@RiverfrontTimes.com.
---