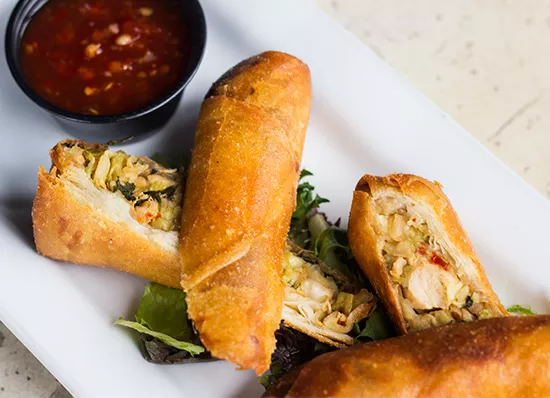 SOHA's housemade chicken egg rolls. | Photos by Mabel Suen
The Place: SOHA Bar & Grill (2605 Hampton Ave; 314-802-7787)
The Hours: SOHA offers happy hour daily from 4 to 7 p.m.
The Deals: $1 off all drafts. Well drinks are $3, wine is $4 and buckets are $12. All pizzas and appetizers except for the small plate combo are half-price.
The Scene: This neighborhood bar tackles the gastropub concept head on with a a self-proclaimed "outside the box American menu" and horseshoe-shaped bar lined with taps and spirits. Dimly lit tables surrounding a gas fireplace offer a low-key, lodgelike vibe, while the warmly lit bar attracts barflies with friendly service, flat-screen TVs and an array of libations.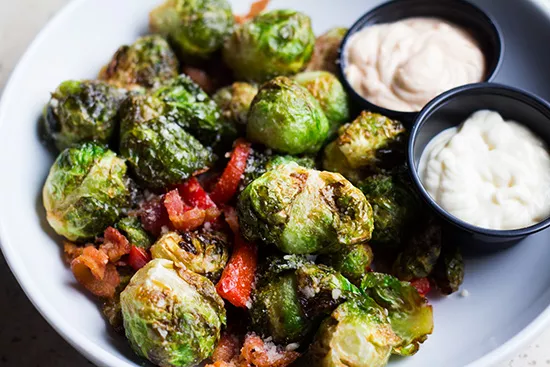 The Food: Appetizer options include loaded tater tots, hummus, house-made chicken spring rolls, bruschetta, barbecue pork skins, chicken tenders, pretzels, fried goat-cheese medallions, five different kinds of wings and flash-fried Brussels sprouts. Pizzas include a barbecue pulled pork, "Zesto Pesto," buffalo chicken, "the SOHA" with red sauce and pork belly, and "the Meatza" with meatloaf and more.
Did SOHA Bar & Grill make the grade? Find out on the next page.
The Verdict: The fried goat cheese platter featured eight medallions of warm and creamy goat cheese lightly breaded and ready to dip in a sweet onion sauce -- a welcome departure from the traditional cheese stick. The chicken egg rolls were crispy and well-seasoned enough to sate our snack-time appetites, but the real standout was a heaping bowl of the "SOHA Brussels Sprouts." The veggies' crispy, browned edges coated in Parmesan, bacon, red peppers and garlic dip deliciously in creamy lime mayo and remoulade.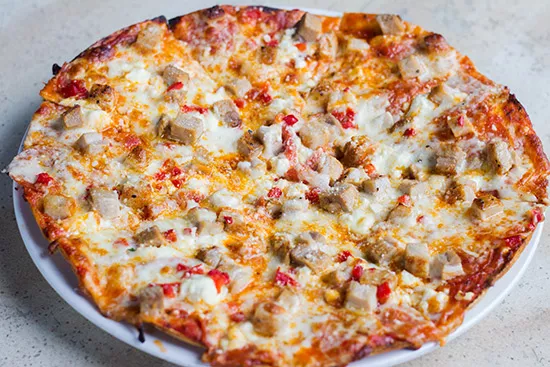 Of the twelve-inch pizzas, we opted for "the SOHA" with red sauce, pepperoni, feta cheese, red peppers, pork belly, bacon and mozzarella. The crust itself tasted reminiscent of everyone's store-bought staples, but for a mere $5 and the bounty of tasty toppings -- plus the fact that, well, it's pizza -- we're certainly not complaining.
With appetizers and pizzas in the range of $3.50 to $5 each, SOHA's upscale take on bar food can't be beat. All the appetizers bode well for sharing, making SOHA a prime destination for dining and unwinding.
The Rating: On a scale of one to five...
Previously on Happy Hour Handbook: - Modesto - Square One Brewery - Cicero's - SqWires - Layla - Five Star Burgers - Central Table Food Hall - Planter's House - Atomic Cowboy - Stella Blues - Triumph Grill - Lola - Basso - Blue Ocean Sushi - Hwy 61 Roadhouse and Kitchen - Gringo - Jax Cafe - Mile 277 Tap & Grill - Sandrina's - Mangia Italiano - Kirkwood Station Brewing Company - Steve's Hot Dogs on the Hill
We're always looking for some more happy hour meal deals. E-mail the author at mabel.suen@riverfronttimes.co