Welcome to Sugar High, a series devoted solely to spotlighting the best ways to sate a sweet tooth in St. Louis. We'll sample the best the city has to offer at restaurants, bakeries and holes-in-the-wall, and provide some insight on how these confections are made along the way.
London Tea Room's blueberry-lemon cake. | Photos by Mabel Suen
While growing up in the county of Hampshire on the southern coast of England, the London Tea Room's (3128 Morgan Ford Road; 314-241-6556) manager Jackie James adopted a knack for baking at an early age. She'd wait for her parents to go on their weekly Saturday stroll, during which time she'd experiment in the kitchen making pots of tea and sandwiches to go with her homemade rock cakes, shortbread and sponge cakes.
When Pat and Alan Richardson decided to open up a mom-and-pop tea shop to coincide their furniture business in 2007, James seemed like a natural choice to fill in when the cafe lost its baker. Since then, she's developed the range of in-house baked goods for the pastry case, including everything from rock cakes and their family's recipe for scones to a tried-and-true customer favorite: moist and flavorful blueberry-lemon cake.
See also: First Look: The London Tea Room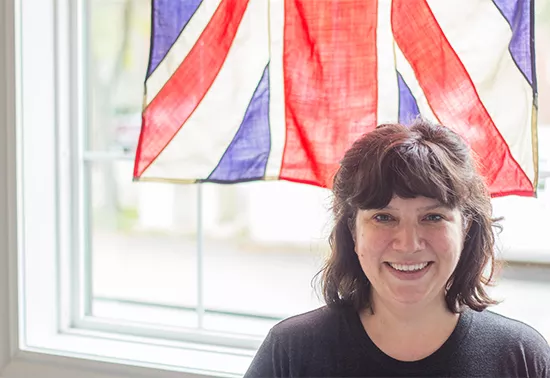 Baker and manager Jackie James.
The sponge-cake batter -- laden with berries that cook into a jamlike consistency -- begins with a basic foundation of flour, butter, sugar, milk and eggs, flavored with vanilla and lemon zest. Before assembling, James soaks each layer with simple syrup to keep the crumb moist. A smooth and creamy lemon-cream-cheese frosting joins it all together, enveloping the outside with a simple garnish of fresh blueberries.
The cake, originally baked up for springtime, earned a permanent place in the pastry case after several of the cafe's patrons were vocal about its absence the following winter. We can see their point, considering that a slice pairs perfectly with a warm cup of strong tea any time of the year. James recommends the "Naughty Vicar," a blend of black currant and vanilla, to go with dessert. We're partial to the "Cream Earl Grey," a fragrant black tea with Earl Grey, cornflowers and vanilla that's practically a treat in itself.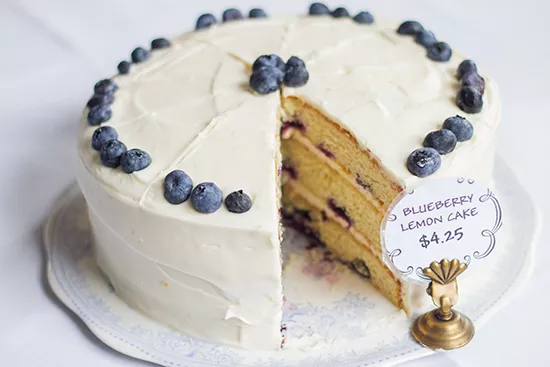 Get a piece straight out of the bakery case.
Previously on Sugar High: - Corner 17's Fluffy Ice - The Fountain on Locust's "Banana Bourbon" Sundae - Vinnie's Pinwheel Baklava - Red Fox Baking & Catering's Lemon Tart - Sugarfire Smokehouse's Crack Pie - Russell on Macklind's Coconut Cake - The Kitchen Sink's Sweet Potato Fries - Giovanni's Kitchen's Panna Cotta Trio - Crepes Etc.'s Crepe Cake - Cafe Ventana's Beignets - Frida's Raspberry-Chocolate Avocado Mousse - India Palace's Gulab Jamun - Melt's "Violet Beauregarde" Waffle - Brevan's Patisserie's "Brendan" - Winslow's Home's Chocolate Cake with Espresso Meringue - La Patisserie Chouquette's Eclair - Black Bear Bakery's Raspberry Oat Bar - Gelateria's London Fog Gelato - 4 Seasons Bakery's German Cheesecake - Libertine's "Candy Bar" - Cleveland-Heath's Old Fashioned Cherry Pie - Schlafly Tap Room and Bottleworks' Sticky Toffee Pudding
We're always looking for some sweet ideas. E-mail the author at mabel.suen@riverfronttimes.com.