Fresh grenadine at home. | Patrick J. Hurley
The Drunken Vegan, a.k.a. Patrick J. Hurley, is a full-time barman at the Civil Life Brewing Company and cocktail enthusiast about town. He's an unapologetic drunkard, a vegan and a bon vivant, and, no, he doesn't think those last two terms contradict each other.
To most, grenadine brings to mind those clear bottles of screaming chemical red mix in the liquor aisle at the grocery store. That stuff is made from corn syrup, red dye and natural and artificial flavors and tastes like -- well, it's hard to say what exactly it tastes like. In its current state, it's used for color only. What it ought to taste like and be made from is fresh pomegranate juice. The good news? It's very easy to make it at home.
See also: How 33 Wine Shop and Tasting Bar Got Way Ahead of the Whiskey Craze
Although you can buy pomegranate juice, you'll get the best results and the freshest flavor from fresh pomegranates you juice yourself. They're not that exotic; the Drunken Vegan found some at Schnucks. You can use any type of juicer that works with citrus, though if your pomegranates are quite large, you will need something that can accommodate a grapefruit. The Drunken Vegan uses an old Juice King hand-crank mechanical juice press, and it works beautifully.
Getting ready to make grenadine: (left) pomegranates; (right) jucing and measuring. | Patrick J. Hurley
The basic recipe is simple: equal parts pomegranate juice and sugar. We used Florida Crystals (certified vegan and widely available). Four small pomegranates yielded ten ounces of juice. Combine the juice and sugar, and heat on the stove just until the sugar is completely dissolved. Some recipes require you to bring the mixture to a boil. Portland, Oregon, bartender Jeffrey Morgenthaler, author of the recent The Bar Book: Elements of Cocktail Technique, cautions against this, as the grenadine will be too dark and have an unappealing brownish shade. The finished product is beautiful and tasty. Pour it into a clean jar with a lid -- it will last about a month in the refrigerator. Morgenthaler suggests adding a little vodka as a preservative if the grenadine will be around for longer than that. We dosed our grenadine with ¾ ounce vodka, then got to work on some cocktails.
That bright red mixer finds its way into Singapore Slings, Hurricanes and Tequila Sunrises, but one of the best ways to show it off is the incomparable Jack Rose cocktail. Though not as well known as it used to be, it was called one of the six basic drinks by David Embury in his classic work The Fine Art of Mixing Drinks, alongside the martini, the Manhattan, the daiquiri, the Sidecar and the Old Fashioned.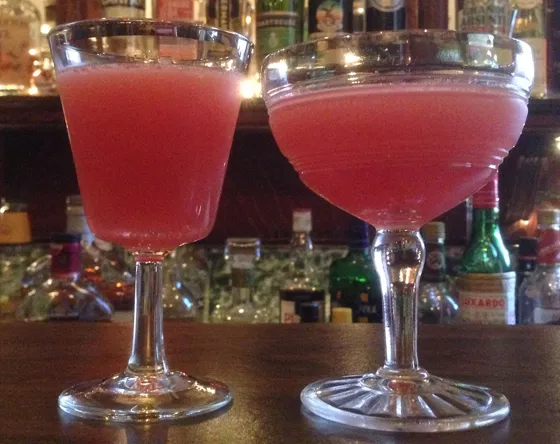 Two Jack Rose cocktails. | Patrick J. Hurley
For each Jack Rose, combine two ounces applejack, one ounce fresh lemon juice, and ½ ounce homemade grenadine in a cocktail shaker with ice cubes. Shake like mad for 20 or 30 seconds, and then strain into a chilled cocktail glass.
The Jack Rose is gorgeous to look at and even better to drink. There is some tart apple and spice with a little bright citrus, and some earthy depth from the grenadine. It's a great way to use up all that grenadine. Maybe that dash of preservative vodka wasn't necessary after all. It'll be gone long before the month is over.
Follow Patrick J. Hurley on Twitter at @VeganDrunkard. E-mail the author at Patrick.J.Hurley@HurleyHouse.com.
---