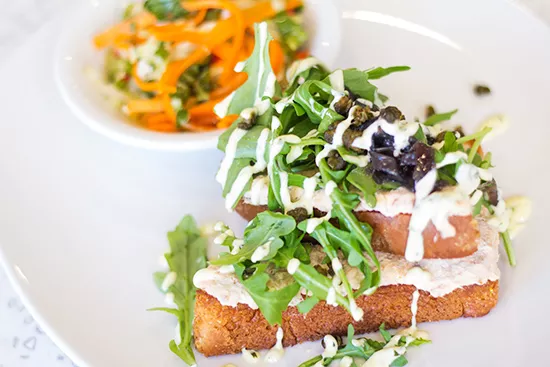 "Smoked Salmon Tartine" with house-smoked salmon spread, caramelized onion, fried capers, arugula and herb aioli on English muffin bread. | Photos by Mabel Suen
Brunch lovers have a new go-to spot in Clayton with the opening of Whitebox Eatery (176 Carondelet Plaza; 314-862-2802). As reported by Gut Check in July, the concept comes from Modesto Tapas' co-owner Brendan Marsden along with chef John Hoffman (formerly of Oceano), and Jamie Hardesty of Vincent Van Doughnut.
See also: Whitebox Eatery Nears Opening in Clayton
The quick-service restaurant has a sleek white interior to reflect its name and offers plenty of plates perfect for breakfast lovers. Choose from breakfast sandwiches ($5.75 to $7.75) filled with your choice of protein, ranging from house-baked ham, and herb-roasted pork to smoked salmon, and steak and eggs. The fixins get creative -- look for tasty components in the descriptions, including goat cheese and peaches, peppadew relish, fried capers and chimichurri.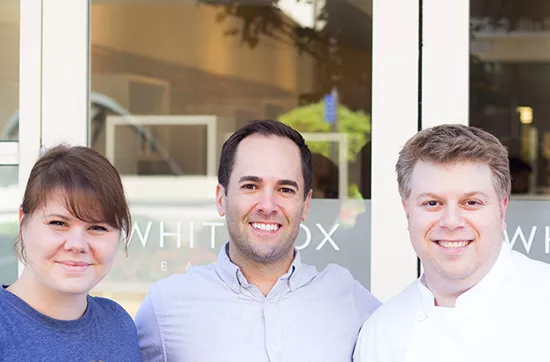 Pastry chef Jamie Hardesty, owner Brendan Marsden and chef Jon Hoffman.
Those who like sweets to start the day can choose from housemade oatmeal and granola bowls such as a "fig and pistachio oatmeal" with steel-cut oats, roasted pistachio, dried mission figs and sweet cream. Alternatively, grab a fresh baked good from the counter which features scones, muffins, croissants and more.
For lunch, choose from a large selection of healthful sandwiches and salads that have varied ethnic influences. Take, for instance, a "miso mushroom" cabbage salad or a "crispy eggplant" sandwich with fresh mozzarella, roasted pepper-walnut spread and za'atar sauce. A few soups and a kids' menu are also available.
Each month, Whitebox Eatery also features a special crafted by a local chef. This month, Ben Poremba of Olio and Elaia created the "Whitebox Italian Bahn Mi" with country pâté, mortadella, Calabrian chiles and giardiniera.
Whitebox Eatery's hours are Monday through Friday from 7 a.m. to 4 p.m. and Saturday through Sunday from 8 a.m. to 3 p.m. For more information, check out the Whitebox Eatery website or visit its Facebook page.
Click through for more photos.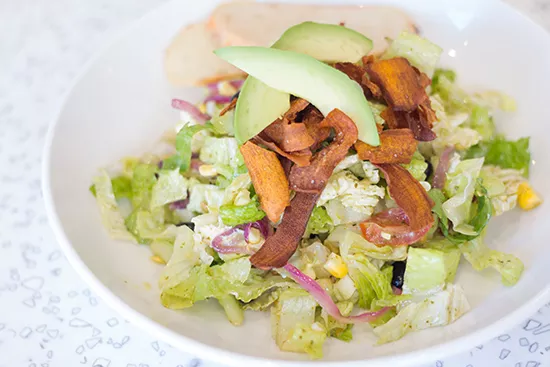 The roasted corn salad with chopped romaine, napa cabbage, cherry tomatoes, avocado, roasted onion, black beans, goat cheese, sweet potato strings and cilantro-lime vinaigrette.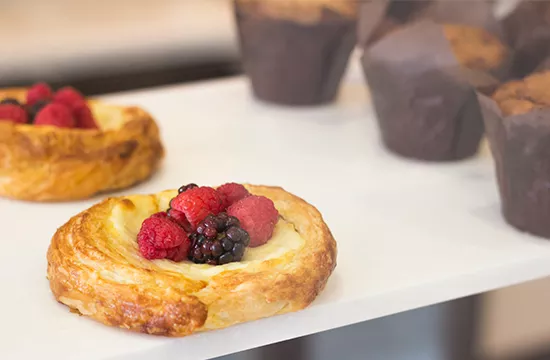 Whitebox Eatery offers a variety of rotating baked goods, including this fruit tart by pastry chef Jamie Hardesty.
Hardesty brings in her experience from working with the Vincent Van Doughnut food truck.
Whoopie pies and other cookies are also available.
Place your order at the counter.
A few bottled drink options.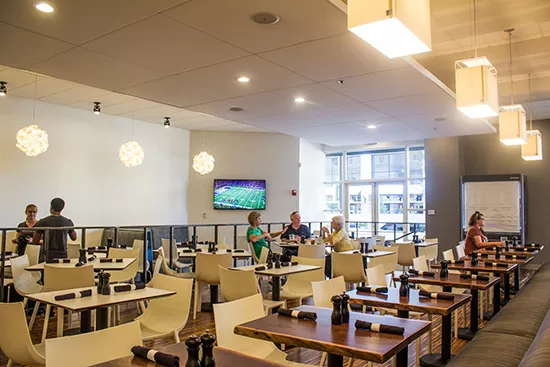 See also: - First Look: Yaqui's - First Look: Mission Taco Joint in Soulard - First Look: Sauce on the Side in Clayton
Gut Check is always hungry for tips. E-mail us!