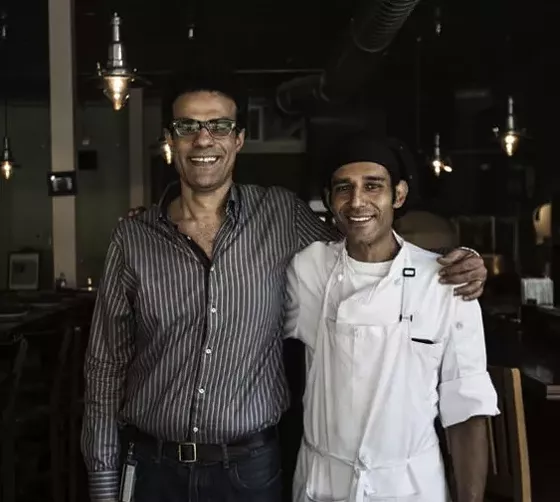 Two of the three owners: Sherif Nasser and Muhammad Alhawagri. | Jennifer Silverberg
When Lassaad Jeliti opened Spare No Rib last November, the former Washington University mathematician appeared to have cornered the market on academic-turned-restaurant-owner back-stories.
That was until A Pizza Story (7278 Manchester Road; 314-899-0011), the Neapolitan-style pizzeria that opened this July in downtown Maplewood. The restaurant is the brainchild of three Washington university academics: Muhammad Alhawagri, a biologist; Sherif Nasser, a marketing professor; and Nael Saad, a radiologist. Though the three men have successful careers outside of the restaurant business, a shared passion for food brought them together as friends, and ultimately led them to the food and beverage business.
See Also: Review: A Pizza Story Writes the Book on Fantastic Neapolitan Pie
I talked with Nasser about how A Pizza Story came to be. It all began when Alhawagri could not keep off his scientist's cap during a dream vacation to Italy a few years ago. The biologist wasn't content to merely devour Neapolitan-style pizzas; he had to dissect everything about the classic dish -- the crust, the type of tomatoes, the exact temperature of the crust. He carried his newfound passion with him to St. Louis and shared it with Nasser and Saad.
It wasn't the first time the three friends had bonded over food. The colleagues would regularly get together, swapping recipes and alleviating homesickness for their native Egypt with dinner parties. They would often muse about what it would be like to open a place of their own, and it quickly became clear that the vision involved pizza. They got serious two years ago and began scouting a location while Alhawagri perfected his crust recipe. As soon as they found their Maplewood storefront, it all fell into place.
Nasser says that the three have no plans to quit their day jobs, and they are somehow managing to juggle both. But considering how delicious A Pizza Story's wood-fired pies are, one wonders if they have found their true calling.
Follow Cheryl Baehr on Twitter at @CherylABaehr. E-mail the author at Cheryl.Baehr@RiverfrontTimes.com.
---